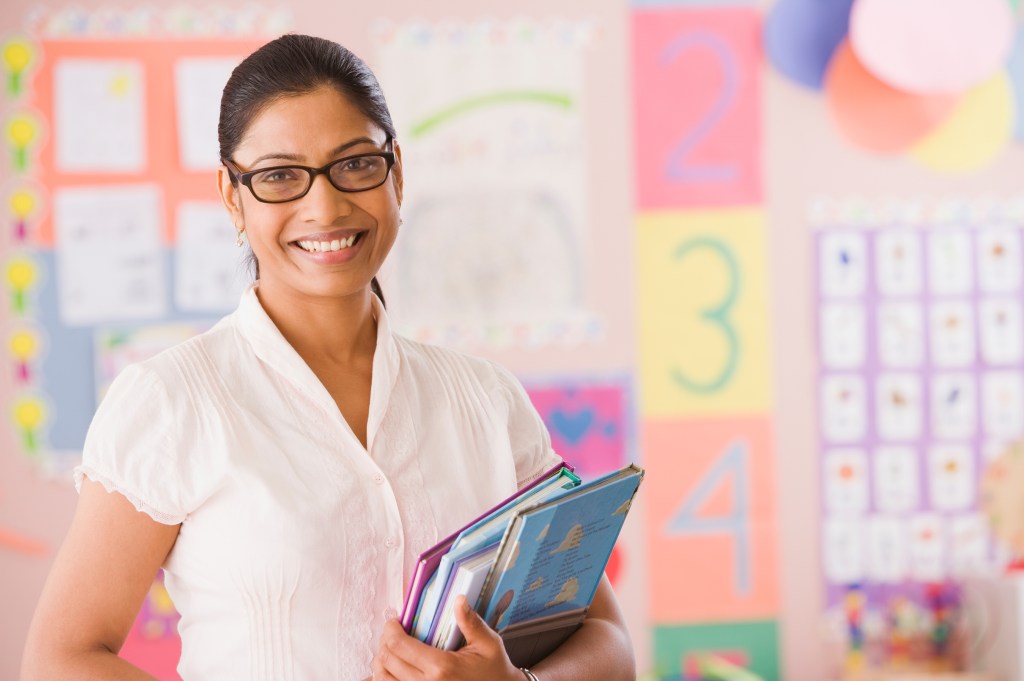 Everyone knows teachers who go above and beyond to help their students learn and grow. This year, Teacher Appreciation Week starts May 3. To celebrate, we asked TFK Kid Reporters to tell us about a teacher who inspires them. Read what they had to say. Then think about a teacher you appreciate. How will you celebrate them this Teacher Appreciation Week?

TFK Kid Reporter Victoria Hanson: Math is the hardest subject for me. Even though I have to study extra hard for her class, my favorite teacher is Mrs. Manolescu, my math teacher. I truly appreciate her because she is really good at explaining how to solve problems. Also, I am an online learner this year, and she always gives the online students equal attention. When I fell behind, Mrs. Manolescu reached out to my other teachers and helped me figure out which assignments I needed to submit. I want her to know that I am appreciative of all that she has done for me this year.
TFK Kid Reporter Afton Campbell: My fifth-grade teachers Mrs. Smith and Mrs. Haven (who also taught me in fourth grade) always made me feel like I could do anything! Mrs. Smith made history come alive. She dressed as famous characters like Leif Erikson and Queen Anne. Mrs. Haven empowered my classmates and me by letting us experiment with science. I especially loved making circuits with my friends. It was such a fun experience! I am thankful for both of them for supporting me and building a foundation of learning that will last a lifetime. Happy Teacher Appreciation Week!
TFK Kid Reporter Rory Hu: Let's face it: A chair as the barre, slippery socks instead of ballet shoes, and everyone crammed onto one computer screen is not an ideal environment for ballet class. Teaching ballet over Zoom is extremely challenging. But my teacher, Ms. Hammar, not only made virtual ballet class work, she made it enjoyable and engaging. She has a magical charm that brings the spirit of dance through the screen into our rooms. Ballet is finally exciting for me. Ms. Hammar observes everyone carefully during practices to find what we need to improve on and gives personal feedback. She offers tailor-made tips so each of us can grow in our own way. Her teaching improved my moves and made my dance a lot more graceful. What sets Ms. Hammar apart is her passion to help her students improve. She is always patient with questions and takes care to answer them thoroughly. When you ask about a move, she will first demonstrate, then have you do it, and she'll continue to give instructions until you are perfect. She does not brush off any questions, no matter how trivial they are. Thanks to Ms. Hammar, I am one graceful jeté closer to being a true ballerina.
TFK Kid Reporter Pranav Mukhi: Mrs. Toner, I appreciate your coming to school every day to teach our class at Nassakeag Elementary. Coming to school and playing basketball and soccer with all my friends during recess makes me feel very happy during these difficult pandemic times. Thanks for making math and social studies so fun and interactive for me!
Mrs. Amoroso, thank you for all the patience you have had with students this year. I know that giving instructions to tune a cello remotely is no easy task. I really loved working with you while preparing for the New York State School Music Association festival!
Sethu Sir, thank you for the awesome tabla instructions, both in person and remote. I enjoy it so much, and I hope it gives you joy as well to see your students learn and enjoy playing the tabla.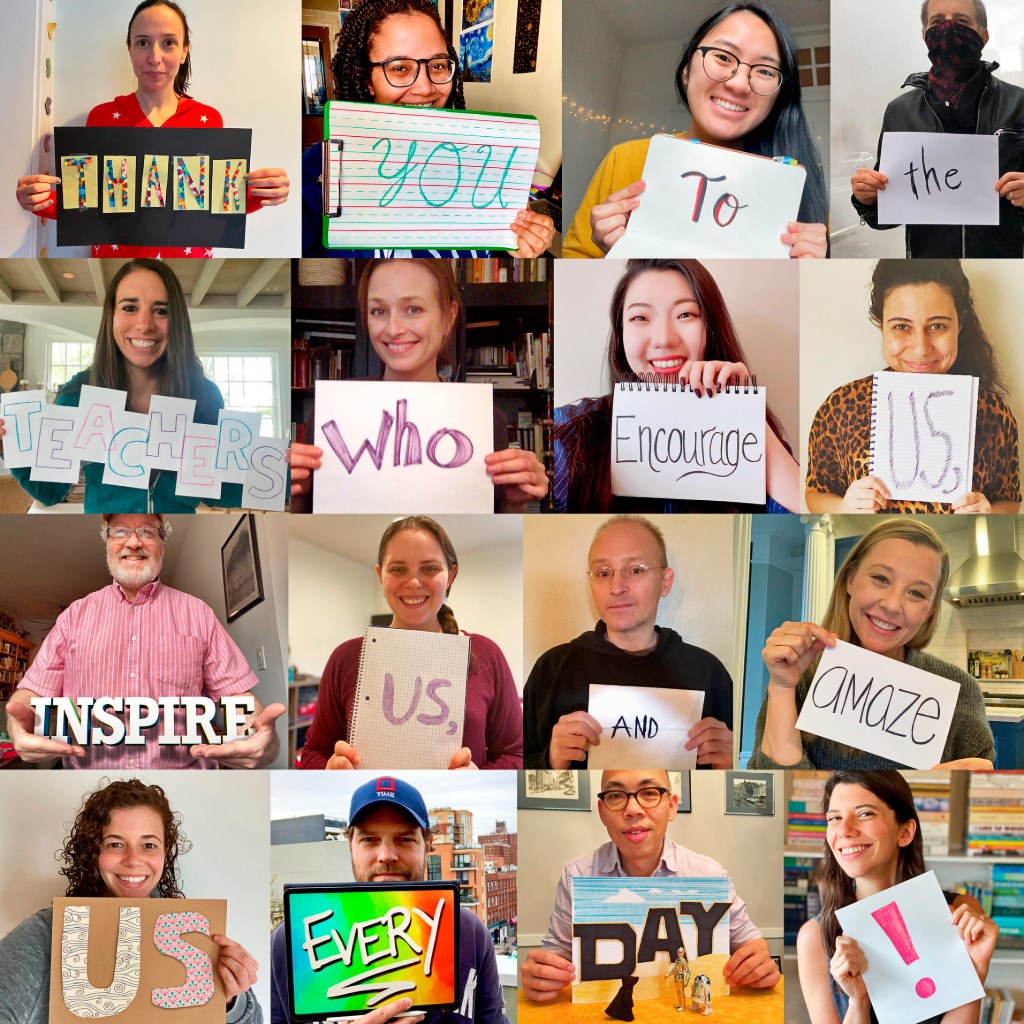 TFK Kid Reporter Abby Rogers: Did you know that when you cut down a tree, it releases all of the carbon dioxide it has stored? This is just one of the many environmental facts Mrs. Nunez taught us this year. We have explored critical topics ranging from overfishing to deforestation to coral bleaching and so much more. By providing us with the opportunity to learn about these important issues, she has educated us and made us aware of the consequences of our actions. Thank you, Mrs. Nunez, for turning me and my classmates into globally minded citizens.
TFK Kid Reporter Sophia Hou: One of the teachers I admire is my fifth-grade newspaper club teacher, Mrs. Jones. She is very encouraging to all her students, no matter what. Mrs. Jones is always available to help us when we need it. She responds to emails almost instantly. She is very passionate about her work and what she teaches, and although I do not have her as a teacher anymore, she still keeps in touch with me. Mrs. Jones is the person who inspired me to become a TFK Kid Reporter, too!
TFK Kid Reporter Ian McKenna: Having a learning disability has made English, especially writing, a real struggle for me. I've dreaded English class for as long as I can remember. This year, however, I was lucky enough to have Mrs. Swan. She's helped me tremendously. Not only has she helped me improve my essay-writing process, textual analysis, and overall essay quality, but she has helped me gain confidence I never knew I had. Outside of class, she has been working with me to improve my organizational and time-management skills. And she even offered to write college recommendation letters for me. She has had the biggest impact on me throughout my high school career. I'm so grateful to have had Mrs. Swan for English literature and composition this year!
TFK Kid Reporter Jeremy Liew: For the past three years, I've always thought of Ms. Craig, my elementary school math teacher, during Teacher Appreciation Week. Even though I'm now in middle school algebra, I still use her study skills: Read the textbook for tips, review old homework I missed, and ask the teacher for help. Regardless of my test scores, she always pushed me to be my best self, even if it meant wearing glasses for the first time. She emphasized understanding the material so that I could apply it elsewhere and teach my classmates. When I was in Ms. Craig's class, I always felt confident to speak up (even with glasses)—maybe because she also liked my funny jokes and magic tricks!