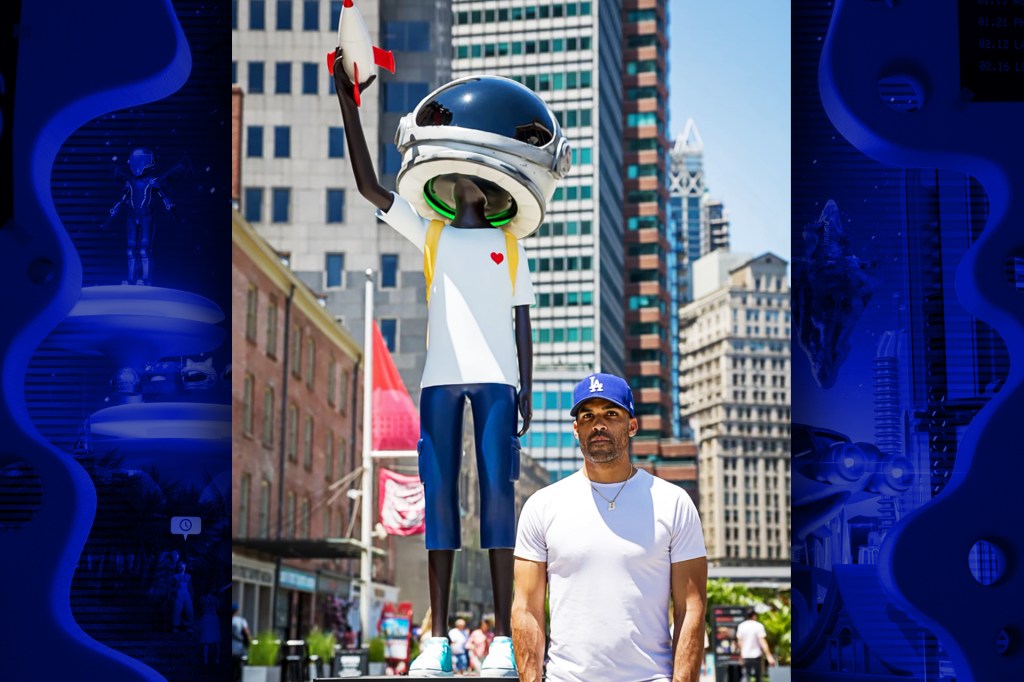 If you enjoy learning about interesting jobs, find this article and more like it on Your Hot Job, TFK's new career-focused website for kids. What does your future hold?
My name is Micah Johnson. For 24 years, I played baseball every day. I reached the highest levels of the sport, playing for major-league teams. Once I got there, I was like, "Okay, I did it." I don't care if it takes 100 years: If it's something that somebody says I can't do, I'm going to try everything I can to do it. And when I do it, I think, "Okay, what's the next thing I'm going to do?"
I started painting in 2016, when I was with the Los Angeles Dodgers. You come home from a game and you're not just going to bed. That's when I would paint. I would take canvases on the road. I was just so obsessed with painting.
In 2018, my time was done in Major League Baseball. I'd fallen in love with art and creativity. I tapped into that. I started painting young Black kids as astronauts after I heard a young Black kid ask if astronauts could be Black. Painting these pictures was incredibly fulfilling fulfilling providing happiness or satisfaction (adjective) Seeing students graduate is fulfilling for a teacher. . I knew this was something special.
Reach for the Stars
I wanted to reach a broader audience with my message. So I created this 3D character named Aku. He's a Black kid who's brave and confident. He wears an oversize space helmet. It allows him to travel through these digital realms. Last year, Aku was on the cover of TIME. Later, I made him into an NFT.
NFTs are unique, digital artworks that are bought and sold online. With NFTs, there are no gatekeepers gatekeeper a person who controls access to something (noun) We met with the store's gatekeepers to try to get them to sell our products. . I can upload something and people can buy it and have ownership of it.
I traded my baseball bat for a paintbrush and found my passion. Kids can find a path that's meaningful to them by showing up every day, exploring, and just going deeper into the things they care about.
In 2021, an NFT of Aku orbited Earth on board the International Space Station. That's something you can't even dream of! If you keep working toward something that you're passionate about, opportunities are going to present themselves that you can't even imagine.