Anchor on the Road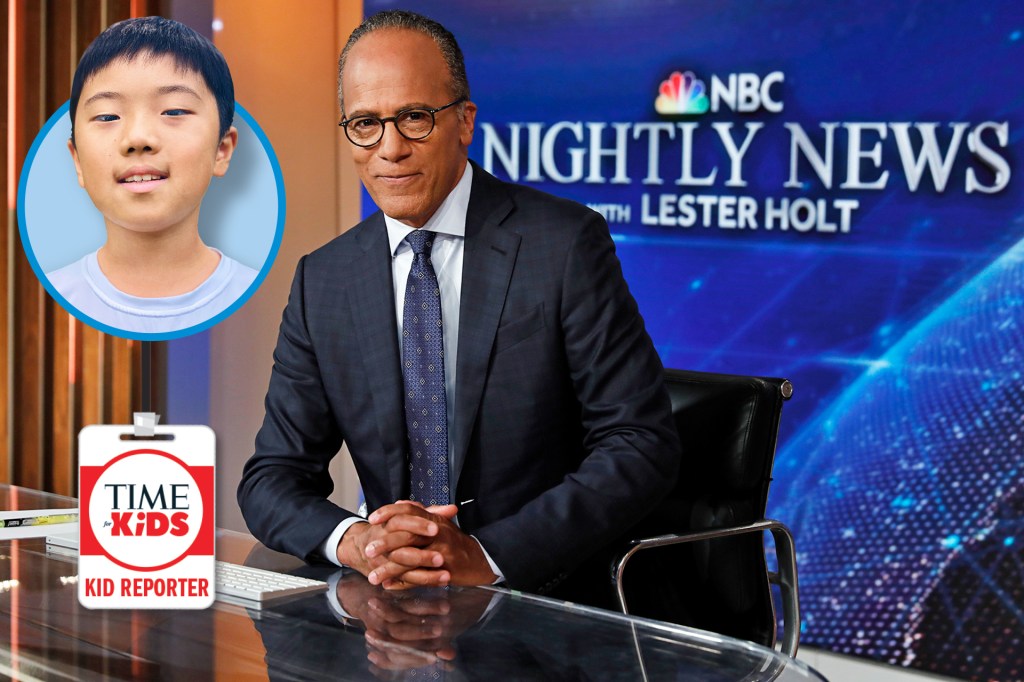 Lester Holt is an award-winning journalist. Since 2015, he has anchored Nightly News on NBC. In 2020, he launched a digital edition of the show for kids. That show's guests have included Dr. Anthony Fauci and JoJo Siwa.
On October 20, TFK Kid Reporter Ethan Zhang spoke with Holt, who's about to embark on his sixth Across America tour. Traveling to report on stories "helps us be a better newscast," Holt told Ethan. "We're going to talk about how a lot of people have moved during the pandemic to different cities that have new opportunities." Read the conversation below.
Ethan will catch up with Holt in person on the Across America tour. Watch them online on a special edition of NBC's Nightly News: Kids Edition, on November 4 at 4 p.m. ET.

TFK Kid Reporter Ethan Zhang:
I understand that you have taken NBC's Nightly News on the road in the past few years and visited many cities, including, this year, Orlando, Cleveland, and Seattle. Can you tell us what motivates you to go on tour, especially this year?
Lester Holt:
Sure. You know, we are a national broadcast, meaning that we're seen all across the country. We do Across America as a way of touching base with people in different parts of the country, to hear some of the stories that are important to people in those communities. It helps us be a better newscast that really reflects the country as a whole and not just the New York area, where we're based.
Ethan:
Thank you. What was your most memorable moment from the last tour?
Holt:
I believe it was in Pittsburgh. A young girl—she was probably around your age—had prepared T-shirts with my name on them and big signs. She came out to watch the broadcast, and I was very touched. I'm always excited and pleased when I learn of young people, like yourself, who are really interested in news and really interested in the world around them.
Ethan:
What are you looking forward to reporting on this time?
Holt:
I think we're going to talk about how a lot of people have moved during the pandemic to different cities that have new opportunities. We're seeing what some people call a large migration of Americans moving to different parts of the country now. They're kind of reinventing themselves as we've moved through this phase of the pandemic.
Ethan:
Can you tell us why you choose to leave the anchor desk sometimes and report on the road?
Holt:
The most important part of what we do is the work of reporters. Even though I'm the anchor of the program and you normally see me sitting behind a desk, in my heart, I'm a reporter. So when there's a big, big story, we like to take the broadcast to the story. That's where I can do my best work in terms of digging up the facts and talking about how something may impact people. So I'm always eager, as big stories break, to evaluate whether we should go and whether we can make a big impact by our presence there.
Ethan:
I love road trips, but traveling during the pandemic must have been very different. How did you prepare for the tour?
Holt:
That's a really good question. Obviously, it's important that we're all tested [for COVID-19] before we go on the road. It's very important that we start a trip healthy. I usually look at the latest data from communities we're going to, to understand where they are right now in the COVID experience. I do a ton of research just in general. We have researchers on our staff who help prepare me with briefing information about the various cities we're going to: the population, the famous sites, what people like to do, what kind of food they like. All those things are really important to know before we get there for me to have a real understanding of the city and how people there see themselves.
Ethan:
I heard you have a cute dog named Lucy. Do you ever take her with you?
Holt:
I really wish I could. Lucy is an Australian Labradoodle. She's very silly, and she loves to be around people. Unfortunately, I'm so busy when I get on the ground in various cities, it would be difficult to take her along. But, you know, maybe I will ask one day if there's a way we can take her, because she's fun to have around.
Ethan:
I know you are also a musician. Do you take your instrument with you?
Holt:
Sometimes, when I travel on long assignments, I do bring a bass guitar with me. It's actually one that's specially built for taking on the road. It's a little bit smaller than a usual bass. I haven't taken it on Across America. I have taken it, however, to the Olympics. Most recently, I was in Japan for the Summer Olympics, and I brought it. I played it on the airplane using my headphones, and I played it in my hotel room. So I think I'll take it on this next trip. It's a nice way to relax and wind down at the end of the day.
Ethan:
Very cool! I play drums.
You're a role model for many young reporters around the country. Can you share some advice for kid reporters?
Holt:
I think my most important advice to kids is to really become critical thinkers. We hear a lot of stuff every day, and it's important to make sure you're getting correct information. So that means you don't accept everything right away. Somebody will tell you something wild and exciting, and if you just spend five or 10 minutes on the computer checking a trusted source, you might find the real truth and whether that story is accurate or not. Certainly as a journalist, you never want to give information that is not correct. The core of what we do is giving people facts every day. And that's even a good practice for people who aren't journalists—that they take a moment when they hear something extreme. It's worth taking a few minutes to do some research and ask some hard questions, so that we make sure that when we share that story, we're sharing the truth.
Ethan:
That's very good advice. I'll keep that in my mind.
Thank you for answering all my questions, Mr. Holt. I look forward to watching your tour on TV.
Holt:
You are very welcome. You're a good journalist. Those were really good questions.
Ethan:
Thank you.
This interview has been edited for length and clarity.