Meet the 2019 National Teacher of the Year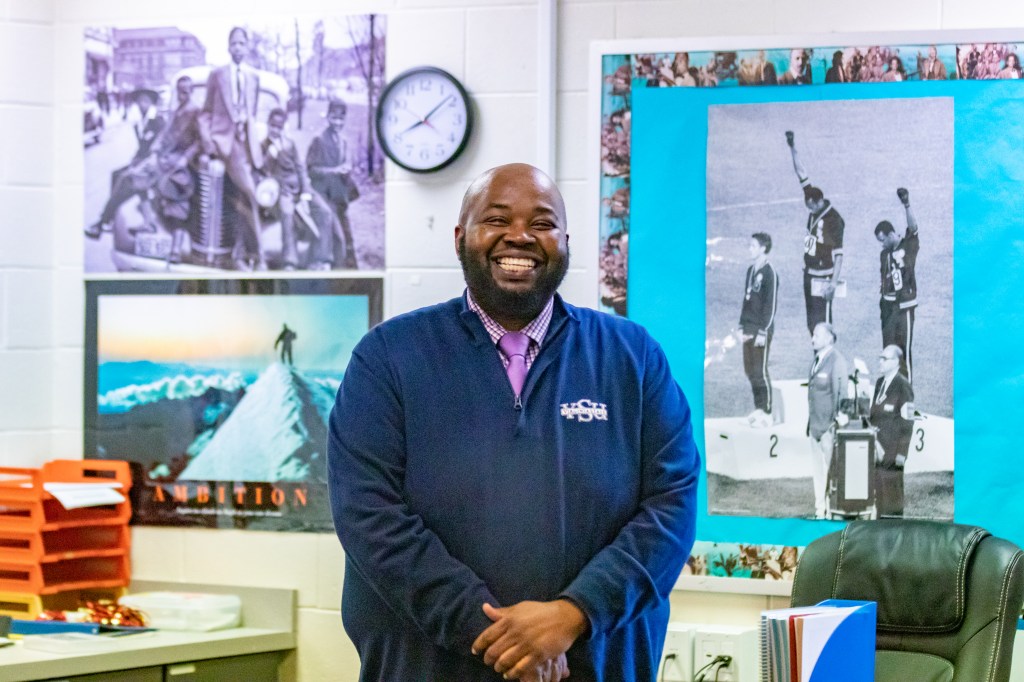 Rodney Robinson will tell you his students are no different from any other students. ("They're just goofy teenagers.") He'll tell you his classroom is no different from any other classroom. (It's decorated with motivational quotes and colorful college banners.) But Robinson will admit that his school is different. Why? He teaches at Virgie Binford Education Center, in Richmond, Virginia. The school is inside a juvenile detention center. That's a place for young people that functions like a jail.
Robinson teaches history and social studies to students in grades 6 through 12. Pupils are 11 to 18 years old. Some are at Virgie Binford for skipping class at their regular school. Others have been accused of serious crimes. Students come for as little as two days. Others are here for as long as two years. Most stay for about 30 days. That's according to principal Ta'Neshia Ford. "No matter how long they're with us," Robinson told TIME for Kids, "we're going to do what's best for them and get them on the right path."
"My goal is for my students to become civic-minded, socially conscious change agents," he says. "I just want them to learn about themselves, their culture, and their history, and hopefully to inspire and empower
empower
STEVE DEBENPORT/GETTY IMAGES to give someone the ability to do something (verb) The assembly speaker empowered the students to give back. them to be that change agent."
Robinson is getting lots of attention for his work at Virgie Binford. In April, he was named 2019 National Teacher of the Year. He went to Washington, D.C., to receive the award. It was presented to him at the White House by U.S. secretary of education Betsy DeVos.
"America is a country of second chances," Robinson said in his speech. "And students in jail deserve a high-quality education just as much as any student in America."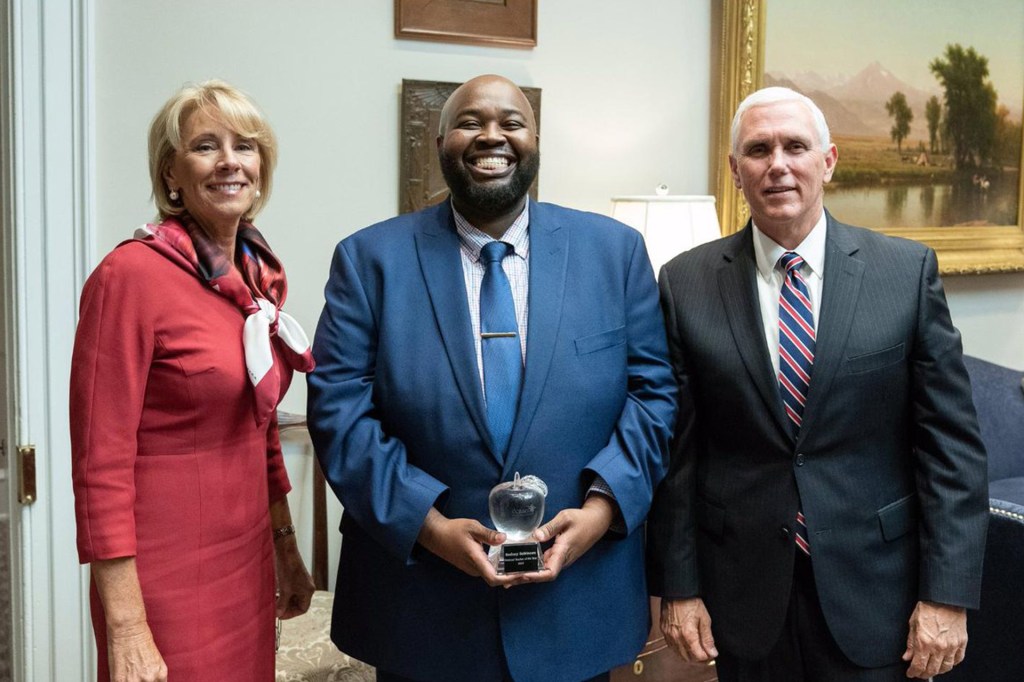 COURTESY OF THE TWITTER PAGE OF VICE PRESIDENT MIKE PENCE
Man on a Mission
Since 1952, the Council of Chief State School Officers has selected a National Teacher of the Year. Winners use their time in the spotlight to raise awareness about important issues. Robinson will focus on incarcerated
incarcerated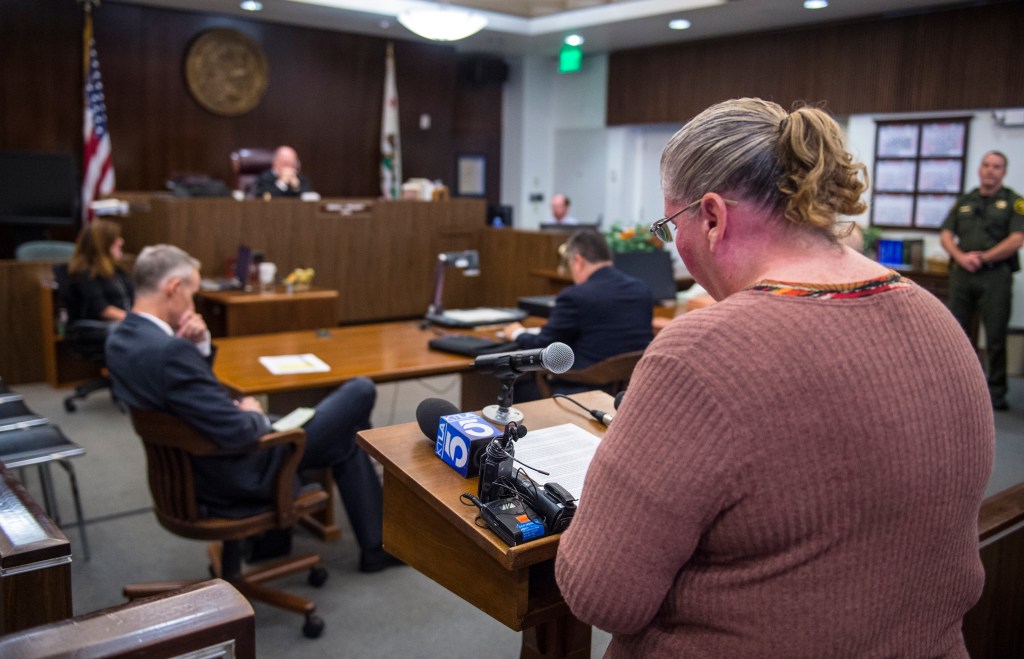 MARK RIGHTMIRE/DIGITAL FIRST MEDIA/ORANGE COUNTY REGISTER—GETTY IMAGES imprisoned (adjective) If he is found guilty at trial, he will be incarcerated. students. "These are students whose stories are not normally told," he says. "I want to bring that voice to the table and advocate
advocate
SAWITREE PAMEE/EYEEM—GETTY IMAGES to support; to speak up for (verb) I will advocate for recycling. for their needs."
What they need, Robinson says, is "economic investment into their communities, jobs, mental-health services, academic counseling." He hopes people will start to see juvenile detention in a more positive light. He sees it as an opportunity for young people in trouble to "reset and refocus."
"His platform is really one of equity," says Jason Kamras. He's superintendent of Richmond Public Schools. "If there's any kid out there who feels like they don't belong, or that the deck is stacked against them, Rodney is out there, fighting for you."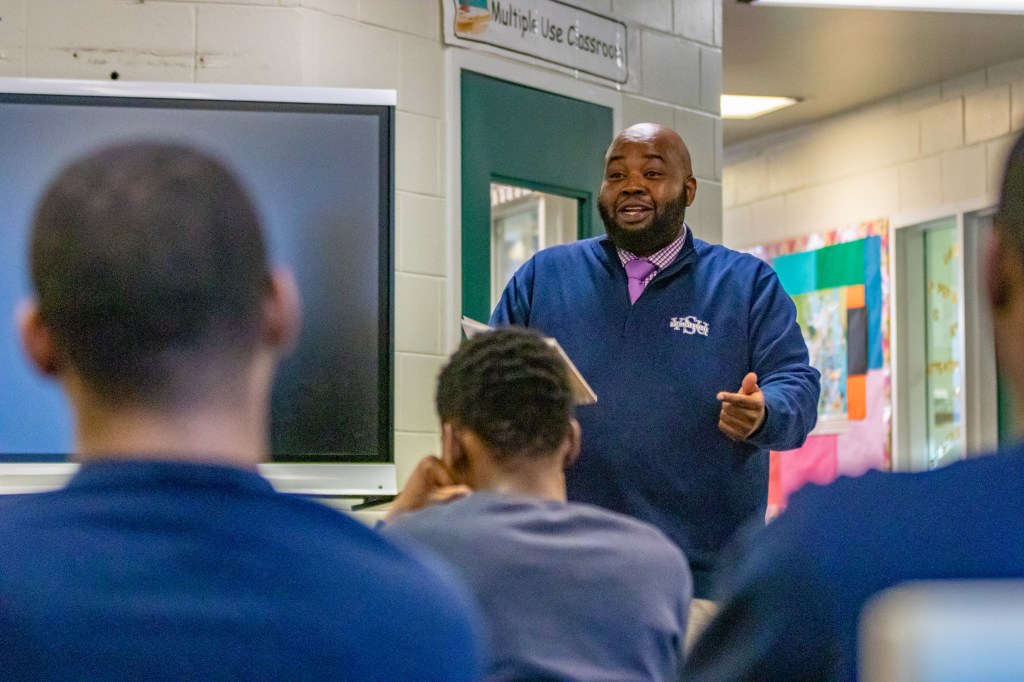 COURTESY RICHMOND PUBLIC SCHOOLS
Robinson taught at Richmond's Armstrong High School for 11 years before coming to Virgie Binford. Doron Battle and Hubert Anderson were two of his students. "He's a superhero," Battle says. "He's one of those people that if there was a movie about him, you would root for him." Anderson agrees. "Having a great teacher like Rodney Robinson has helped me and thousands of other students get to where we are today."
Both men now teach at George Mason Elementary School, in Richmond. They've helped fulfill one of Robinson's missions. He wants there to be more teachers of color. Richmond Public School students are 71% African American.
Classes at Virgie Binford end on June 14. Robinson will then begin his National Teacher of the Year tour. But for now, it's business as usual. "The main thing I try to teach my students is to always expect the best and demand the best of all your teachers and everyone who is there to help you," he says. "Never let anyone dim your light or dim your voice."