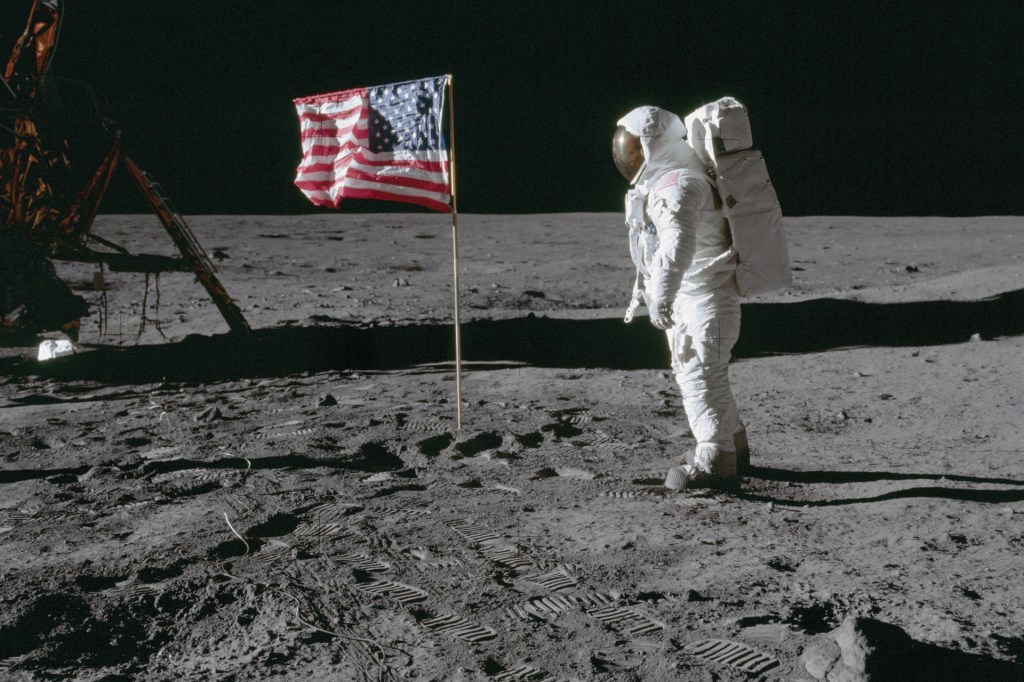 On July 16, 1969, the Apollo 11 spacecraft blasted off from Cape Kennedy (now Cape Canaveral), in Florida. Four days later, Apollo's lunar module landed at its destination. When Neil Armstrong emerged, he made history as the first person to walk on the moon.
Next week marks 50 years since the moon landing. To celebrate, TIME for Kids created this list of new books about Apollo 11. Check them out and be transported to another time and place.

Flying to the Moon: An Astronaut's Story
By Michael Collins
Michael Collins was the pilot on Apollo 11. While Buzz Aldrin and Neil Armstrong walked on the moon, Collins stayed on Columbia, the mission's command module. For more than 21 hours, he orbited the moon alone. In Flying to the Moon, Collins tells his story. The book was originally published in 1976, and was rereleased for the 50th anniversary of Apollo 11. This new version includes a foreword by astronaut Scott Kelly.
Reaching for the Moon
By Katherine Johnson
Reaching for the Moon is an autobiography by NASA mathematician Katherine Johnson. When the book opens, Johnson is 4 years old and helping her older brother with his math homework. "Math had always come easily to me," she writes. "I loved numbers and numbers loved me." Eventually, Johnson goes to work for NASA. There, she performs many of the complex calculations that make important space missions possible, including Apollo 11.
Apollo 11: First Men on the Moon Coloring Book
By Steven James Petruccio
This coloring book features 30 line drawings. Illustrations were carefully researched and are historically accurate. Together, they tell the true story of Apollo 11. It's up to you to fill in the blanks.
The Spacesuit: How a Seamstress Helped Put a Man on the Moon
By Alison Donald and Ariel Landy
Ellie is on a mission: She's leading a team of talented seamstresses as they work on a historic project. They're sewing a spacesuit that Neil Armstrong will wear when he walks on the moon. The Spacesuit is inspired by true events. The spacesuits worn by the Apollo 11 astronauts were formed from 21 layers of fabric and rubber, using cutting-edge technology. A team of seamstresses built each suit by hand.