There's no question that 2021 was as momentous as 2020. Like last year, this one was defined by wildfires and protests for social justice. And around the world, the pandemic continues.
But 2021 was also the year the world moved on. The Summer Olympics were finally held, in Tokyo, Japan. They'd been postponed for a year because of the pandemic. In the United States, the 46th president took office, and a COVID-19 vaccine was authorized for children ages 5 to 11.
Here are TFK's picks for 2021's most memorable moments. Which events would you add?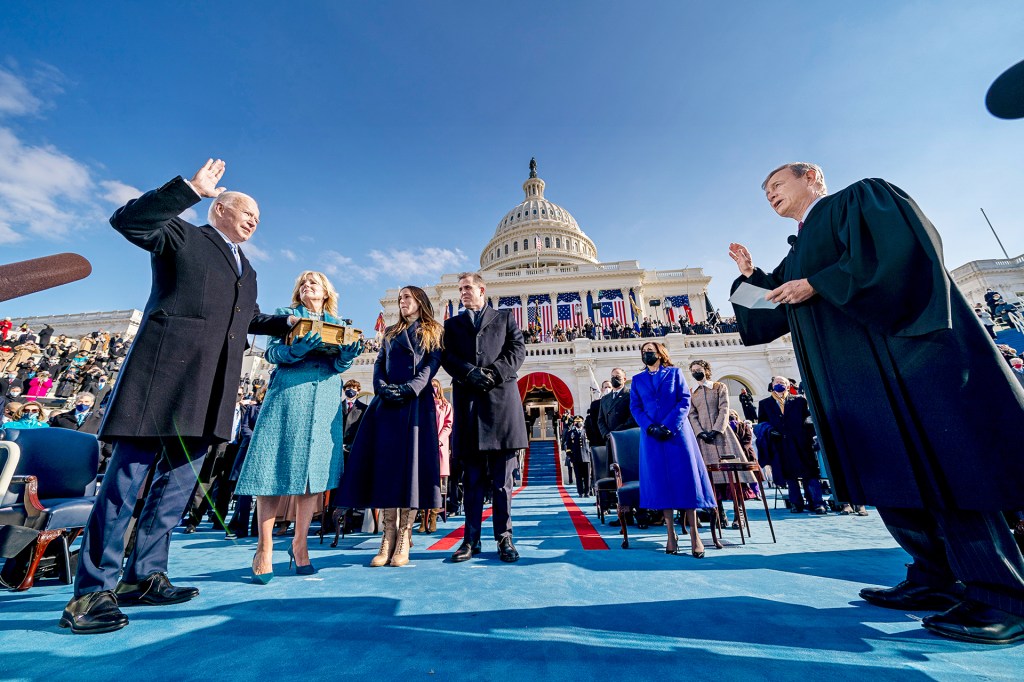 ANDREW HARNIK—GETTY IMAGES
January 20: On INAUGURATION DAY, Joe Biden is sworn in as the 46th president of the United States. He takes the oath of office at the U.S. Capitol, in Washington, D.C. Kamala Harris is sworn in as vice president. She is the first woman, the first Black person, and the first person of South Asian descent to hold this position.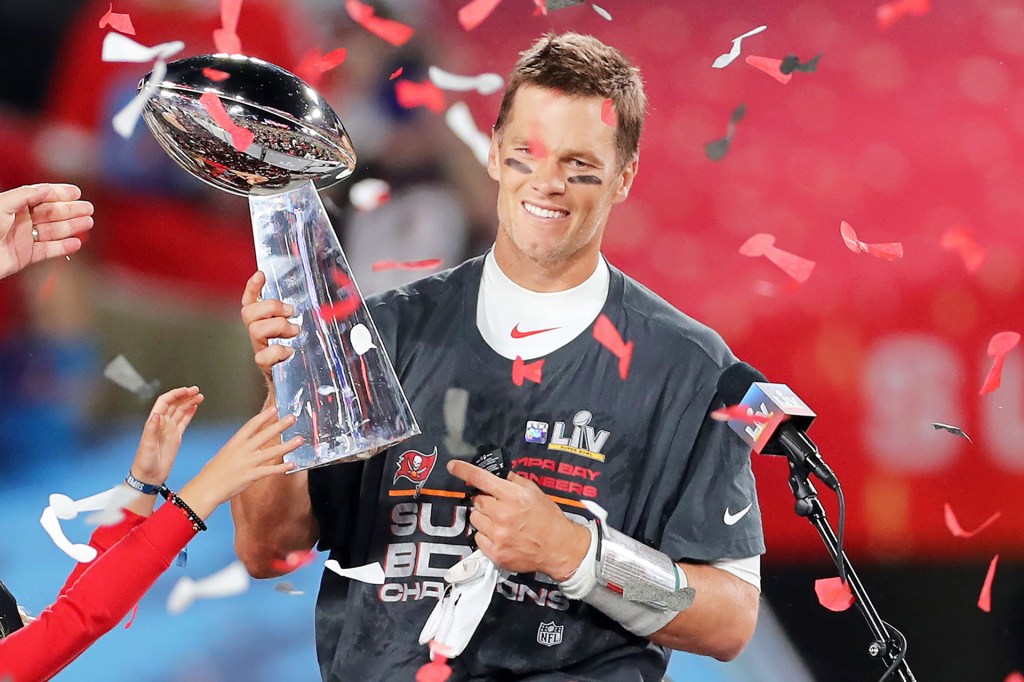 CLIFF WELCH—ICON SPORTSWIRE/GETTY IMAGES
February 7: Tom Brady, quarterback of the Tampa Bay Buccaneers, basks in his team's SUPER BOWL LV VICTORY. Tampa Bay beat the Kansas City Chiefs 31–9. It was the team's second championship title.
MAXAR TECHNOLOGIES/USA TODAY NETWORK/SIPA USA
MARCH 28: The EVER GIVEN, one of the world's largest container ships, has been stuck in Egypt's Suez Canal for nearly a week. This causes major problems for global shipping. Tugboats finally free the ship on March 29.
WANG YING—XINHUA/GETTY IMAGES
APRIL 4: People RALLY IN NEW YORK CITY to protest anti-Asian hate crimes. With the pandemic, violence against Asian Americans rose sharply. The attacks were fueled by a false belief that Asians were responsible for the coronavirus.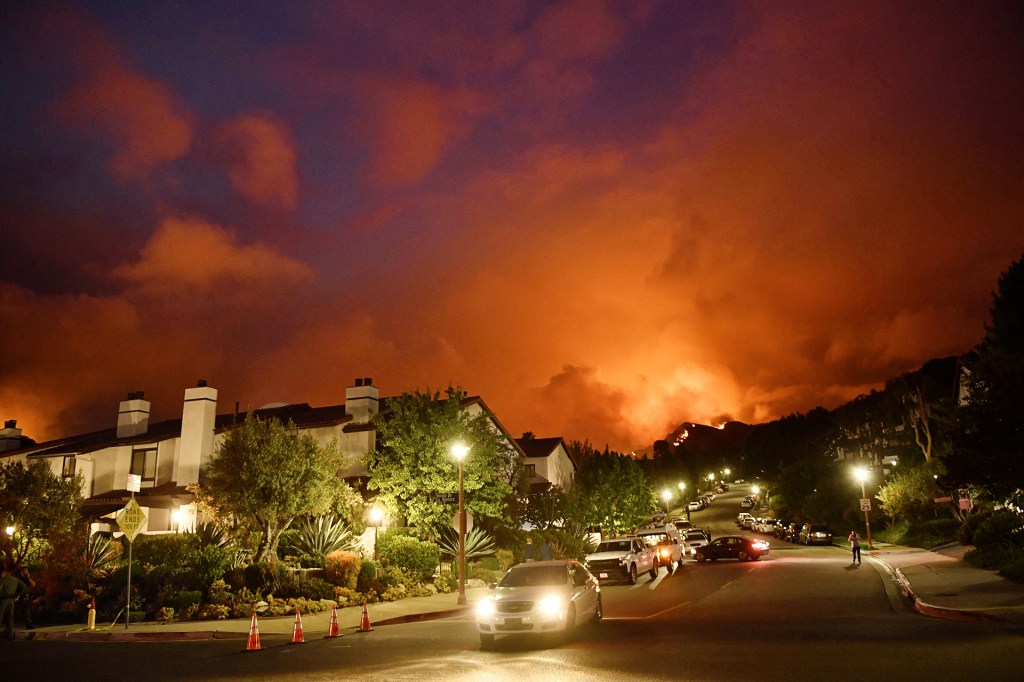 PATRICK T. FALLON—AFP/GETTY IMAGES
MAY 15: The PALISADES FIRE glows in Los Angeles, California. More than 2 million acres in the state burned between the start of the year and the fall.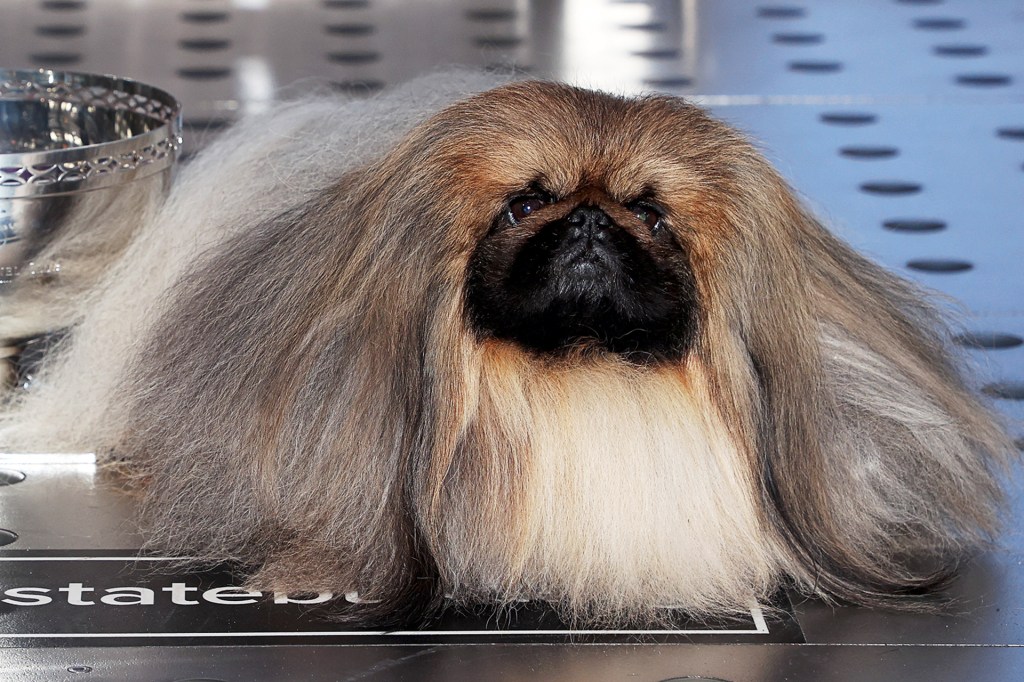 DIMITRIOS KAMBOURIS—EMPIRE STATE REALTY TRUST, INC/GETTY IMAGES
JUNE 14: A Pekingese named Wasabi visits the Empire State Building, in New York City. A day earlier, Wasabi won Best in Show at the 145th WESTMINSTER KENNEL CLUB DOG SHOW. It was held in Tarrytown, New York. Wasabi's visit to the city was part of a victory lap with owner David Fitzpatrick.
JOHN RAOUX­—AP
JULY 8: Zaila Avant-garde, 14, wins the 2021 SCRIPPS NATIONAL SPELLING BEE. It took place in Orlando, Florida. She's the first Black American winner. She received a trophy and $50,000 from Scripps.
ROBIN UTRECHT—ANP SPORT/GETTY IMAGES
JULY 23: Fireworks soar at the OLYMPIC GAMES OPENING CEREMONY, in Tokyo, Japan. The Summer Olympics were supposed to take place in 2020. They were postponed because of the pandemic. Safety precautions are taken at all Olympic events.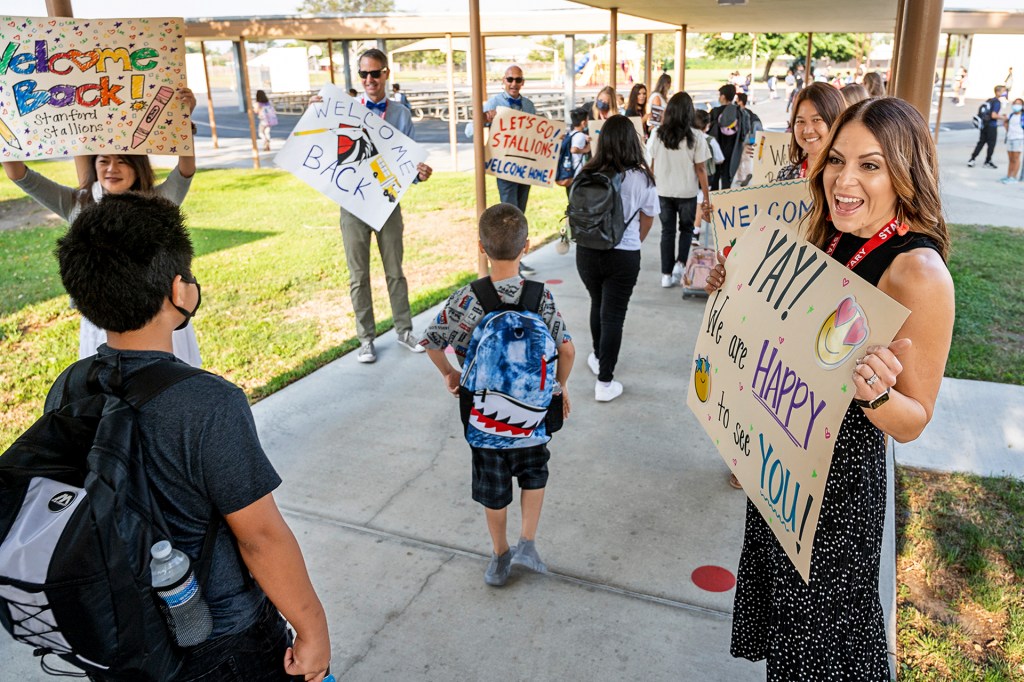 PAUL BERSEBACH—MEDIANEWS GROUP/ORANGE COUNTY REGISTER/GETTY IMAGES
AUGUST 16: Teachers welcome students BACK TO SCHOOL in Garden Grove, California. This year, many kids in the U.S. returned to in-person classes after months of remote learning.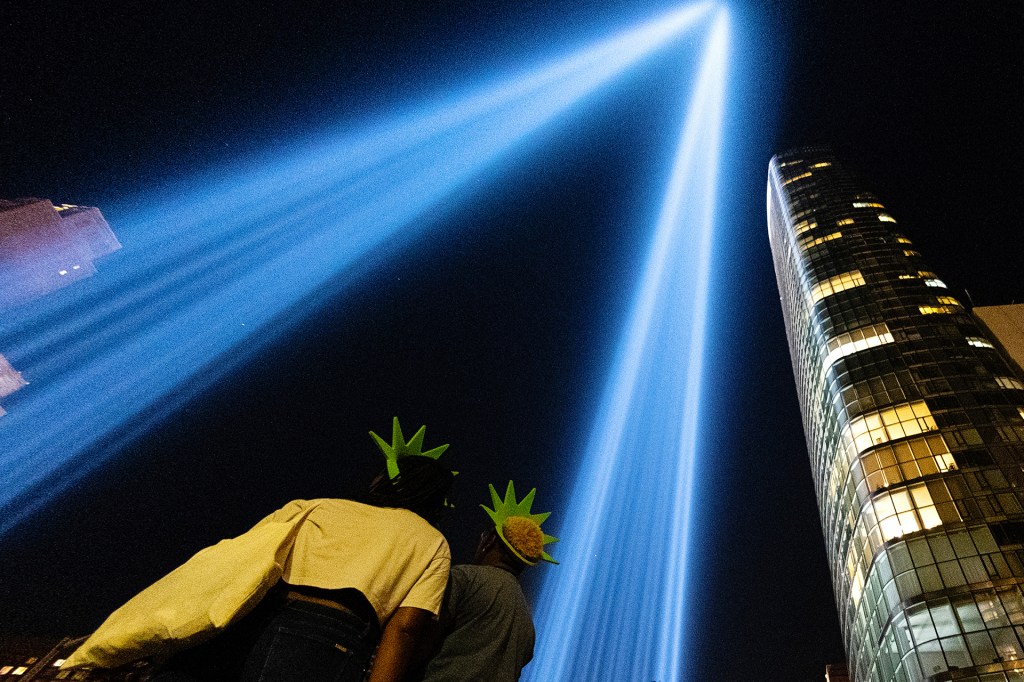 ALEXI ROSENFELD—GETTY IMAGES
SEPTEMBER 11: THE TRIBUTE IN LIGHT memorial shoots above the World Trade Center in New York City. It is one of many tributes in the U.S. They mark the 20th anniversary of the September 11 attacks. Thousands died in the attacks, which are called the worst in U.S. history.
J. CONRAD WILLIAMS JR.—NEWSDAY RM/GETTY IMAGES
SEPTEMBER 11: Emma Raducanu wins the GRAND SLAM WOMEN'S FINAL at the U.S. Open. She was 18. The British tennis player beat Leylah Fernandez, from Canada. It was the first time since 1999 that two teenagers competed in a major tennis tournament final. Raducanu called her win "an absolute dream."
ALAN WARREN—THE MESSENGER-INQUIRER/AP
OCTOBER 29: Kids cheer at a HALLOWEEN PARADE in Owensboro, Kentucky. It was safe for children to take part in some Halloween traditions this year, Dr. Anthony Fauci said. He is the nation's top expert on infectious diseases. Kids were able to go trick-or-treating again this year.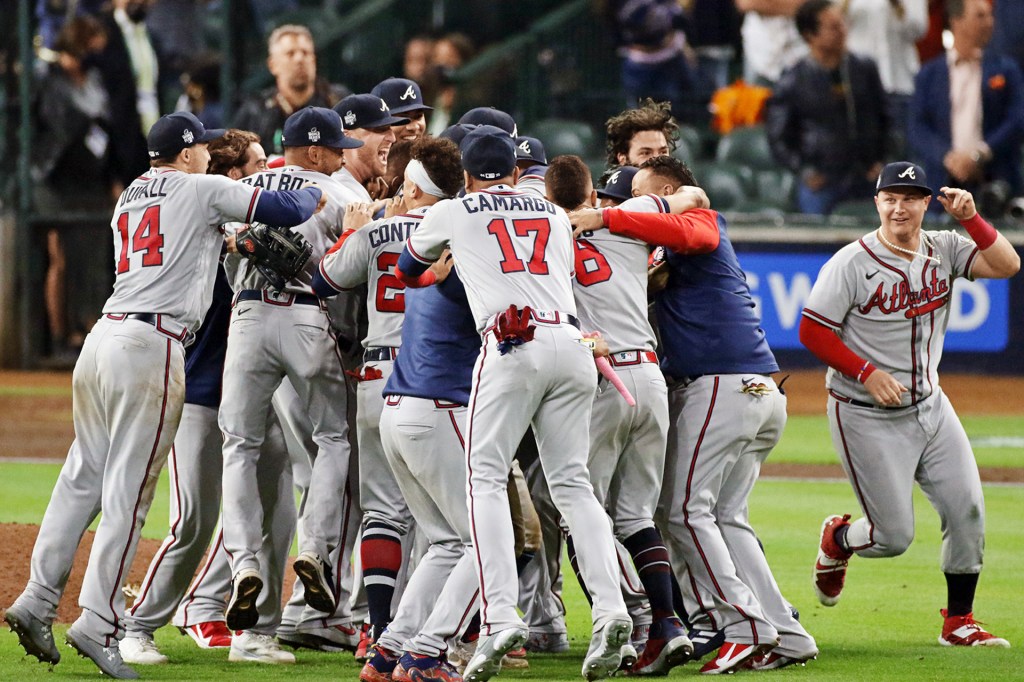 MICHAEL STARGHILL—MLB PHOTOS/GETTY IMAGES
NOVEMBER 2: The Atlanta Braves celebrate their VICTORY IN THE WORLD SERIES. They beat the Houston Astros 7–0 in Game 6, in Houston, Texas. This was the team's first championship title since 1995.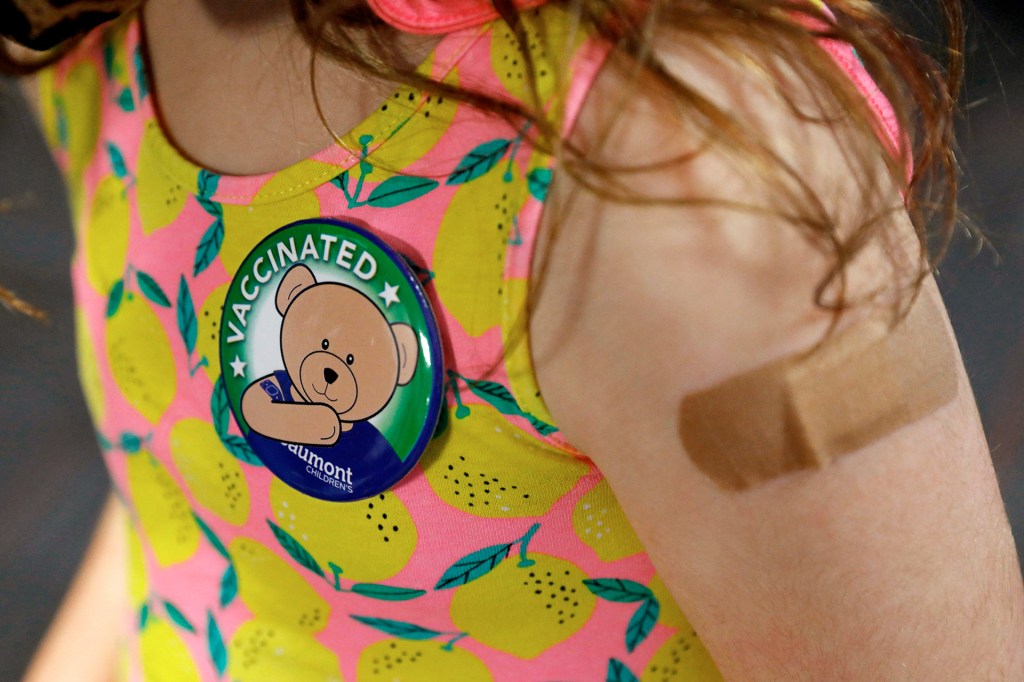 JEFF KOWALSKY—AFP/GETTY IMAGES
NOVEMBER 5: A girl in Michigan shows off a pin she got after her first dose of the COVID-19 VACCINE. Just a few days earlier, the U.S. Centers for Disease Control and Prevention recommended the Pfizer-BioNTech vaccine for children ages 5 to 11.
BRITTAINY NEWMAN—THE NEW YORK TIMES/REDUX
DECEMBER 1: A towering CHRISTMAS TREE lights up during an annual ceremony at Rockefeller Center, in New York City. People snapped photos from nearby windows.