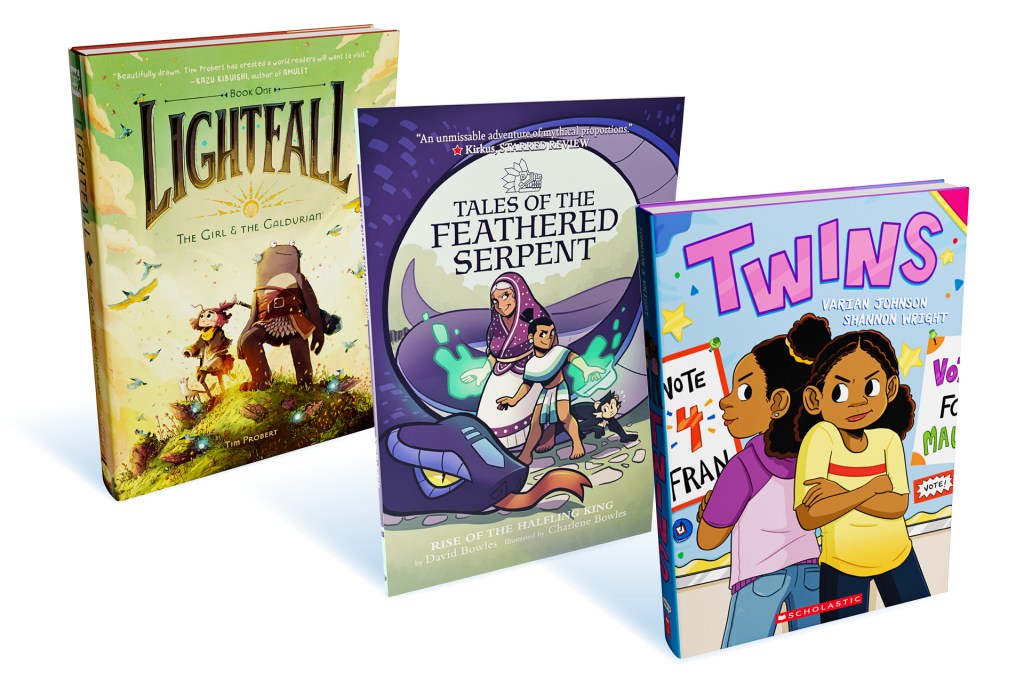 A magical quest, middle school drama, and a feathered serpent fill the pages of three new graphic novels. Find out more about these illustrated stories.
Travel Partners
Set off on a quest in the new graphic novel Lightfall: The Girl & the Galdurian, by Tim Probert. Bea lives with her adoptive grandfather, the Pig Wizard. Together, they make potions and tonics for the people of their planet, Irpa. Then Bea meets Cad. He's a Galdurian, a race of creatures thought to be extinct. When Bea's grandfather goes missing, the go in search of him and Cad's lost people.
Probert told TIME for Kids that Bea and Cad are different, but "together, they make a surprisingly good team." Probert hopes kids get carried away by their story: "It's full of adventure and pretty funny!"
Twin Trouble
What do you do when someone who's supposed to be just like you starts acting different? Twins examines this question. Maureen and Francine Carter are twins. Maureen thinks they're also best friends. But as the sisters enter sixth grade, Francine changes.
Varian Johnson is the author. Illustrations are by Shannon Wright. "My oldest daughter loves graphic novels," Johnson told TFK. "However, we struggled to find graphic novels where Black girls were the main characters." He adds, "Shannon was able to breathe life into each and every character. In many ways, Twins is a love letter to Black girls."
Snake Fighter
In Tales of the Feathered Serpent: Rise of the Halfling King, a brave young boy named Sayam—half elf, half human—steps up to save a city from a giant feathered snake. The serpent is a prominent creature in the religion of the ancient Maya, a culture native to Mexico and Central America.
"The ancient Maya blended words and art in the books they created," says David Bowles, the author. "I figured a graphic novel would respect the way people in Mexico have always shared their stories." Charlene Bowles illustrated the book. "It has a great mix of action, tension, and humor," she says. "The legend of the halfling king is fascinating."