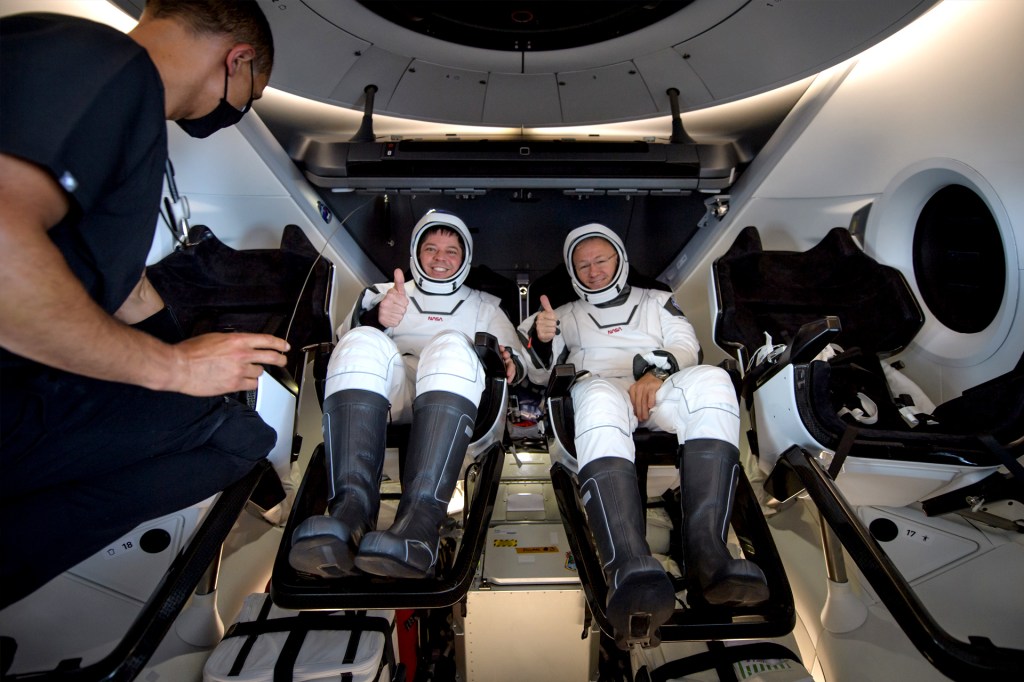 NASA astronauts Doug Hurley and Bob Behnken made history when they returned to Earth on August 2. Their SpaceX Crew Dragon spacecraft, Endeavour, parachuted into the Gulf of Mexico. It was the first splashdown landing by American astronauts in 45 years. It was also the first time a commercial spacecraft was used to carry people to and from orbit.
The astronauts were arriving from the International Space Station. They had spent two months there.
"Welcome back to Planet Earth and thanks for flying SpaceX," said mission control from SpaceX headquarters.
The capsule had entered the Earth's atmosphere at 17,500 miles per hour. That caused the air around the capsule to heat up. Temperatures reached 3,500°F. The capsule slowed as it descended. It landed about 40 miles off the coast of Florida, traveling 15 miles per hour.
The capsule was lifted onto a recovery ship. The astronauts were examined by doctors and nurses who had been quarantined for two weeks and had been tested for the coronavirus. This was for the astronauts' protection. After checkups, Hurley and Behnken were flown to a base in Houston.
Elon Musk is the owner of SpaceX. He welcomed the astronauts at a small masked gathering of family and officials. "I'm not very religious, but I prayed for this one," he said to the group.
Historic Landing
SpaceX is the first private company to launch people into orbit. And this was the first launch of NASA astronauts from U.S. soil in nearly a decade. Until this mission, NASA relied on Russian rockets to take astronauts to space.
The mission has set the stage for another SpaceX launch next year. Eventually, the company could fly tourists into space. Gwynne Shotwell is SpaceX's president. She hopes this mission will lead to "doing even harder things," like astronaut flights to the moon and Mars.
NASA is on board with the plan. Administrator Jim Bridenstine said from Houston, "We are entering a new era of human spaceflight."