Science Fair Fun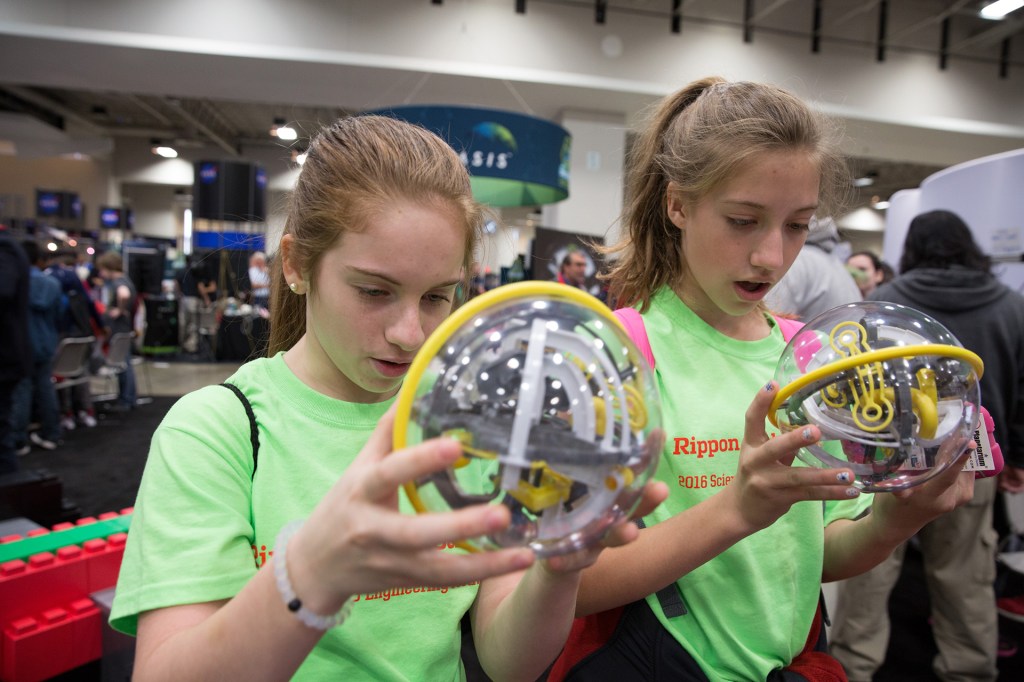 I know what it feels like to be transported into a completely new world—a world of innovation, science, and discovery. That's because I attended the USA Science & Engineering Festival, held April 7 and 8, in Washington, D.C. (The day before the event officially kicked off, I got to take part in Sneak Peek Friday.) I was completely blown away by what I saw at the festival—every room was filled with people of all ages exploring booths, performing experiments, and doing hands-on testing of new technology.
One exhibit revealed the next generation of laser altimetry, a science in which lasers are used to measure the distance to the Earth's surface from a plane or satellite. Another had rides children could try out as if they were at a NASA space camp. Students from Vermont Tech showcased satellites, and there were exhibits devoted to the Science of the Senses. The whole event was filled with life and learning.
Girls in STEM
On Saturday, I interviewed two scientists from the healthcare company Abbott: Beth McQuiston, a neuroscientist studying concussions, and Corlis Murray, an engineer who helps manufacture scientists' inventions. We spoke during Abbott's "Girls in STEM" stage show. Of all the interesting things I learned during the weekend, the most interesting thing is that only 15-25% of the STEM fields—science, technology, engineering, and math—are comprised of women.
I asked McQuiston and Murray about their view on the lack of women STEM fields. "Who better to create and innovate the technologies and products that women need, as well as other diverse populations, than having a diverse population of minds to do that?" Murray said. "I think that in order for society to continue advancing in a matter in which it has to and needs to, we need a diverse population of scientists and technologists and engineers to be able to do that, and absolutely it includes girls."
Murray feels strongly about women being encouraged to pursue careers in STEM, promoting the hashtag #ilooklikeanengineer, which is intended to boost young girl's confidence and encourage them to pursue engineering as a career.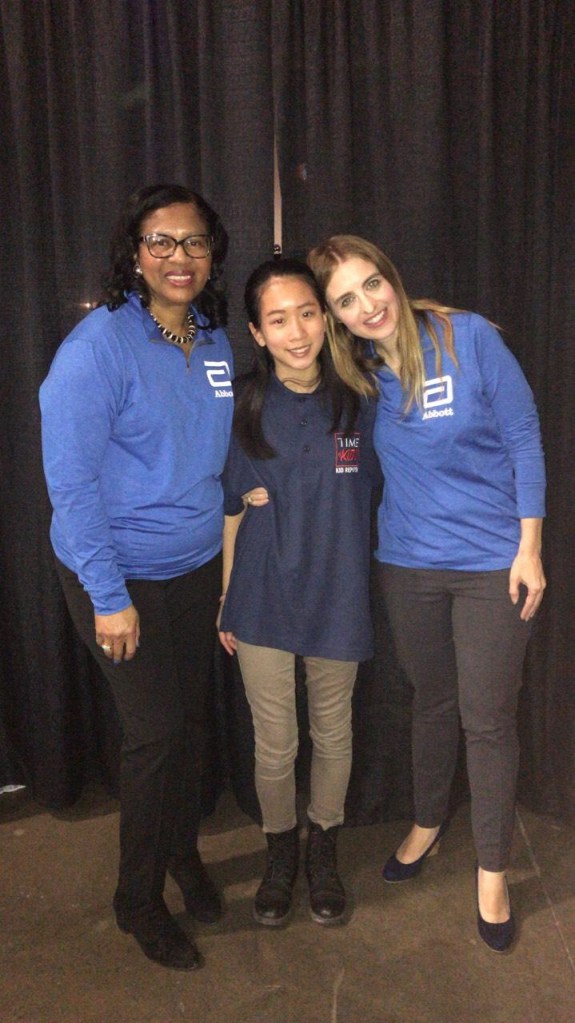 COURTESY NATALIE CHEN
"Girls tend to not have enough confidence in themselves or think that they have to be 100% perfect before they can apply for something, and it's limiting for girls if they don't just go for it," McQuiston says. "So tell that negative voice to be quiet and go for your dream. Even if you're not perfect, try it and go for it."
McQuiston also told me about Abbott's high school internship program—a program that encourages a students from diverse backgrounds to go into STEM fields and offers internships at Abbott.
Careers in Science
At the festival I also talked with the participants at the Young Women in Bio (YWIB) booth. YWIB is a nonprofit organization that encourages young girls to explore careers in STEM. Student volunteer Amanda Hu told me about the group's goals, describing it as "just bridging the gap between gender inequalities and getting girls really interested into STEM fields from the start, instead of later on in college and starting it more in middle school and high school." At outreach events, YWIB spreads the message about women in STEM.
What advice does Abbott's Murray have for girls interested in a STEM career? "Learn to encourage yourself. Learn to be confident in yourself. Learn to trust yourself, and make your voice heard," she says.
My weekend at the USA Science & Engineering Festival was amazing. It was filled with learning, and I got to experience many new things. I also learned about a huge problem in the STEM world: the lack of women in the field. With the help with organizations like YWIB, and with the advice of inspirational role models like McQuiston and Murray, women are on the right path to becoming the future of science.