Sinking In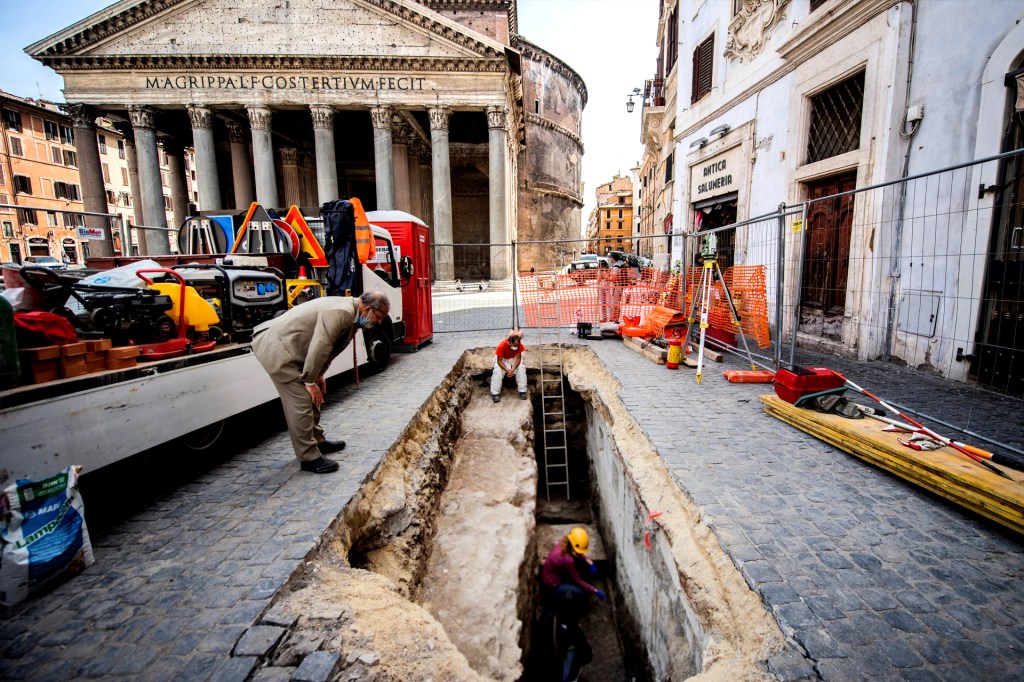 Everything was quiet at the Pantheon, in Rome, Italy, on the afternoon of April 27. That is, until the ground opened up outside the ancient temple and cobblestones fell into the earth.
No one was hurt. The normally crowded public square was empty because of the COVID-19 pandemic. So at first, there was no one to see what the sinkhole revealed: several 2,000-year-old paving stones. These slabs of rock were once part of a bustling ancient street.
"This is further evidence of Rome's inestimable archaeological riches," Daniela Porro told ANSA, the Italian news service. Porro is special superintendent of Rome.
The sinkhole measures about 10 square feet. The ancient stones lie eight feet below. Porro says they were laid around 27 to 25 B.C., making them as old as the original Pantheon built at this site. That temple was destroyed by fire, and then rebuilt circa 128 A.D. It is one of the best-preserved of Rome's ancient structures.
The paving stones had been discovered once before, in the 1990s, when cables and pipelines were laid.
On Dangerous Ground
Sinkholes have recently become a problem in Rome. In 2018, there were 175 of them in the city. The following year, there were another hundred. A sudden collapse can be dangerous. The largest sinkholes can swallow up cars and houses.
Sinkholes form when water wears away the rock beneath the streets. That puts Rome on shaky ground. The city sits on soft rock that is easily eroded. It is made even more unstable because of ancient tunnels and catacombs.
"The main cause of a sinkhole in the city is the presence of an underground cavity," geologist Stefania Nisio told the Italian news agency Adnkronos. She is working on a project to map Rome's sinkholes.
In 2018, city leaders put forth a plan to fix Rome's streets, but progress on that has been slow. Until then, sinkholes will continue to hold the possibility of new discoveries. What wonder of the past could the next sinkhole in Rome unearth?