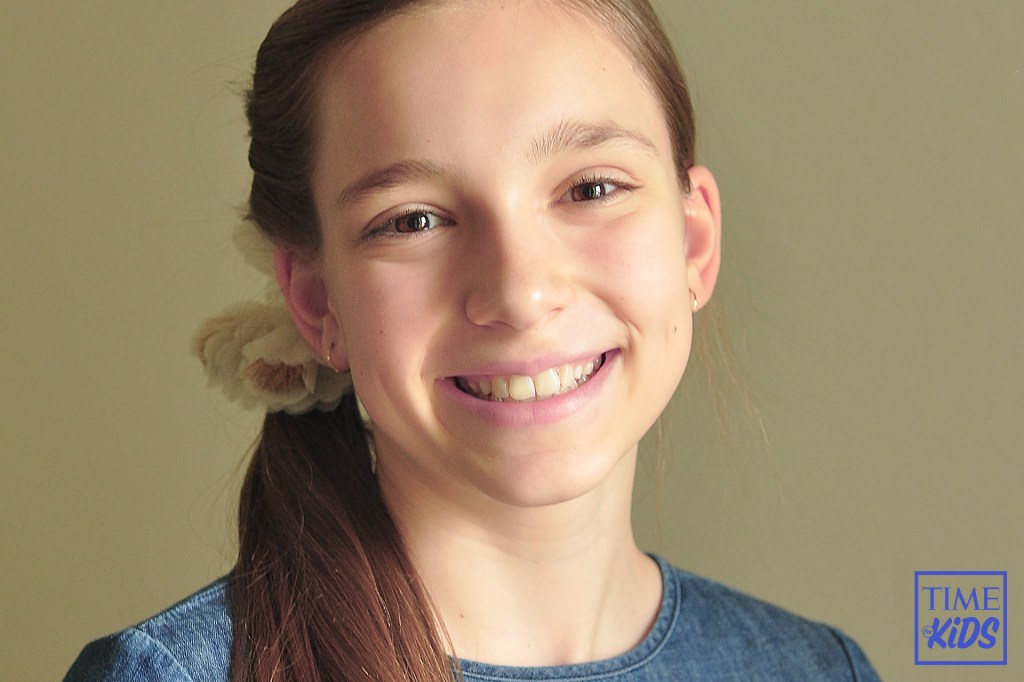 Meet Afton Campbell, one of the 10 outstanding kids selected to be a TFK Kid Reporter this school year. Afton is 12 years old and lives in Surprise, Arizona. She loves to cook and play the piano. Afton also enjoys reading books, and aspires to be an author.
Finalists in the TFK Kid Reporter contest were judged on a number of factors. One of their assignments was to write an article about a hometown hero. Afton's story is about an organization that donates duffel bags full of gifts to children in foster care. You can read it below. We'll be introducing the rest of the TFK Kid Reporter squad throughout September.

Imagine you have two belongings, and you keep them in a trash bag.
This is often a reality among the more than 400,000 foster kids in the United States.
Darin and Kara Moss are changing that. "We started doing foster care about 10 years ago," Darin says. "We've had over 25 different children through our home, and most of them came to us with hardly anything. I decided there's got to be a better way for [foster] kids to be traveling around."
This decision led to the creation of their nonprofit organization, A Mighty Change of Heart, or AMCHAZ, in 2016. AMCHAZ packs and delivers personalized duffel bags stuffed with toys, books, and hygiene items to foster children in Arizona. When requesting a bag on the AMCHAZ website, foster parents list a few of the child's favorite things.
AMCHAZ has delivered 4,502 duffel bags so far. "Nobody gets paid, we're all volunteers, so we don't do this for the money, we don't do this for the glory," Darin says. "But it is so nice to hear from the kids and how excited they are when they get their duffel bag with their name embroidered on it. Most of these kids have never had something that is their own possession because they've been bouncing from house to house forever."
Hope*, 9, and Israel*, 8, received bags from AMCHAZ. Hope says, "My favorite part was my soft stuffed animal and my water bottle."
Israel had a harder time choosing: "I loved all of it because it was like they knew everything I liked, even my favorite color."
Nicole Becerra has been fostering children for three years. Each of her foster children has received a bag. "It really is a thoughtful, mindful bag that you would feel like the child's own grandma had made for them," she says. "So much thought, love, and care go into it."
That care is important. Kara Moss says, "The best part of what we do, for me, would be seeing the kids receive their bags and knowing the stuff they have is theirs and theirs alone. It's new, and it's not a hand-me-down, and it was hand-picked for them."
Even kids can make a difference as volunteers at AMCHAZ. "They've stocked shelves, they've packed bags," Kara says. "I know a couple of them have even been able to go with us when we deliver bags, which is super cool."
AMCHAZ strives to give foster children something of their own. As Darin says, "We want them to know they are loved, and they are not forgotten."
*Names have been changed