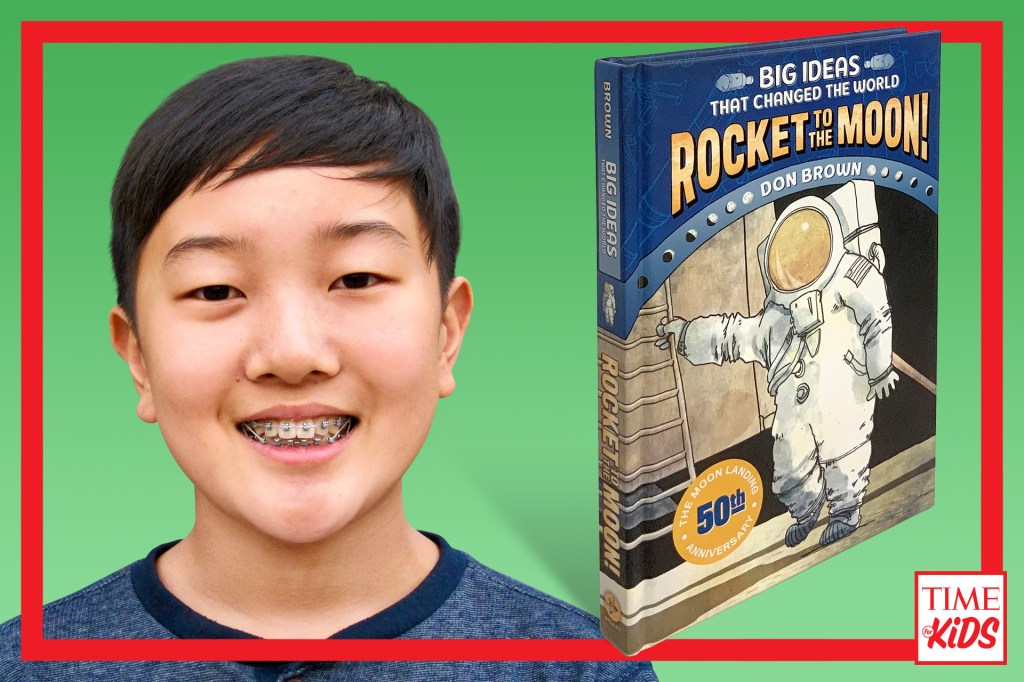 This week marks the 50th anniversary of the launch of Apollo 11. That's the NASA mission that first landed people on the moon. In the graphic novel Rocket to the Moon!, Don Brown tells the story of the mission in words and illustrations.
Rocket to the Moon! is one of TFK's 10 recommended reads for summer. After we made our picks, we handed them off to our team of TFK Kid Reporters to get their take. Here, TFK Kid Reporter Minoo Jang shares his review.
We'll be posting reviews each week, all summer long. Check back next Tuesday to read about Greystone Secrets: The Strangers, by Margaret Peterson Haddix.

Rocket to the Moon! is a historical graphic novel. It recounts the story of NASA's Apollo space program. It also looks closely at the Apollo 11 mission. That was the mission that first landed a person on the moon, on July 20, 1969.
Spending a mere couple of pages on pre–20th century rocketry, Rocket to the Moon! does more summarizing than storytelling. From the invention of gunpowder in China to the moon race between the U.S. and Soviet Union, this book shows what made the Apollo 11 mission possible.
Don Brown's book offers attention-grabbing facts. And it has strong visual appeal. The novel's pictures present the Apollo 11 mission in a way that is easy to understand.
Although the plot feels more focused on rockets than on people and their stories, the art and historical information make this graphic novel interesting. Kids who want to learn more about space exploration would like this book.