Sticking to It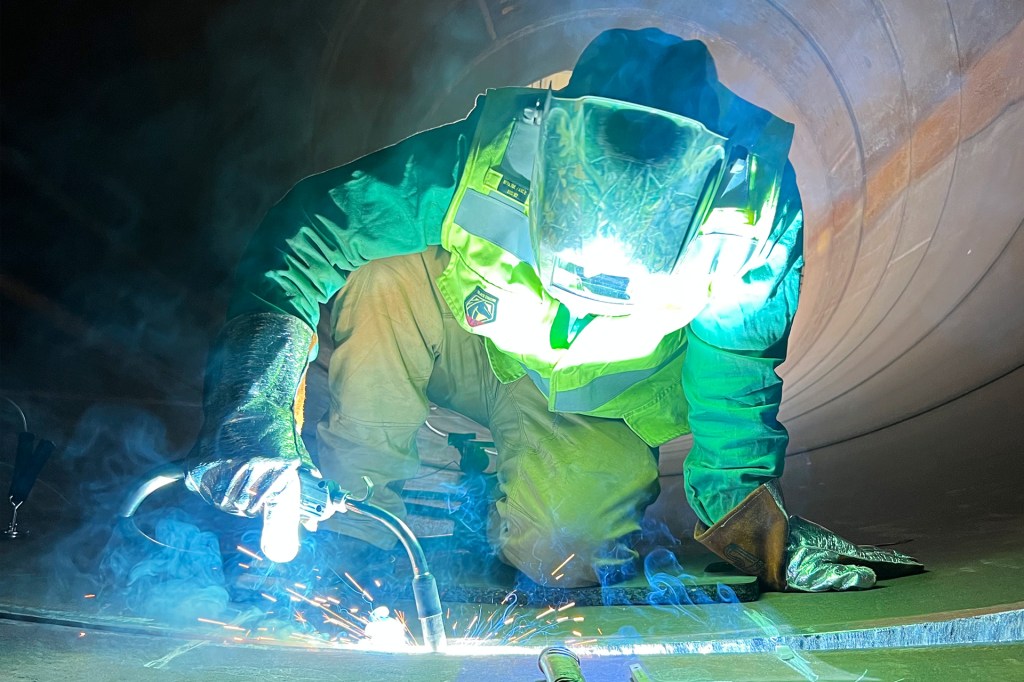 If you enjoy learning about interesting jobs, find this article and more like it on Your Hot Job, TFK's new career-focused website for kids. What does your future hold?
When Drew Mascotti graduated from high school, he got a job delivering pizzas. But it wasn't long before he realized that dropping off pies wasn't what he wanted to do for the rest of his life. So he signed up for a night class at a local tech school to see if welding—which joins two metals, using heat—was a skill that "was going to stick."
It did. Mascotti wanted to learn everything about welding and manufacturing. He decided he'd make welding his career.
He decided he'd make welding his career. But one night class wouldn't be enough. He searched for a place with real, technical training that included all aspects of the job. Eventually, he chose Hobart Welding School, in Troy, Ohio. He went there for a year. In addition to enrolling in "every single welding course that I could," Mascotti took extra classes in subjects such as metallurgy—the study of metals—and reading blueprints.
For the past 18 years, Mascotti has been a welder. He now works for the EEW Group. The company has a big project on the horizon: It's in the process of opening a factory that will produce monopiles for offshore offshore located in the ocean at a distance from the shore (adjective) Offshore wind farms turn wind into electricity. wind turbines.
Welding Green
A monopile is a large-diameter steel tube that supports a wind turbine. Wind turbines produce eco-friendly electricity. They look like giant windmills. A typical day for Mascotti involves a number of tasks and skills. One minute, he's driving a forklift. The next, he's fitting pipes, reading blueprints, or cutting materials. "There are a lot of variables that go into the job," he told TIME for Kids. "It's not just welding."
Mascotti works with computers and technology, as well. Joining two sections of a monopile, for example, is a team effort between people and automated equipment. First, a person hand-welds the inside of the pipe. Then the weld is finished by a machine. That machine is guided by a worker. It can take an entire eight-hour shift to complete one weld.
Mascotti's favorite part of being a welder is "making an honest living," he says. He's also proud of being involved with a significant effort to help the environment. "Everybody is trying to go green for a reason," he says. "A lot of different people play a part, and I'm playing mine right now. I'm working for a company that is trying to pave the way in America for wind energy, offshore specifically. And it's gratifying to be a part of that process."