Eight Champs!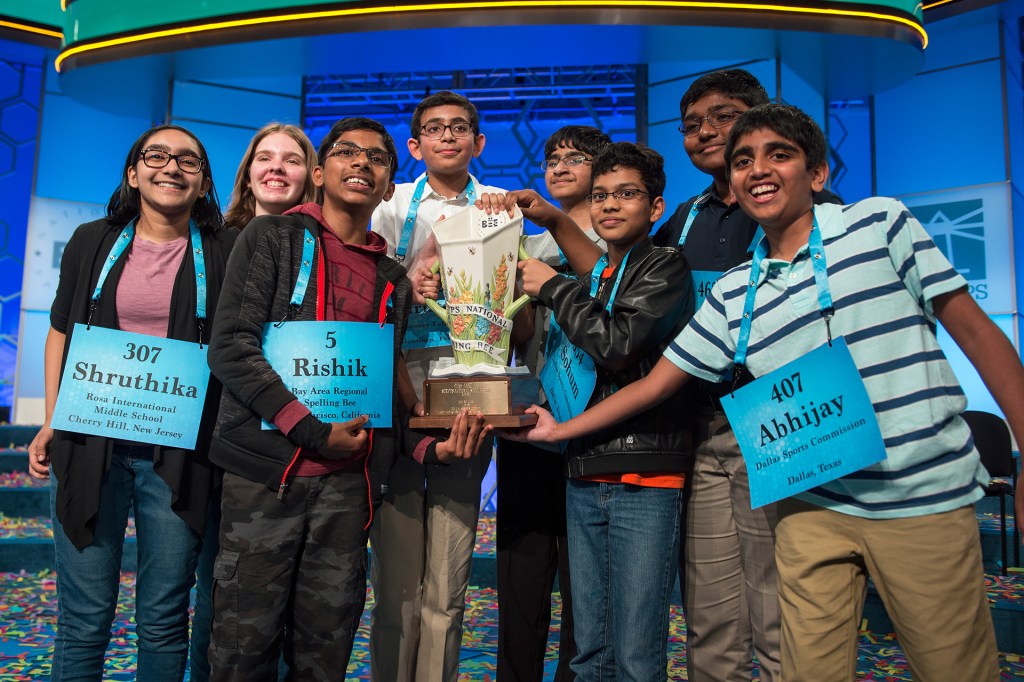 The Scripps National Spelling Bee usually ends with a single winner. Sometimes, it ends in a tie between two contestants. But the results of this year's bee were unprecedented unprecedented never done or known before (adjective) The storm caused unprecedented damage. . Eight super spellers were named co-champions. Each of them will receive a prize of $50,000 and a trophy.
This week, 562 spellers ages 7 to 15 swarmed the town of Oxon Hill, Maryland, to compete in the 92nd annual Scripps competition. After days of written tests and preliminary rounds, only 16 competitors advanced to the prime-time finals on Thursday.
The finals were scheduled to end at 10 p.m. But the spellers were too good.
At around 11:30 p.m., eight contestants were still going strong. They had spelled perfectly for seventeen straight rounds. The competition's official pronouncer, Jacques Bailly, made a historic announcement. "We do have plenty of words remaining in our list," he told the contestants. "But we'll soon run out of words that will challenge you." Bailly then said that any contestant who spelled correctly through the next three rounds would be crowned a champion.
All of the remaining contestants rose to the challenge.
"I don't know if I would've won if they kept going," said 13-year-old Saketh Sundar. He's one of the champs. "I was super tired."
The rules on the bee's website allow for three champions. Paige Kimble is the bee's executive director. She confirmed that her team decided to amend the rules. They did this once they realized how strong the competitors were. "They worked so hard and they achieved so much," Kimble said. "I think it's the best night ever for the bee."
Here's a list of the eight winners, along with the word each spelled correctly to become a co-champion:
Rishik Gandhasri, 13, from California: auslaut
Erin Howard, 14, from Alabama: erysipelas
Saketh Sundar, 13, from Maryland: bougainvillea
Shruthika Padhy, 13, from New Jersey: aiguillette
Sohum Sukhatankar, 13, from Texas: pendeloque
Abhijay Kodali, 12, from Texas: palama
Christopher Serrao, 13, from New Jersey: cernuous
Rohan Raja, 13, from Texas: odylic