Election 2020 Calendar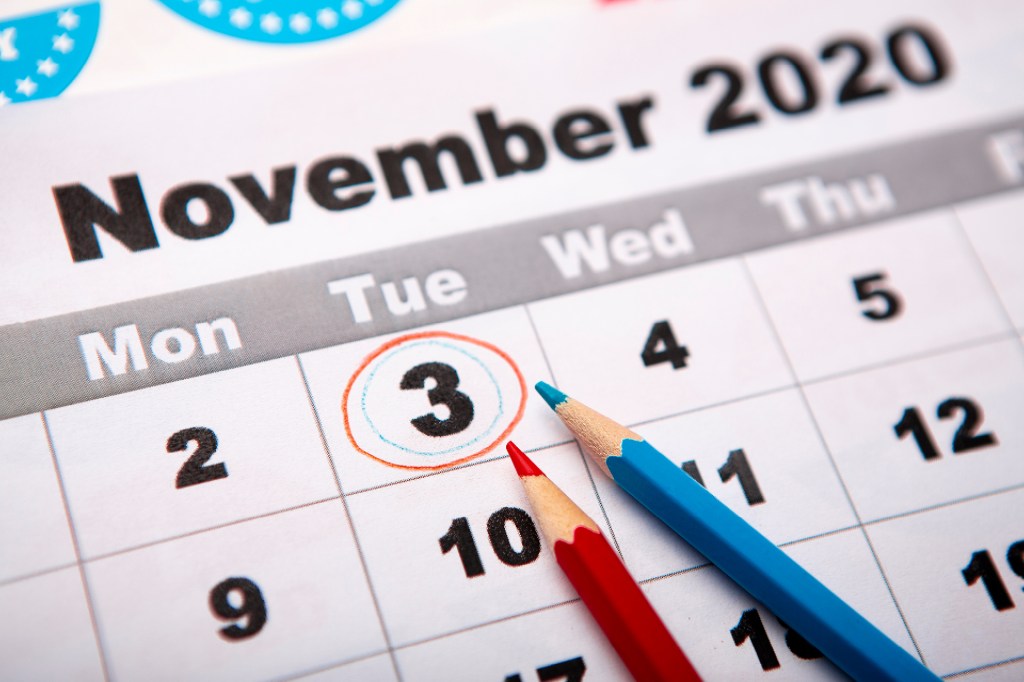 Americans will vote for the president of the United States on Tuesday, November 3. The months leading up to Election Day will be busy. This calendar will help you keep track of important dates and know what to expect along the way.
AUGUST
Democratic National Convention
August 17–August 20
The 2020 Democratic National Convention was supposed to be held in Milwaukee, Wisconsin. But because of the coronavirus pandemic, it will now take place remotely from locations across the country. Democrats will officially nominate Joe Biden for president. Biden plans to deliver his acceptance speech from Delaware, his home state, on August 20.
Republican National Convention
August 24–August 27
Most of the 2020 Republican National Convention was scheduled to take place over four days in Jacksonville, Florida. Now it will be held remotely because of the pandemic. Republicans will officially nominate Donald Trump for president. Trump is scheduled to give his acceptance speech on August 27.
SEPTEMBER
First Presidential Debate
September 29, 2020
President Trump and Democratic presidential nominee Joe Biden will meet for their first debate. The event will be held in Cleveland, Ohio, at Case Western Reserve University's Health Education Campus, at the Cleveland Clinic. (Originally, the debate was to be hosted by the University of Notre Dame, in Notre Dame, Indiana. The school changed its plans because of the coronavirus pandemic.)
OCTOBER
Vice-Presidential Debate
October 7, 2020
Vice President Mike Pence and the Democratic vice-presidential nominee will meet for their first—and only—debate. It will be hosted by the University of Utah, in Salt Lake City, Utah.
Second Presidential Debate
October 15, 2020
Trump and Biden will meet in Miami, Florida, for their second debate. It will take place at the Adrienne Arsht Center for the Performing Arts.
Third Presidential Debate
October 22, 2020
The third and final presidential debate will take place at Belmont University, in Nashville, Tennessee.
NOVEMBER
Election Day
November 3
On this day, Americans in all 50 states and Washington, D.C., will vote for president.
JANUARY 2021
Inauguration Day
January 20, 2021
The winning candidate will be sworn in as president of the United States. The inauguration will take place at the U.S. Capitol, in Washington, D.C.
This story was updated on September 29.