Fires in Arizona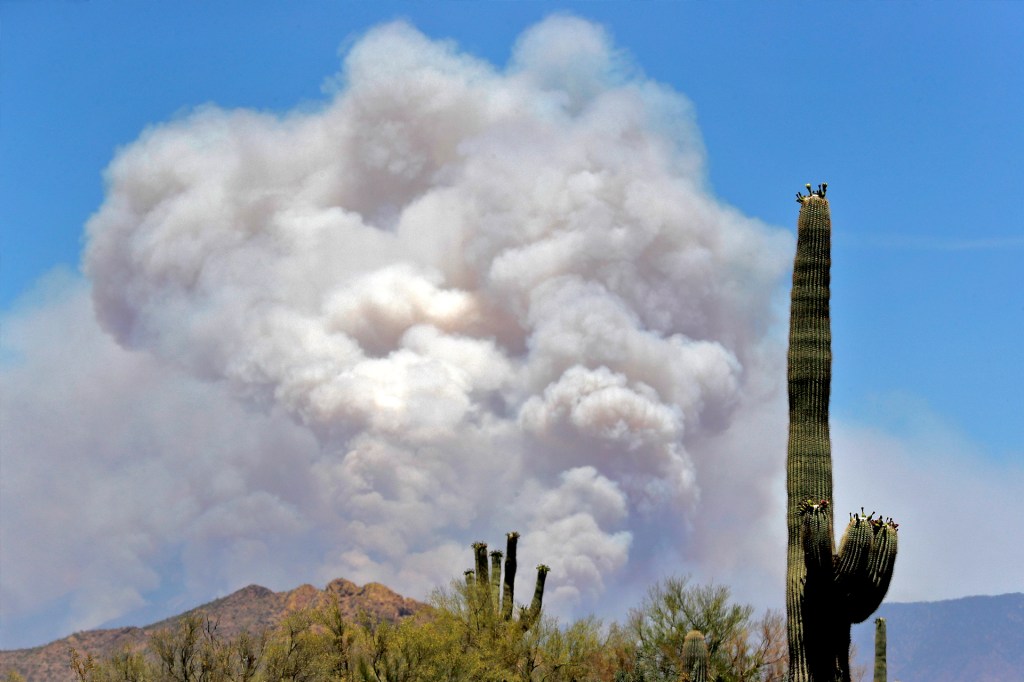 A wildfire burning northeast of Phoenix, Arizona, is now the largest active fire in the United States. That's according to the National Interagency Fire Center. So far, the fire has consumed more than 89,000 acres, or about 140 square miles.
The Bush Fire broke out on Saturday. By Tuesday, it had doubled in size. At least 1,600 people living east and north of it have evacuated their homes.
Officials say the fire began after a burning car pulled off a highway and set the roadside grass ablaze. "The fire is burning very heavy," Tiffany Davila told the Arizona Republic. She is a public affairs officer at the Arizona Department of Forestry and Fire Management.
More than 400 firefighters are battling the Bush Fire. At press time, they had not yet gained control of it. Their job is made more difficult by high winds, dry grass, and hot temperatures. "That makes for some rapid fire growth—extreme fire behavior," Dee Hines told the New York Times on Tuesday. Hines is a spokesperson for the team that is managing the fire.
Firefighters are also battling smaller blazes in other parts of the state. The Bighorn Fire is raging north of Tucson. It has consumed nearly 16,000 acres. As of Wednesday morning, it was 40% contained. Meanwhile, the Mangum Fire is burning north of the Grand Canyon. It has consumed almost 48,000 acres. On Wednesday, it was 3% contained.
Only a few injuries or damaged structures have been reported from any of the fires.
Two Battles to Fight
The fires come at a difficult time for Arizona. The state has recently seen a sharp increase in coronavirus infections. Yesterday, around 2,300 new cases of COVID-19 were reported.
This is a challenge for residents who have evacuated their homes. Officials have told people to "avoid close contact with those who are sick." Experts are also urging people to "practice public health recommendations when relocating." This includes wearing a mask and maintaining social-distancing measures.