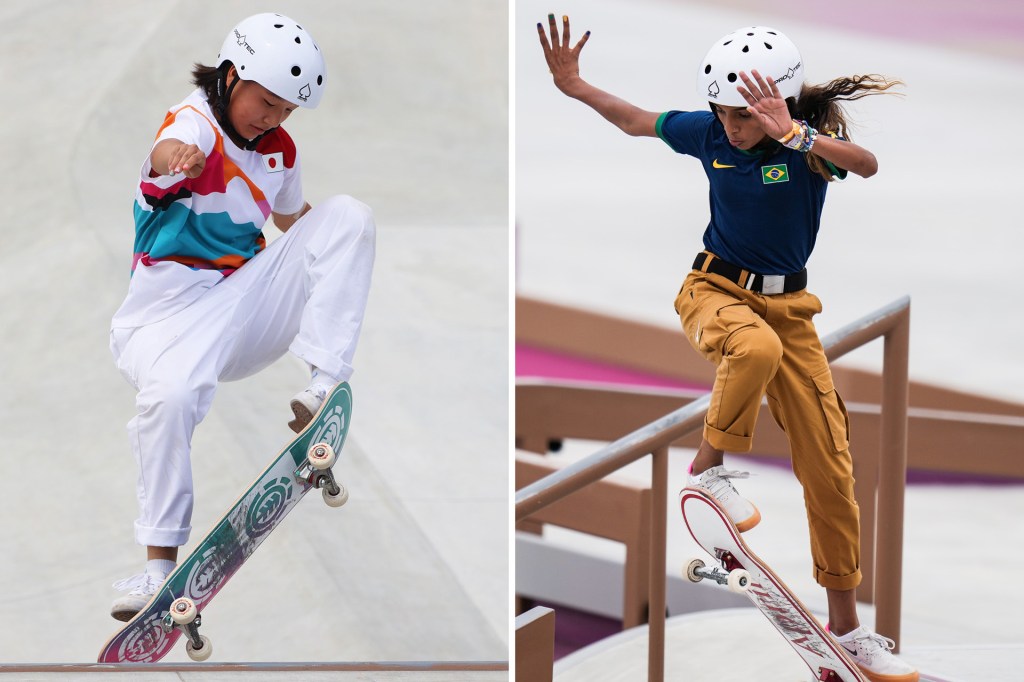 TOKYO, JAPAN—Skateboarding's newest stars are two 13-year-old girls.
Japan's Momiji Nishiya, 13, made history on Monday. At the Tokyo 2020 Games, she took home the first women's street skateboarding Olympic gold medal. Standing next to her on the podium was Rayssa Leal, also 13, from Brazil. Rayssa earned silver in the event. Japanese skater Funa Nakayama, 16, took bronze.
Momiji's win comes a day after 22-year-old Japanese skater Yuto Horigome won gold in the men's event. It cements Japan's status as a skateboarding powerhouse.
The women's skateboarding final was a huge moment for these Games. Some of the Olympics' youngest competitors displayed impressive tricks and brutal wipeouts on an international stage.
Half of the skaters in the finals lineup were younger than 18. In Tokyo's scorching heat, they were determined to land their best tricks. They managed to fill the mostly empty skatepark with joy as hip-hop thumped in the background.
The few spectators at the Ariake Urban Sports Park witnessed some big surprises on Monday. World Number 1–ranked Pamela Rosa, 22, was seen as Brazil's most likely medal hopeful. But she didn't even make it to the final. Aori Nishimura, 19, the Number 3–ranked female street skateboarder, came in eighth after falling several times.
After winning gold, Momiji was asked what she wanted to tell young skaters. "Skateboarding is fun and interesting," she told TIME. "I hope everyone can give it a try."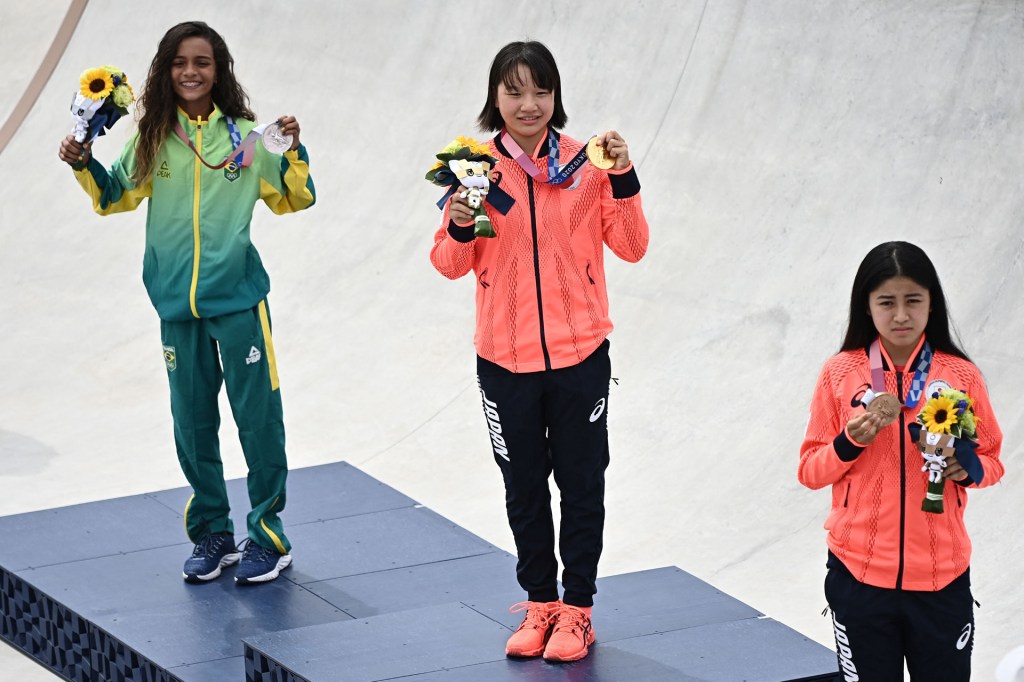 LIONEL BONAVENTURE—AFP/GETTY IMAGES
And this young group is already offering powerful inspiration for a new generation of skaters. Outside of the skateboarding venue, 9-year-old Keito Ota and 8-year-old Ayane Nakamura were eagerly waiting to catch a glimpse of the newly minted Japanese medalists. The two friends started skateboarding about a year ago. They arrived at the park wearing Team Japan skateboarding shirts. Every time a bus left the venue, they pressed themselves against the metal fences, holding up pieces of paper that said, "Thank you for your hard work" and "Congratulations on your gold medal."
Keito says he's adding Momiji and Funa to his list of favorite skateboarders. "I am their fan now," he said, as he slid around on his skateboard. In August, Keito will enter his first competition at a local skateboarding student cup.
Just 13 years and 330 days old at the time of her win, Momiji is Japan's youngest-ever gold medalist. She's one of the youngest in Olympics history. That record, though, goes to American diver Marjorie Gestring. Gestring took the gold medal at the 1936 Berlin Games at the age of 13 years and 267 days. At age 13 years and 203 days, Leal would have set a new record had she finished first.
Momiji always gets rewards from her mother after competitions. She told reporters she looks forward to having yakiniku, Japanese-style grilled meat.