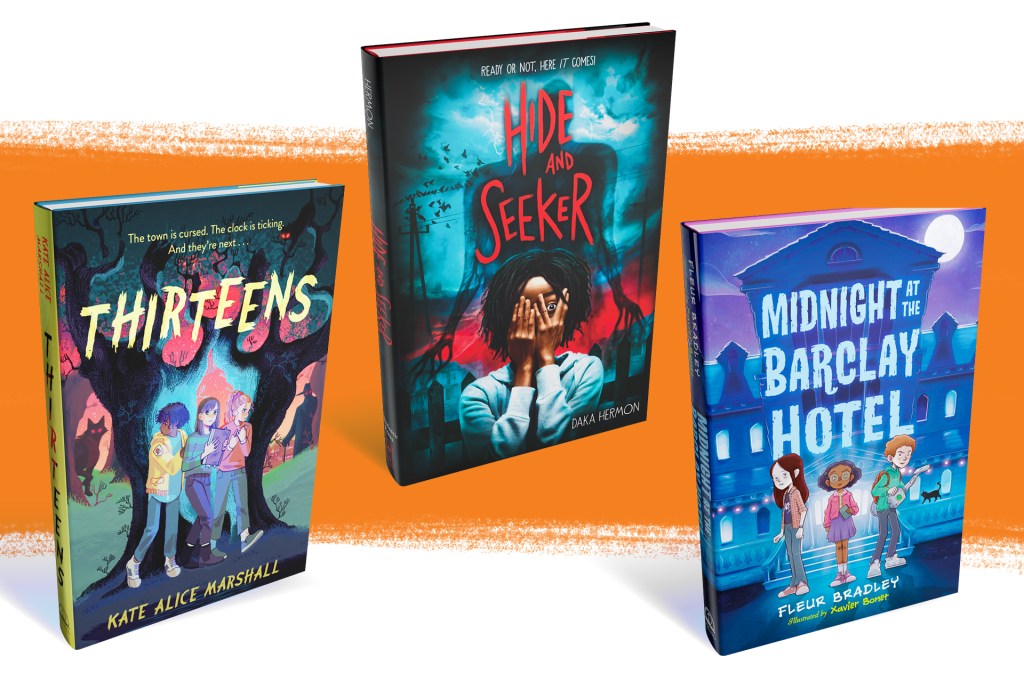 Halloween is the perfect time to curl up with a book that will make you glad you're safe at home. Here are three new spine-tingling tales.
A Game Gone Wrong
In Hide and Seeker, by Daka Hermon, Justin is confused by his friend Zee's behavior. A year ago, Zee went missing. Now he's back—but he can't explain where he's been. And he's talking about a mysterious being called the Seeker. At Zee's welcome-home party, a game of hide-and-seek turns frightening when players begin disappearing into the realm of Nowhere. There, they finally meet the Seeker.
"I want readers to be entertained by this spooky story, but more important, to feel empowered to face any challenge that comes their way," Hermon told TIME for Kids.
Odd Occurrences
What would you do if you found a dog with red eyes, or a grandfather clock with hands that go backward? That's what Eleanor has to figure out in Thirteens. Her pals Pip and Otto see these strange things too. The good news? The three friends have a special book of fairy tales to help them solve these mysteries. The bad news? The book tells them that every 13th Halloween, three 13-year-olds in their town go missing.
Kate Alice Marshall is the author of Thirteens. She told TFK that she hopes readers experience "goosebumps, surprises, and the satisfaction of figuring out a puzzle just in time."
A Hotel Haunting
Meet JJ Jacobson in Midnight at the Barclay Hotel, by Fleur Bradley. JJ enjoys ghost hunting. So when his mother is invited to a special event at a haunted hotel, he persuades her to take him along. There, he meets Penny, a fellow guest, and Emma, a lonely hotel resident. Before long, the kids find themselves at the center of a mystery. It's up to them to discover who killed the hotel's owner, Mr. Barclay. All the guests are suspects.
Bradley told TFK the book was inspired by a historic hotel near her home, in Colorado. "I listened to the ghost stories of people who lived there," she says.