Tragedy in Nevada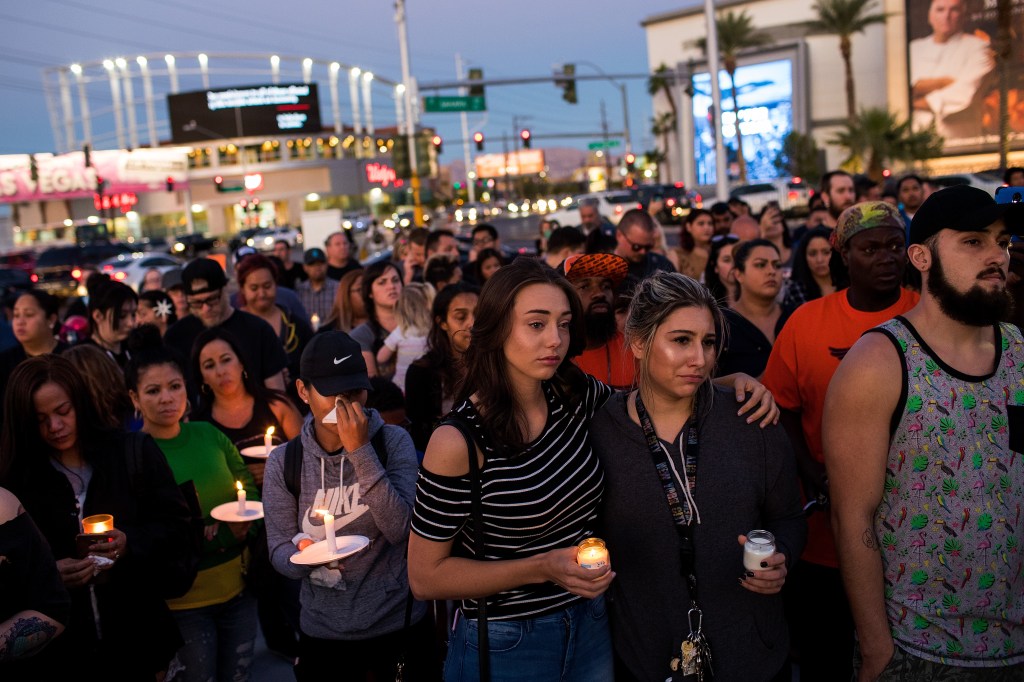 On Sunday night, a man opened fire on a country music festival in Las Vegas, Nevada. At least 59 people were killed. More than 500 were injured. It is being called the worst mass shooting in modern U.S. history.
Police say the suspect is Stephen Paddock, 64, of Mesquite, Nevada. He opened fire on the Route 91 Harvest Festival from a high floor in a nearby hotel. Concertgoers reported seeing flashes of light from the upper floors of the hotel. They recalled hearing bursts of gunfire over a period of 10 minutes. At first they thought it was the sound of fireworks. Police later found Paddock dead in a hotel room.
Authorities are still trying to figure out the reason for the shooting. Right now, they are describing it as a "lone wolf" attack. That means the act is believed to have been done by one person acting alone. Rumors spread on social media of multiple shooters at multiple locations in Las Vegas. Police say these reports are false.
Police have also located a woman named Marilou Danley. They believe she is Paddock's roommate and friend. Officials confirmed that she was in the Philippines at the time of the shooting. Authorities do not believe she was involved. Lombardo said his department will contact her as soon as she returns to the U.S.
On Monday, President Donald Trump addressed the nation about the shooting. He described it as "an act of pure evil." Trump praised first responders for their quick reaction. He offered condolences to the families of the victims. "We are praying for you and we are here for you, and we ask God to help see you through this very dark period," Trump said. The president will visit Las Vegas on Wednesday.
Events surrounding the shooting are still developing. Investigators are looking for answers about how and why the shooting happened. It is normal to feel worried or frightened about the news, and it helps to share concerns with parents, teachers, and peers. They likely feel the same way. It also helps to know the facts. Having accurate information is the first step toward understanding something complicated.