A lot goes into making a magazine. Stories are written by writers. They are revised
revise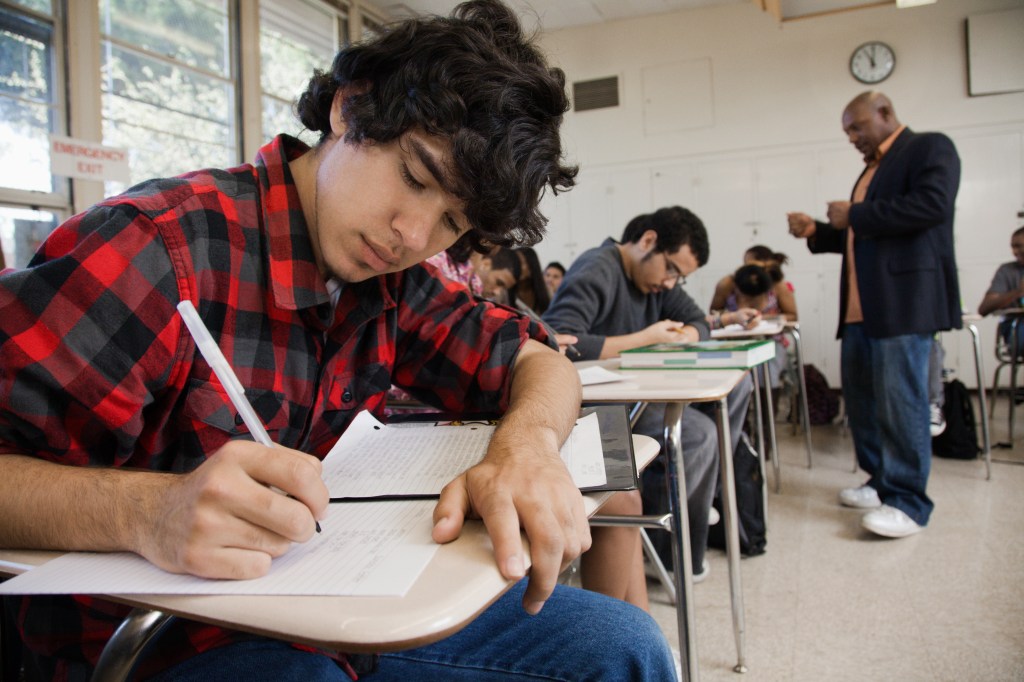 HILL STREET STUDIO/GETTY IMAGES to make changes to improve something (verb) After reading his teacher's comments, Freddy revised his essay. by editors. Words and pictures are arranged on the page by designers. Here's the inside scoop on how TIME for Kids is made.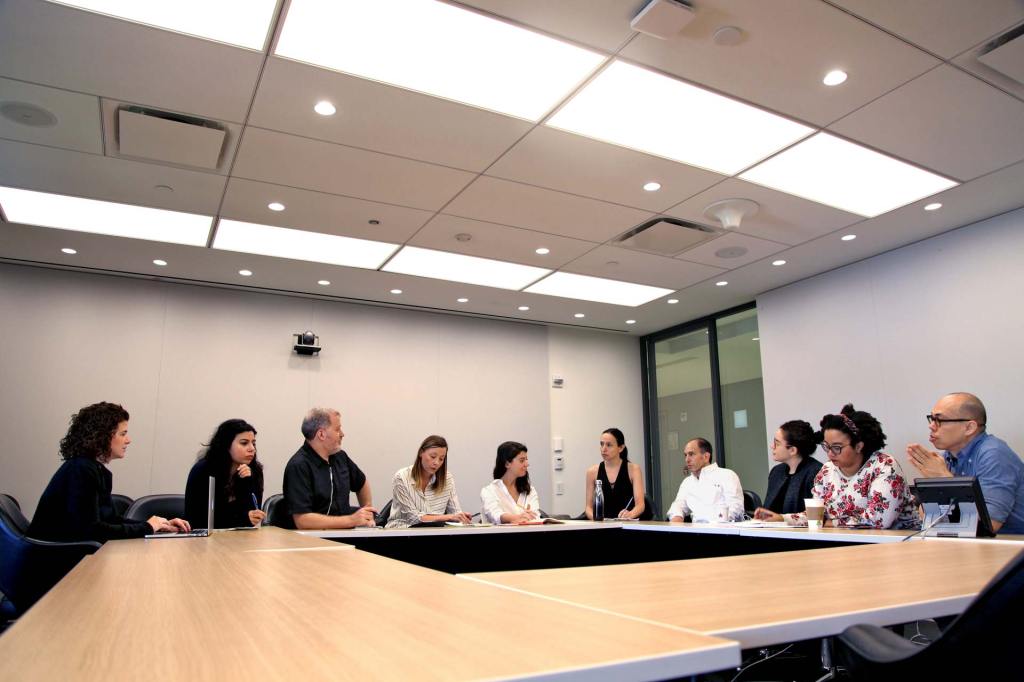 DREW WILIS FOR TIME FOR KIDS
1. The Morning Meeting
Welcome to TFK's daily meeting. At our office in New York City, we get together every morning. We gather to talk about what needs to get done. We also talk about what to put in the magazine. Our meetings keep us organized! Sometimes, we have only a day or two to work on a story. Getting things done takes teamwork and communication.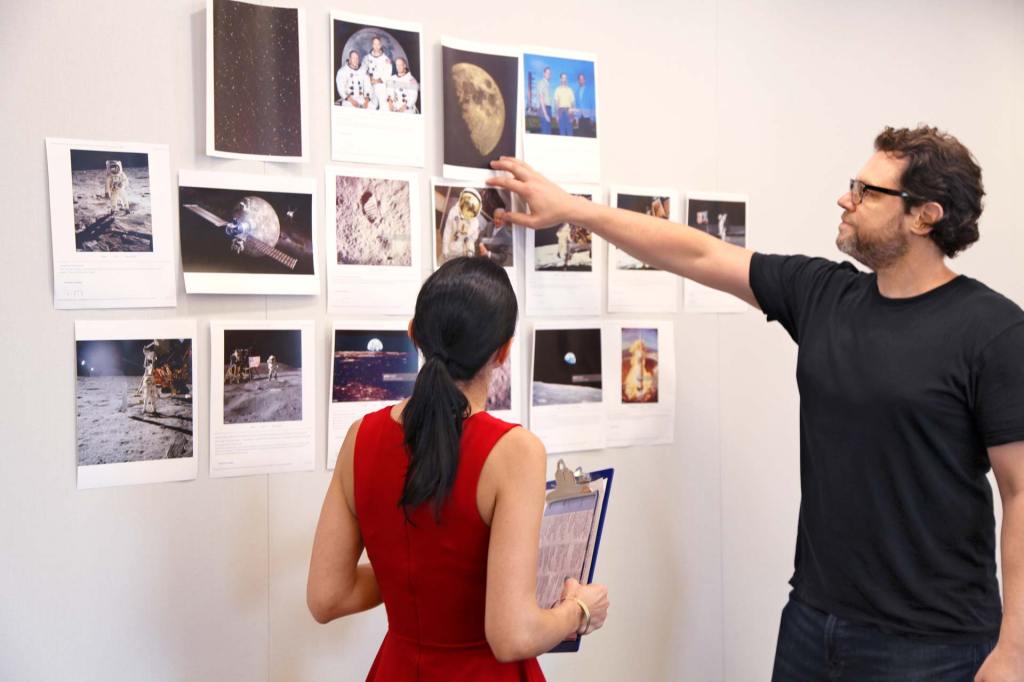 MIKE DECAPITE FOR TIME FOR KIDS
2. Picking Photos
Photos are an important part of a magazine. They help tell the story. Writers, editors, and designers meet to select photos. We look at many photos and choose the best ones.
Here, TFK editorial director Andrea Delbanco and creative director Drew Willis look at photos for a story on moon exploration. How do we decide which photos to use? "The subject
subject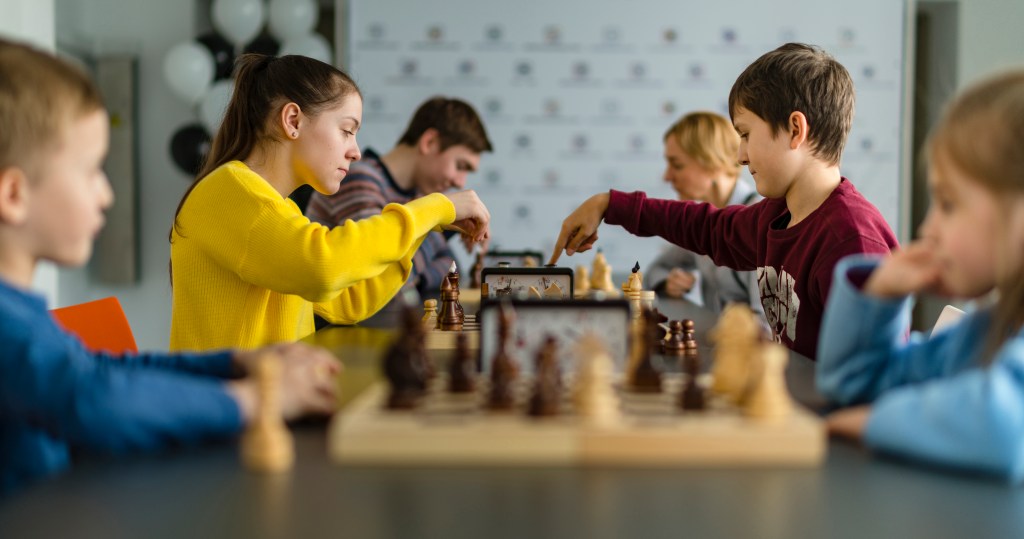 ALEX POTEMKIN/GETTY IMAGES the thing being described (noun) Emma's chess club was the subject of an article in yesterday's newspaper. of the story must be clear," says TFK designer Stephen Blue.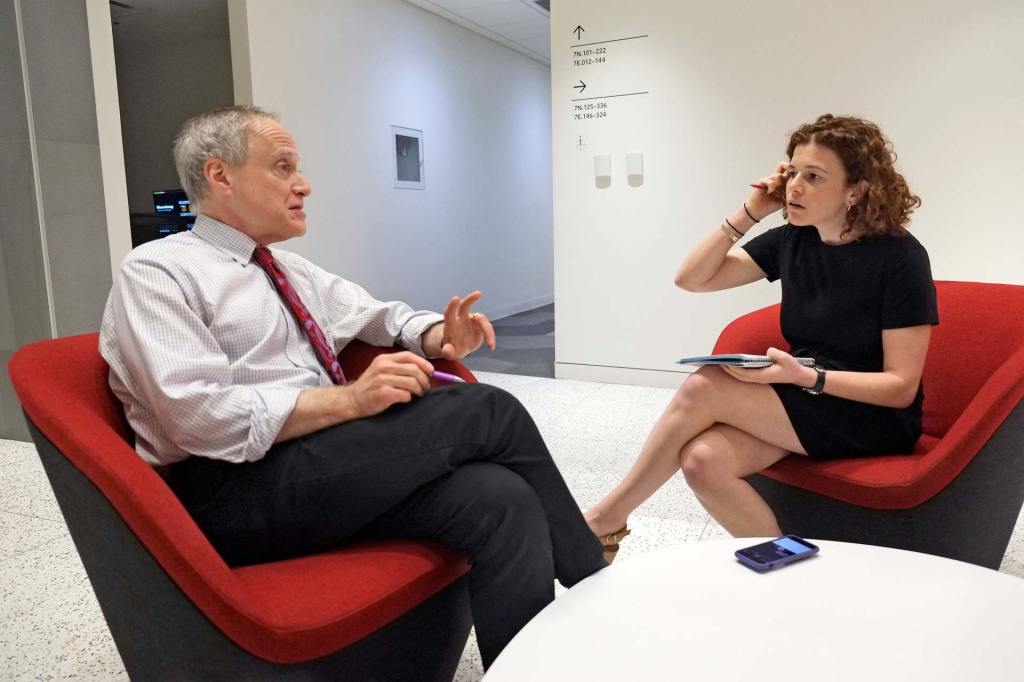 DREW WILLIS FOR TIME FOR KIDS
3. Writing the Story
First, a writer does research on a story. He or she reads about the topic and talks with experts. Here, TFK's Rebecca Katzman meets with Jeffrey Kluger, of TIME. Kluger wrote about moon exploration for TIME. Katzman adapted
adapt
AMAR PIXLER/GETTY IMAGES to change or adjust (verb) At the zoo, there is an exhibit where you can see a chameleon adapt to different surroundings by changing colors. his story for TFK.
Finally, the writer drafts
draft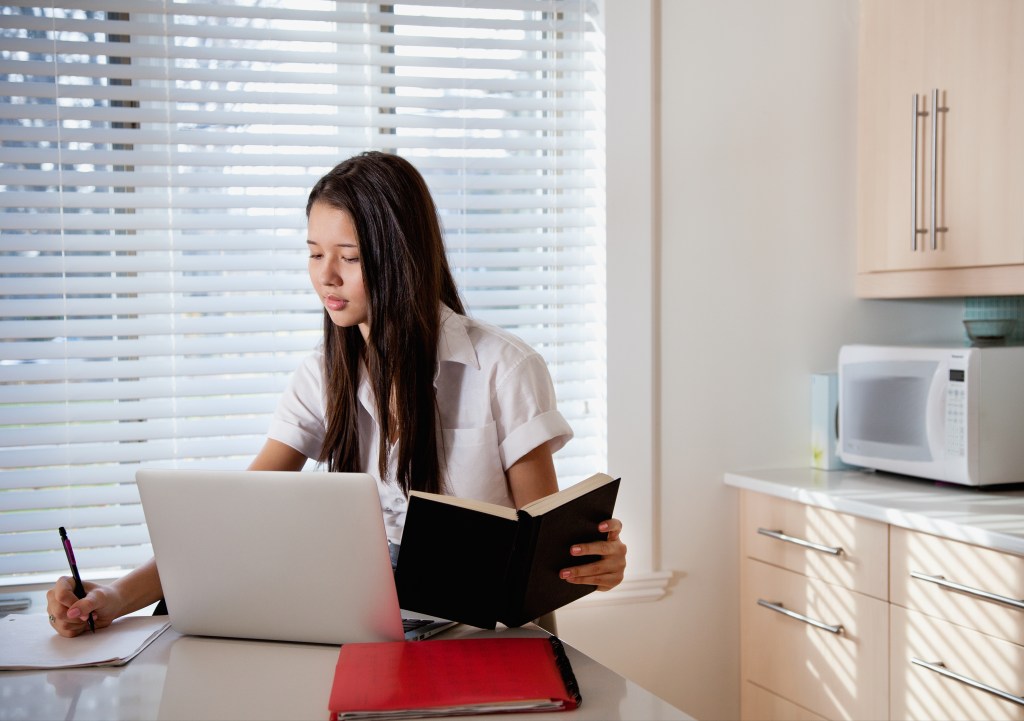 RON LEVINE/GETTY IMAGES to make a version of something that will require more work before it is finished (verb) After she finished reading the book, Connie drafted her book report. the story. After that, an editor reads it. The editor makes changes and offers suggestions.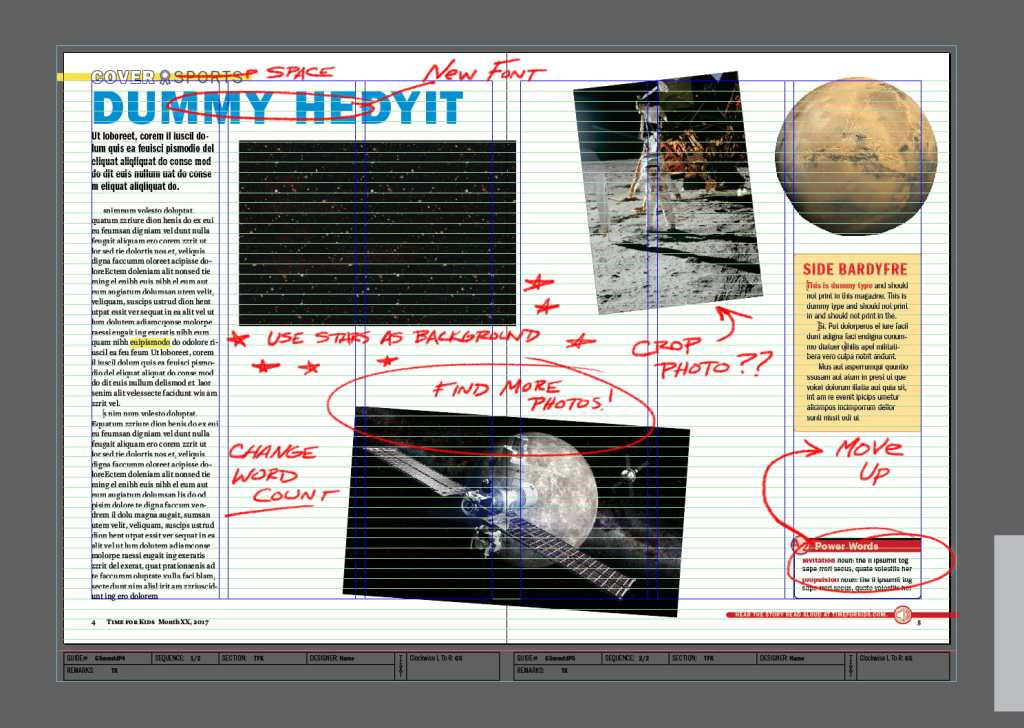 DREW WILLIS FOR TIME FOR KIDS
4. Designing the Page
A designer works on the story layout. He or she moves photos and text around on a page. There's a computer program to edit photos. There's another program to move things around.
See the text on this spread at right? It's called "dummy text." It helps the designers know where to put the photos. It also shows the writer how much space he or she will have in which to tell the story.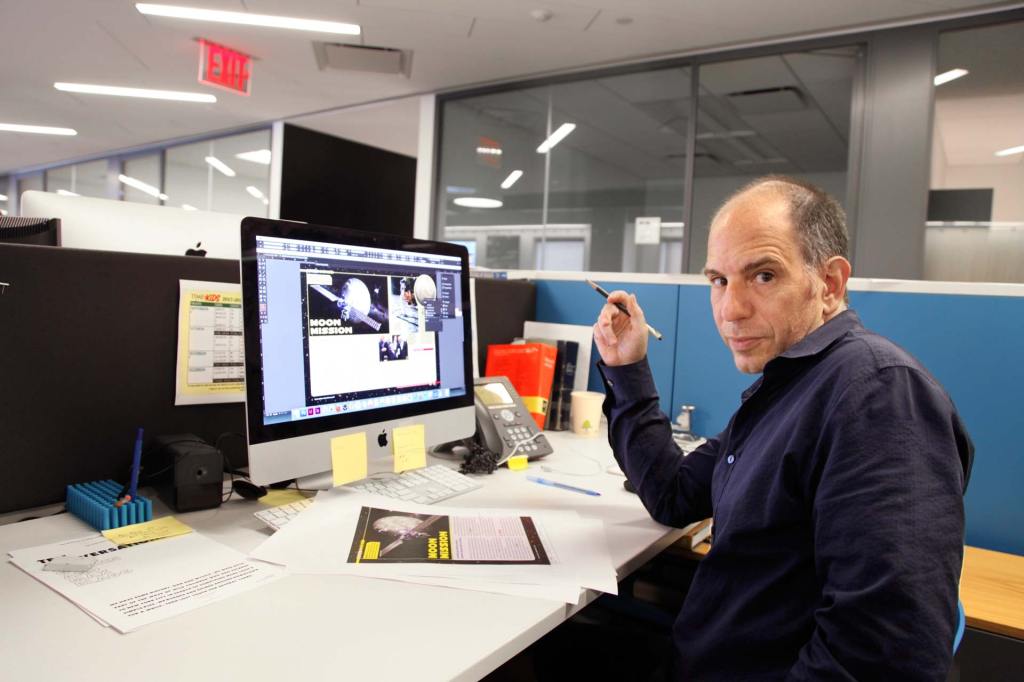 DREW WILLIS FOR TIME FOR KIDS
5. Copyediting
A copy editor is the last person to look at the story. Mike DeCapite (pictured) is one of TFK's copy editors. He reads through every page of the magazine. He corrects mistakes. He fixes grammar and punctuation. He also rewrites awkward sentences.
"No matter how many people have looked at something, it can always use another look," DeCapite says. "I miss a lot of things the first time myself."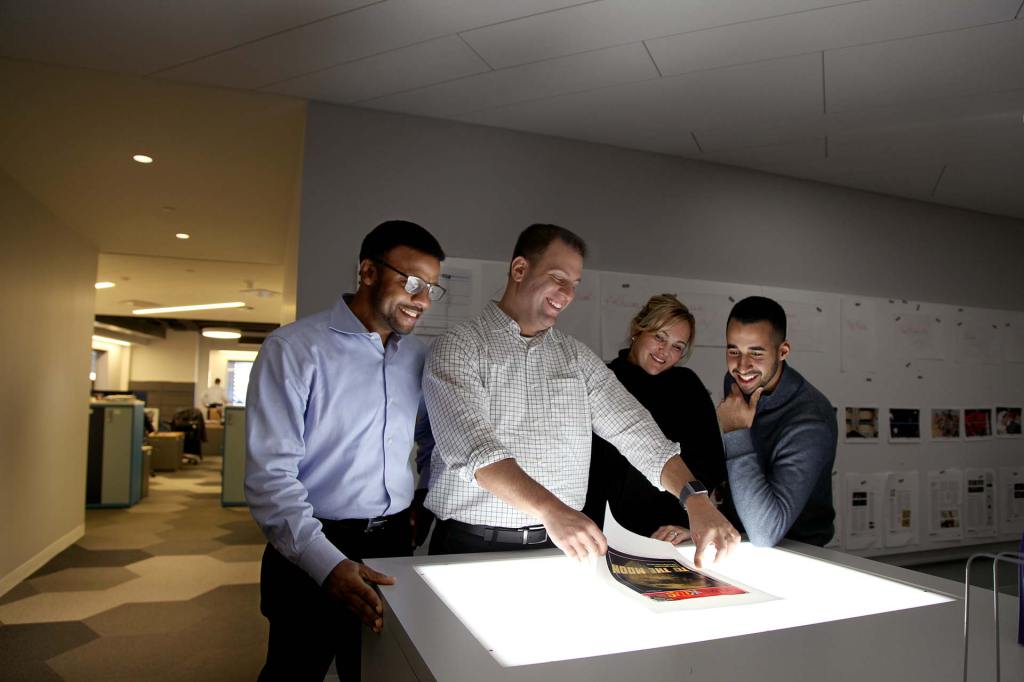 DREW WILLIS FOR TIME FOR KIDS
6. The Final Check
TFK's production team looks over the magazine. They fix photos. They examine page proofs on a light table. They go over each page and make sure everything looks right.
Finally, the magazine is sent off to TFK's printing plant. It is in Wisconsin. There, millions of copies of the magazine are printed. The copies are put together. Then the magazines are mailed to schools all across the country. Now they're ready to be read by you and your classmates!