For the Record: Election Edition
Kamala Harris has made history. She's the first woman and the first person of color to be elected vice president of the United States. Harris isn't the only person breaking barriers in the 2020 election. A diverse group of leaders was elected to Congress by the highest number of voters in U.S. history. Here are a few examples of why this election is one for the record books.
Historic Firsts
Michelle Steel and Marilyn Strickland: Steel and Strickland are the first Korean-American women elected to Congress. Steel will represent California. Strickland will represent Washington State
Cori Bush: Bush is the first Black woman to represent Missouri in Congress.
Deb Haaland, Yvette Herrell, and Teresa Leger Fernandez: Haaland, Herrell, and Leger Fernandez will represent New Mexico. It is the first state to elect only women of color to the House of Representatives.
Mondaire Jones and Ritchie Torres: Jones and Torres are the first openly gay Black men in Congress. Both will represent New York.
Growing up, I never imagined someone like me could run for Congress, let alone get elected. To grow up poor, Black, and gay is to not see yourself anywhere. Now, I am honored to have the opportunity of a lifetime. —Mondaire Jones, November 4, via Twitter
Record-Breaking Numbers
6 Native members—five Native Americans and one Native Hawaiian—were elected to the House of Representatives.
138 women will serve in the 117th Congress, as of press time. This includes 104 Democrats and 34 Republicans.
160 million is about how many people voted in the 2020 election. This is more than two-thirds of the country's eligible voters.
Fun Fact
Major will be the first shelter dog to live in the White House. He'll have Joe Biden's other German shepherd, Champ, to keep him company.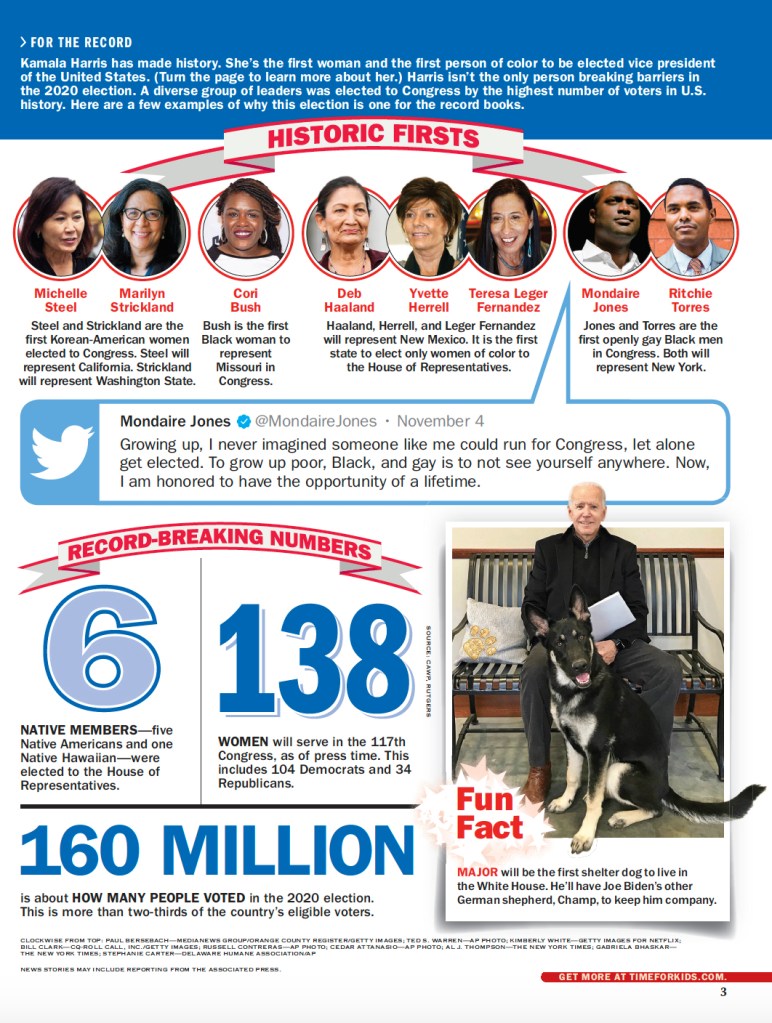 This story appears in the November 20, 2020, print edition of TIME for Kids. It was published online on the morning of November 13. It has not been updated.