Marching Against Hate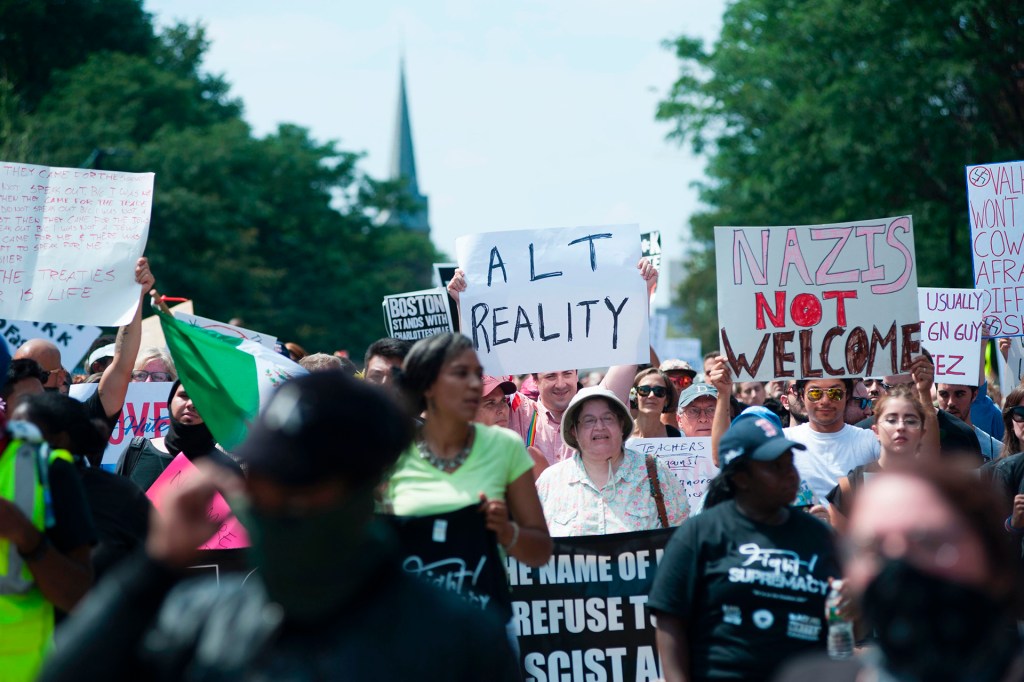 Thousands of counterprotesters marched through Boston on August 18. It was in response to a "free speech" rally that took place one week after deadly clashes erupted at a white supremacist rally in Charlottesville, Virginia. That rally was organized to protest the removal of a statue of Confederate general Robert E. Lee.
Protesters in Boston stood beneath a Civil War monument dedicated to Union soldiers who fought in the Civil War. They chanted against racism and hate and carried signs condemning white supremacists. White supremacists believe white people are superior to all other racial groups and should have control over them. Protesters also celebrated the memory of Heather Heyer. She is the 32-year-old protester who was killed in Charlottesville on August 12.
To prevent similar violence in Boston, law enforcement officials deployed 500 police officers. Police set up extra security cameras and closed off surrounding streets to vehicles. They restricted what protesters were allowed to carry, banning anything that could be used as a weapon. That included glass containers, bats, and posters with sticks. They also kept those attending the free speech rally separated from those who protested it. The rally drew a few dozen people. But they were far outnumbered by the counterprotesters.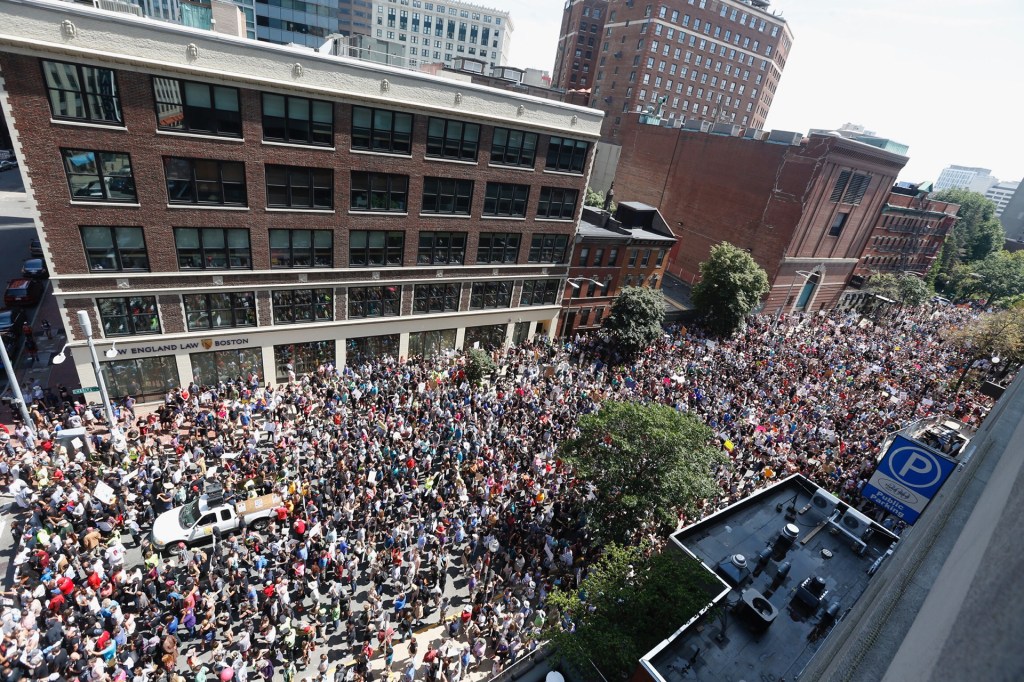 SCOTT EISEN/GETTY IMAGES
There were a few early clashes. At one point, a lone supporter of President Donald Trump walked through the crowd of counterprotesters carrying a Trump sign, and was chased away. At the end of the day, some counterprotesters got into a heated debate with conservative protesters. They argued over systemic racism. That led to at least one physical confrontation.
Boston Police Commissioner William Evans estimated that about 40,000 people showed up to the rally. He said 33 arrests were made. Charges included assault and battery on police officers, according to WCVB-TV. The police department said rocks were thrown at officers. Later in the afternoon, there were minor scuffles between lingering protesters and police officers.
President Trump praised the police and Boston's Democratic mayor, Marty Walsh. "Looks like many anti-police agitators in Boston. Police are looking tough and smart! Thank you," he said in a tweet. He also applauded protesters for "speaking out against bigotry and hate" and said that "sometimes you need protest in order to heal."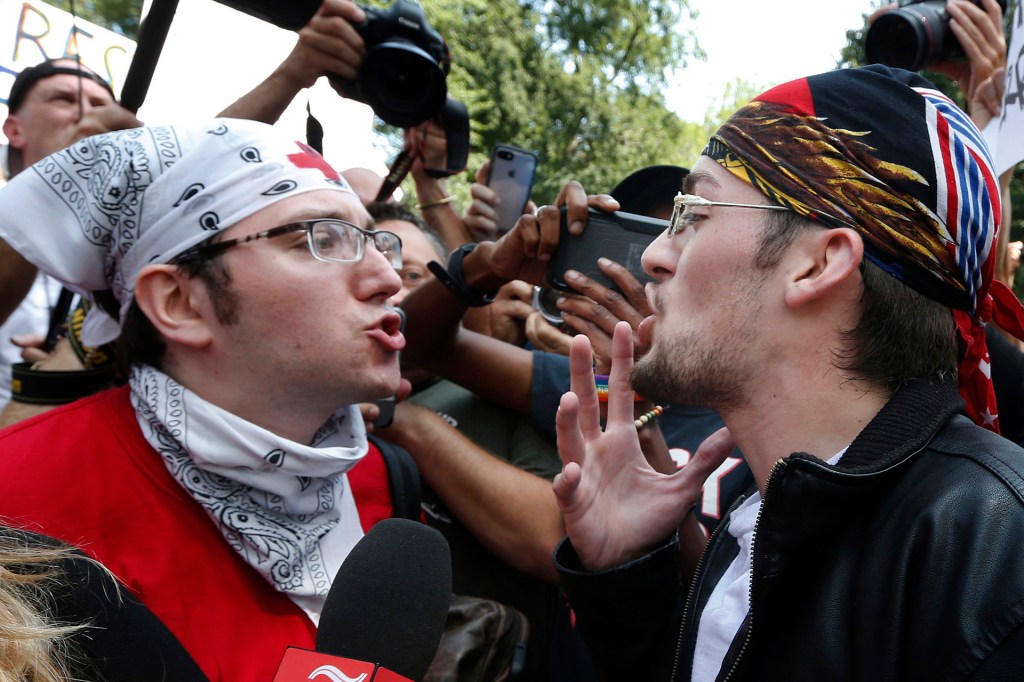 MICHAEL DWYER/AP
Competing Voices
Alexandra Sheldon is an art teacher from Cambridge, Massachusetts. She was among the thousands who came to the protest in Boston Common. It is a public park in the city's downtown. She was there to express dismay over the displays of white supremacy in Charlottesville. "I need to show up and just be with other people who are just so outraged and so sad and heartbroken," Sheldon told TIME. "We just can't sit down for this one."
Seun Ajewde, 28, is a business student at Northeastern University. Ajewde called the march a "pivotal moment" for those who believe in equality. "There was like, what, 50 of them?" Ajewde said, referring to the number of people who attended the small free speech rally. "And now out here, there's maybe three, four, five thousand of us, all unified: different colors, different races, different sexualities, everything."
The Boston Free Speech Coalition organized Saturday's free speech rally. It had said it was unrelated to the white supremacist rally in Charlottesville. "We will not be offering our platform to racism or bigotry," organizers wrote on the Facebook page for the event.
But the lineup of speakers drew criticism. It included some with extreme views. It was not immediately clear which speakers had appeared, however. The rally dispersed just 45 minutes after it started.
Angelina Camacho is a co-organizer of the counterprotest. She said she hoped the message of the counterprotesters would influence others at the rally.
"I'm naïve to think we're going to have a kumbaya moment, but if we can get people to understand how wrong this hate speech is or get people to come to a neutral side or be more questioning about taking such a stance, I would take that as a win," Camacho told TIME. "If we just reach one, it's better than none."