Shark Sighting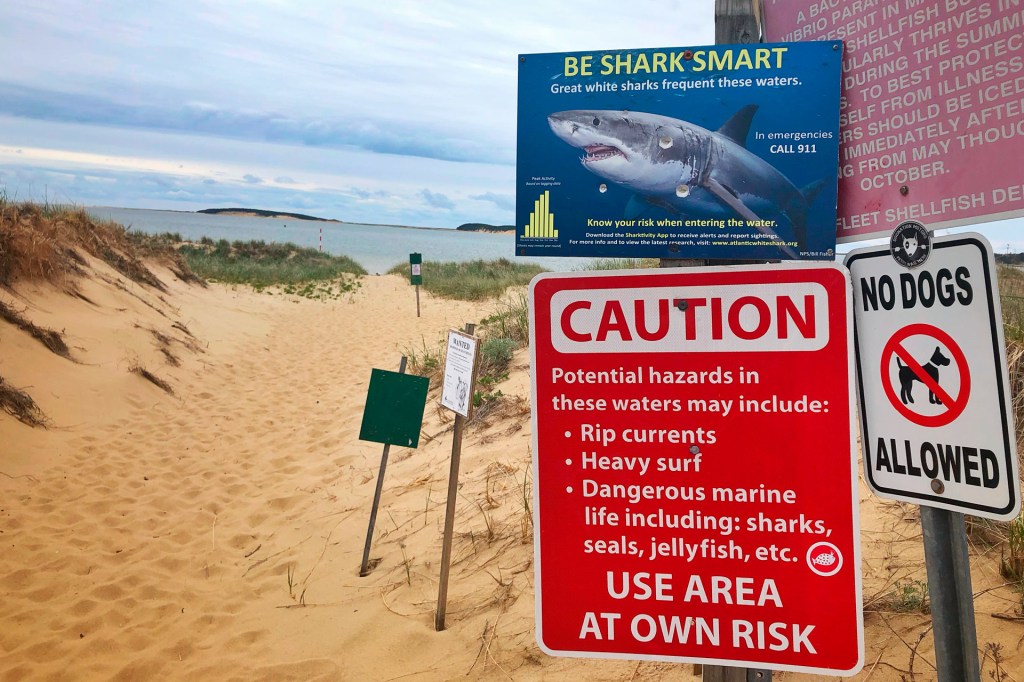 A shark was spotted off the shore of LeCount Hollow beach, in Wellfleet, Massachusetts, on August 8. The sighting was reported to the Sharktivity app. That's a public-safety tool. It was created by the Atlantic White Shark Conservancy (AWSC).
DAVID L. RYAN—THE BOSTON GLOBE/GETTY IMAGES
John Chisholm is a biologist. He studies sharks. He monitors reports made to the Sharktivity app (see "Tracking Sharks"). When he gets an alert, he contacts the person who spotted the shark. "Hopefully, you have a photo or a video. That makes my job easier," he told TIME for Kids.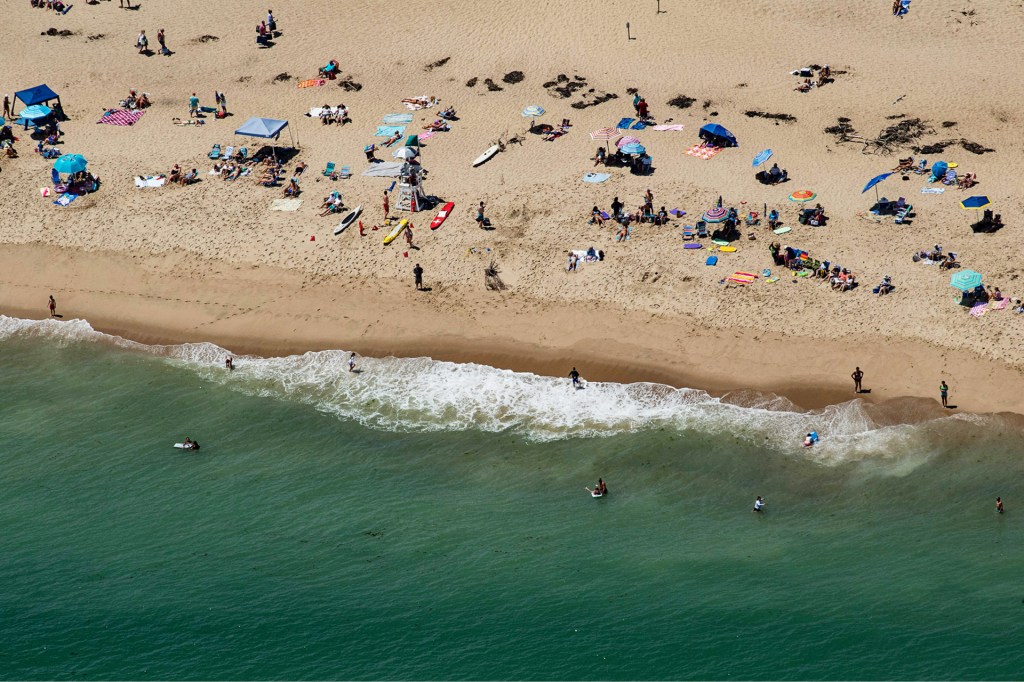 JOSEPH PREZIOSO—AFP/GETTY IMAGES
Some sightings are false alarms. These reports are discarded. Chisholm tries to verify a sighting. If he can, it's labeled as confirmed on the app. "Lifeguards can use that data and close beaches if they have to," he says. If a shark is very close to shore, the app can alert people. After the August 8 sighting, the waters of LeCount Hollow beach were closed to swimmers for about an hour.
On the Rise
Great white sharks move up and down the East Coast. They travel between Florida and Canada. But Cape Cod is a hot spot for sharks. That part of Massachusetts is known for its beaches. In 2021, there were more than 150,000 shark detections in Cape Cod waters.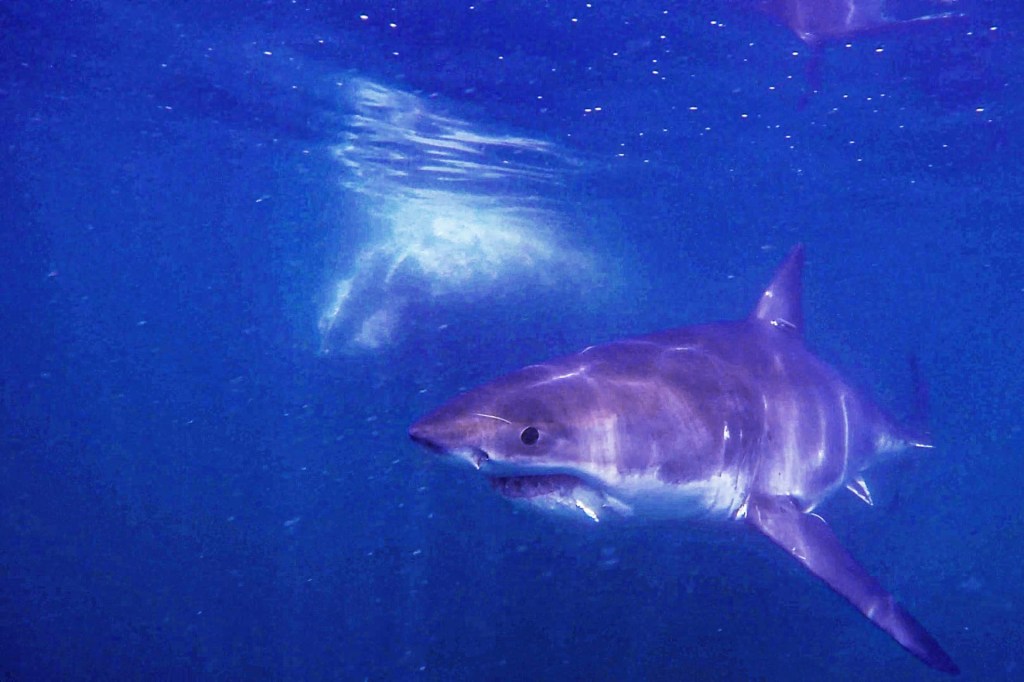 COURTESY THE ATLANTIC WHITE SHARK CONSERVANCY
"What we're seeing is a conservation conservation
MASKOT—GETTY IMAGES the preservation and protection of something (noun) Conservation is an essential way to help endangered species. success story," Marianne Walsh says. She's the AWSC's education director. Sharks are a natural part of the Cape Cod ecosystem. Since the 1970s, their numbers have dropped more than 70% worldwide.
In 1972, President Richard Nixon signed the Marine Mammal Protection Act. It bans the hunting of sea mammals. Since then, the number of seals has gone up. Today, the Massachusetts coast is home to an estimated 50,000 gray seals. "Sharks and seals are signs of a healthy ecosystem ecosystem
GEORGETTE DOUWMA—GETTY IMAGES the living and nonliving things that make up an environment and affect one another (noun) Every plant and animal is an important part of an area's ecosystem. . And that's a good thing," Lisa Sette told the New York Times. She works with the Center for Coastal Studies. More gray seals means more food for sharks. Seals often gather near the shoreline. That's one reason great whites are showing up near Cape Cod beaches.
DAVID L. RYAN—THE BOSTON GLOBE/GETTY IMAGES
Staying safe
Sharks can be dangerous. They might mistake people or objects, like kayaks or surfboards, for food. So the AWSC has started its Shark Smart Beach Program. It has workers on Cape Cod beaches. They're ready to teach people about shark behavior.
"A big thing for folks to remember, if they're going to the beach, is that they are going to an environment where there are wild animals," Walsh says. Preparation is the best way to stay safe. Pay attention to lifeguards. Don't go out past waist-deep water. And don't swim alone. People can coexist with sharks, Chisholm says. "Before you go to the beach, you check the weather, you check the traffic. Check Sharktivity," too, he adds.
Tracking Sharks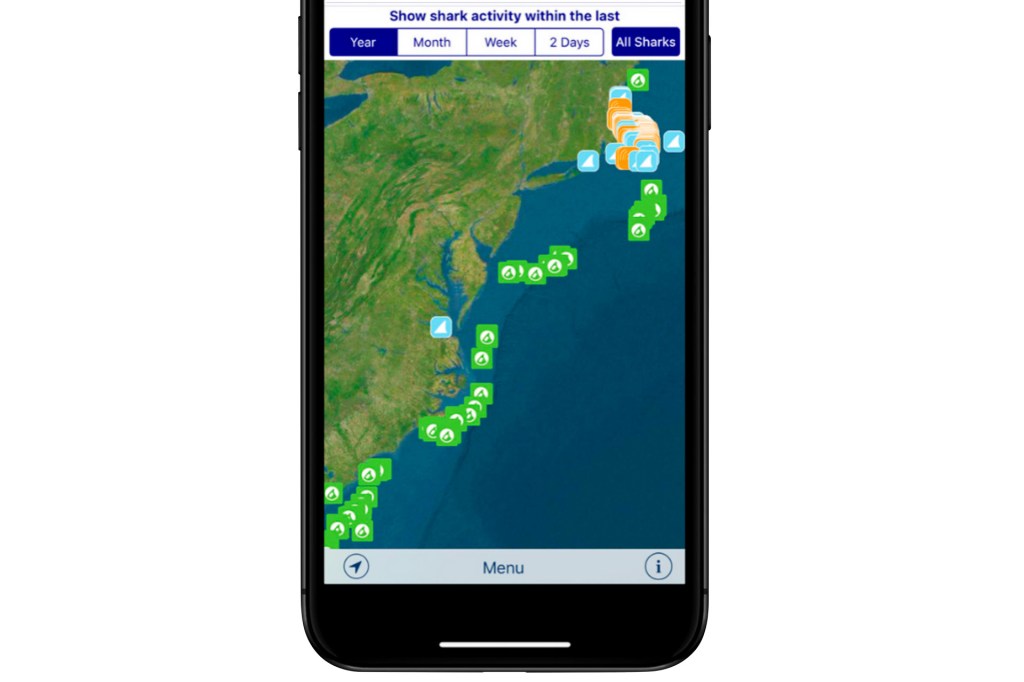 COURTESY THE ATLANTIC WHITE SHARK CONSERVANCY
The Sharktivity app shares public-safety information about great white sharks. Orange labels with fins are for unconfirmed shark sightings. Blue labels show confirmed sightings. The app also tracks sharks that scientists have marked with tracking devices. This screenshot of the app shows green icons indicating where tagged sharks are located. Tracking helps scientists study shark behavior patterns.
Correction, August 29
The original version of this story misstated a detail about the closure of LeCount Hollow beach. The waters were closed to swimmers, though the beach remained open. This lasted for about an hour, not a few hours.