Skyscraper Games
On June 10, at 8 p.m., more than a hundred people were gathered in a tent in Philadelphia, Pennsylvania. They were there to play video games. But they wouldn't be playing on any ordinary gaming system. Instead, they were gearing up to play games that would be displayed on a glass skyscraper called the Cira Centre. "There was a really great energy in the tent that night," Ainsley Soulchin, 13, told TIME for Kids.
Ainsley's a seventh grader at the Upper Merion Area Middle School, near Philadelphia. She participated in Skyscraper Video Games for Kids. It's a program that teaches middle school students how to code video games.
In the program, Ainsley coded a game. She calls the game Dot Man. In Dot Man, a player has to pass through a maze without getting caught by a dot. On June 10, the public got to play Dot Man and other other student-made video games on the outside of the Cira Centre. Ainsley was proud of her accomplishment. "When you see your game on the building," she said, "you're like 'Wow. I made this.'"
Game Changer
Frank Lee founded Skyscraper Video Games for Kids. He's a professor of digital media at Drexel University, in Philadelphia. He wanted to initiate others in the joy of playing video games. So he found a way to make that happen.
"Years ago, I was driving past the Cira Centre," Lee told TFK. "I thought, 'Wouldn't it be cool to make a game out of that building?'" He noticed there were LED lights embedded between the skyscraper's floors. Lee knew if he could access the building's computer system, he could manipulate the LED lights. This would allow him to display video games on the skyscraper. People could play these games using a joystick. The joystick would be connected to a computer outside the building. And the computer would send wireless commands to the skyscraper's internal system.
On April 19, 2013, Lee arranged for Pong, a video game inspired by table tennis, to be played on the Cira Centre. It scored a Guinness World Record for World's Largest Architectural Video Game Display. In 2014, Lee arranged for Tetris to be played on the same building. It broke the 2013 record. At 119,600 square feet, the Tetris display was twice the size that Pong had been.
Now Lee shares his passion for game design with kids. With funding from Intel, he trains educators to create video games. The educators then teach their students those same skills.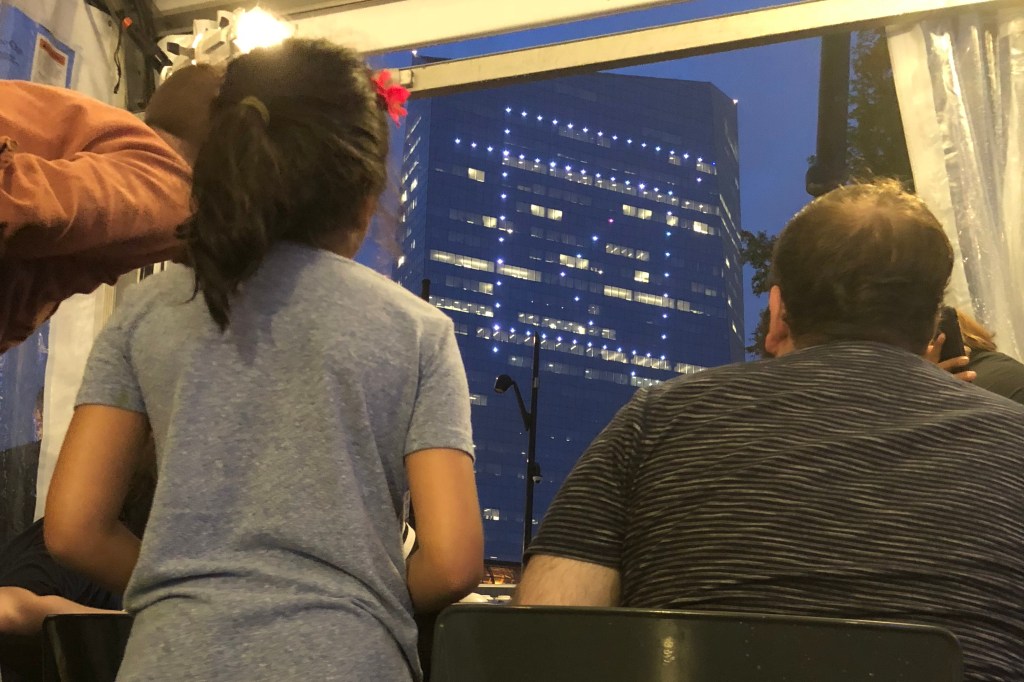 DREXEL UNIVERSITY
Christian Johnson is one such educator. He teaches at Ainsley's middle school. "Having the students' video games be shown on such a large, public display can give them motivation to keep creating," Johnson told TFK.
Ainsley plans to continue coding. "I've always loved to build stuff," she says. "Coding is just another opportunity to build something and make it my own. And I really like that."