Democrats Debate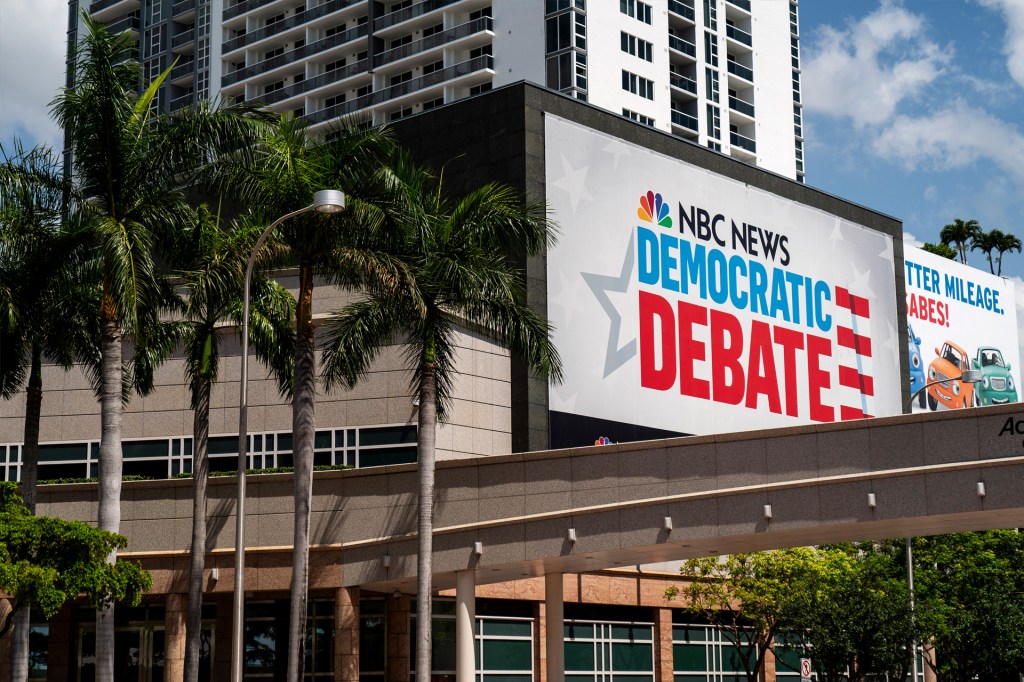 The race to become the next president of the United States is on. A record-setting 24 Democrats are campaigning for the 2020 election. Twenty of them will face off in debates to be held tonight and tomorrow in Miami, Florida. The debates will give candidates a chance to get their message out to voters and stand out from the rest of the pack. (See below for the full list of candidates.)
They won't have much time. Each candidate will have only 60 seconds to respond to moderators' questions. They'll get another 30 seconds to respond to their opponents. The candidates will have to be brief. Key issues will include health care, climate change, and making college tuition-free.
Each candidate is looking for a moment to shine. A zinger aimed at an opponent. A clever one-liner. These are the quickest ways to communicate to millions of TV viewers. These short messages can spread on social media.
Some of the candidates are already well-known. On Wednesday, look for Elizabeth Warren to be the center of attention. She's a senator from Massachusetts. Warren has been crisscrossing the country for months, telling people about her ideas. Former vice president Joe Biden and Vermont senator Bernie Sanders will be part of Thursday's group. Right now, they are leading in the polls. Their popularity with voters will make them targets for the other debaters.
Only one of the 24 candidates will go on to become the Democratic nominee for president. He or she will face President Donald Trump, who is up for re-election. Will the president be watching the debates? Trump told Fox Business Network that he would.
Tonight's debate will air on NBC, MSNBC, and Telemundo from 9 p.m. to 11 p.m. ET.

Wednesday's debate will include:
Cory Booker, senator from New Jersey

Julián Castro, former secretary of the U.S. Department of Housing and Urban Development

Bill de Blasio, mayor of New York City

John Delaney, former representative from Maryland

Tulsi Gabbard, representative from Hawaii

Jay Inslee, governor of Washington

Amy Klobuchar, senator from Minnesota

Beto O'Rourke, former representative from Texas

Tim Ryan, representative from Ohio

Elizabeth Warren, senator from Massachusetts
Thursday's debate will include:
Michael Bennet, senator from Colorado

Joe Biden, former vice president of the United States

Pete Buttigieg, mayor of South Bend, Indiana

Kirsten Gillibrand, senator from New York

Kamala Harris, senator from California

John Hickenlooper, former governor of Colorado

Bernie Sanders, senator from Vermont

Eric Swalwell, representative from California

Marianne Williamson, author

Andrew Yang, entrepreneur
The other Democratic candidates are:
Steve Bullock, governor of Montana

Mike Gravel, former senator from Alaska

Wayne Messam, mayor of Miramar, Florida

Seth Moulton, representative from Massachusetts