Building a Smart Kitchen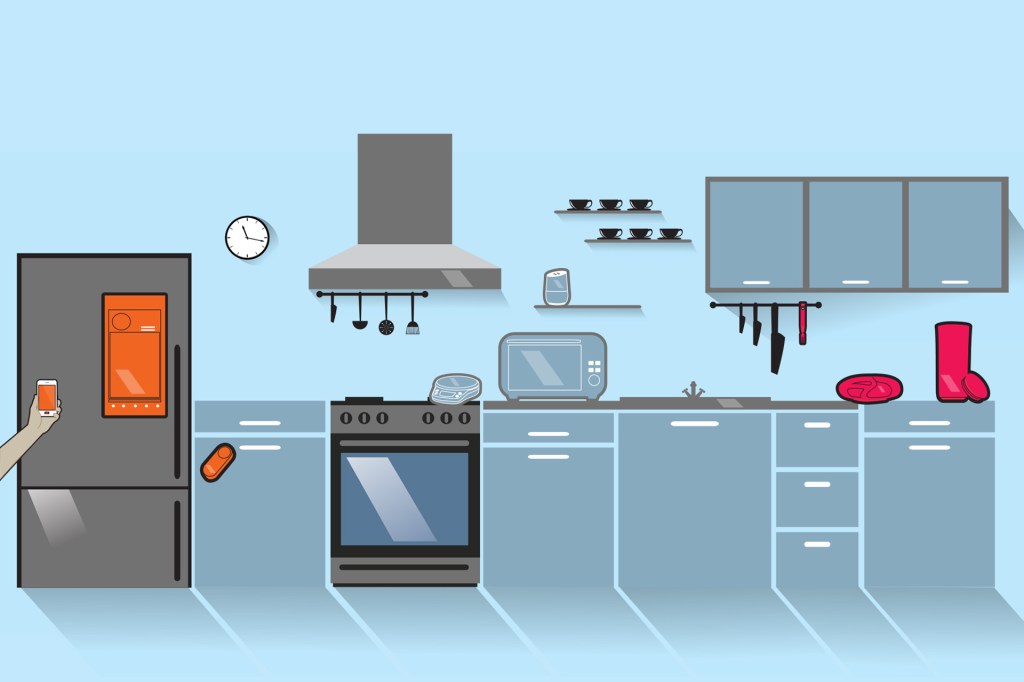 When it comes to getting help at home, people are putting technology to work. Robots have already taken over many of the tasks that most people consider a chore. A battery-powered robot can vacuum your floors. A robot can clean hard-to-reach windows. There's even a device in the works to make a bed. But not everything can be automated
automated
HANS-PETER MERTEN—GETTY IMAGES done by machines (adjective) Car production at the factory is an automated process. . A robotic butler that can cook your dinner won't exist anytime soon.
But maybe it will one day. Right now, a range of companies is focusing on technology that can help in the kitchen. Devices are being developed that can save families time and money and help them eat more healthily. Some can help prepare meals. Others can shop for groceries. Here's a look at a few of the most promising devices so far.
Stay Stocked
A MAGIC BUTTON FOR GROCERIES
Amazon wants to make getting groceries as simple as pressing a button. Preferably its Dash Button. You can reorder specific items with just one press. A variety of buttons, priced around $5 each, can order things like Goldfish crackers and Ziploc bags.
A REFRIGERATOR THAT SHOPS
Two technology companies, Samsung and LG, want the refrigerator to be more than just a storage space. Each company has created a refrigerator that aims to make it easier to order groceries and find recipes.
A CAMERA THAT LETS YOU PEEK INSIDE
You don't need an expensive special refrigerator to get some of the benefits of a smart appliance. The Smarter FridgeCam is a wireless camera. It connects to an app that allows you to see the contents of your refrigerator from wherever you are. It helps cut down on food waste, too. It can suggest recipes based on ingredients you already have at home.
Stay Healthy
A FORK THAT SLOWS YOU DOWN
The HAPIfork helps you stop eating too fast. The utensil will vibrate and light up to let you know when you're consuming food too quickly. It can also measure the total amount of time it took to eat your meal. There's some evidence that eating slowly cuts down on indigestion. It can also help you eat less, if that's your goal.
A PLATE THAT HELPS WITH HEALTH
Eating a well-balanced diet is very important. But it can be tricky. The SmartPlate TopView tries to help. The plate works with a scale and an app. It helps you pick healthy-size portions. It also helps you select a nutritious mix of foods.
A CUP THAT KEEPS YOU HYDRATED
The Pryme Vessyl smart cup is designed to prevent dehydration. The cup tracks how much water you drink in a day. A meter on the cup lights up to indicate your hydration level. It pairs with an app to let you monitor your intake throughout the day.