Professional baseball players in South Korea returned to the field on May 5. For weeks, the season had been delayed because of the coronavirus pandemic. So this opening day was unusual. That's because no fans were allowed into the stadiums. They will not be permitted to return until the risk of infection is lower.
"The players just really wanted to play baseball," Kim Hyun-soo says. He's an outfielder for the LG Twins. "We are delighted to do just that."
By May 6, South Korea was seeing only single-digit increases in COVID-19 cases each day. The South Korean government has begun loosening social distancing rules. But measures are in place to create safe conditions on the field. Players go through fever screenings before entering the stadium. Umpires and some coaches wear protective masks.
At one opening-day game, a 9-year-old boy "threw" the ceremonial first pitch. Inside a plastic bubble made to look like a baseball, he walked from the pitcher's mound to home plate. The batter tapped the bubble with his bat.
With no fans around, some teams got creative. The SK Wyverns decked the outfield seats with banners that showed faces wearing team gear.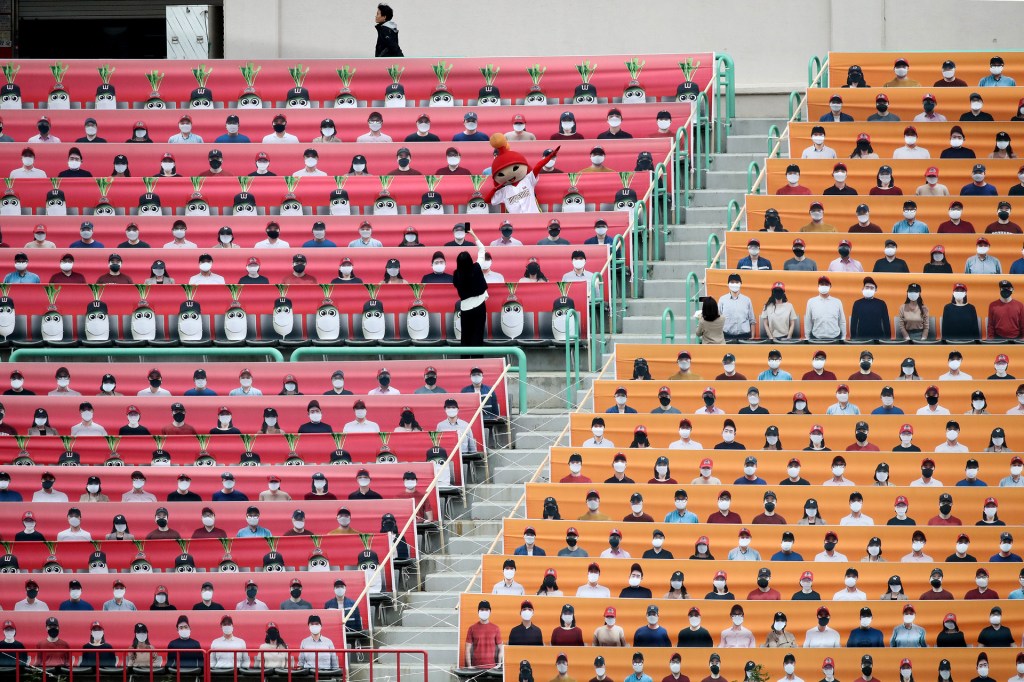 CHUNG SUNG-JUN—GETTY IMAGES
A few fans couldn't keep away. Cho Ki-hyun was outside the stadium. He watched the game on a tablet. "I am delighted just to hear the sounds of a baseball game from outside," he told the Associated Press.
"It would have been better if [fans] could be with us," said Na Sung-bum. He's an outfielder with the NC Dinos. "But I am glad that we delivered something good to fans watching TV."
The games have aired on ESPN in the United States, aimed at people who miss American baseball. The 2020 Major League Baseball season remains delayed because of the pandemic. In April, league commissioner Rob Manfred talked to Fox Business network. He said baseball won't return "until the public health situation is improved [and] we can play games in a manner that is safe for our players, our employees, our fans."