Greatest of All Time
She's won seven national championships, 19 world titles, and five Olympic medals, four of them gold. Her leotards are already decorated with a rhinestone goat (a nod to her "greatest of all time," or GOAT, status). Is there anything left for gymnast Simone Biles to prove?
For most people, the answer would be no. But Simone Biles is not like most people, or even most Olympians. The 24-year-old from Spring, Texas, is not only the most dominant gymnast of her time. She's likely the greatest in history.
With an unmatched blend of skill, power, and daring, Biles has won every all-around national, world, and Olympic competition she has entered since 2013. Her record haul of 25 World Championship medals is five more than that of her closest rival. Biles has four gymnastics skills named after her. This honor is reserved for the first person to execute a new move in a major international competition. And she has a fifth that she is likely to unleash at the Tokyo Games. It's a gravity-defying vault. Only male gymnasts have completed it on the Olympic stage.
"She is superhuman," says Jordyn Wieber, an Olympic gymnast and the head women's gymnastics coach at the University of Arkansas. "She could be doing the exact same routines [she did] in Rio and still win. Yet she is challenging herself, constantly competing against herself."
New Approach
Biles's determination was tested after the Olympics in Rio de Janeiro, in 2016. She took a year off afterward. She never once set foot in the gym. Instead, she rested her body. She prepared mentally for another Olympics. And she dealt with the challenges of her newfound fame. (She also moved out of her parents' house and learned how to run a dishwasher.)
When her longtime coach took another job during that year off, Biles saw a chance for a new approach. Cecile and Laurent Landi are both former gymnasts on the French national team. They made the case that they could make Biles even better. "They start with the basics, and focus on the root basics before the big skills, which I never really did before," Biles says. "I had stopped working on the basics. But it went smoother than I thought it would."
JAMIE SQUIRE—GETTY IMAGES
Laurent Landi's first task was to build Biles's confidence on uneven bars, her weakest event. They worked to make her swings and catch-and-release skills more consistent. "I definitely don't hate bars anymore," she says. "And I trust myself a little bit more."
He also pushed her to try the triple twisting double salto on-floor exercise. That's two backward flips while twisting three times before landing. Biles had mentioned that she used to try the move for fun, knowing she could land in the safety of the foam pit. "He said, 'I think you can do another twist. Just try it and let's play with it. And in a few months, I think it might work,'" Biles says. "I was like, 'I don't think so.'" But Laurent was right. Biles was happily wrong. The skill has since become a highlight of her routine.
To the Limit
Biles is motivated less by scores than the pursuit of her own physical and mental limits. "She is constantly pushing the envelope, pushing herself to do insanely hard skills that I can't even fathom," says Wieber.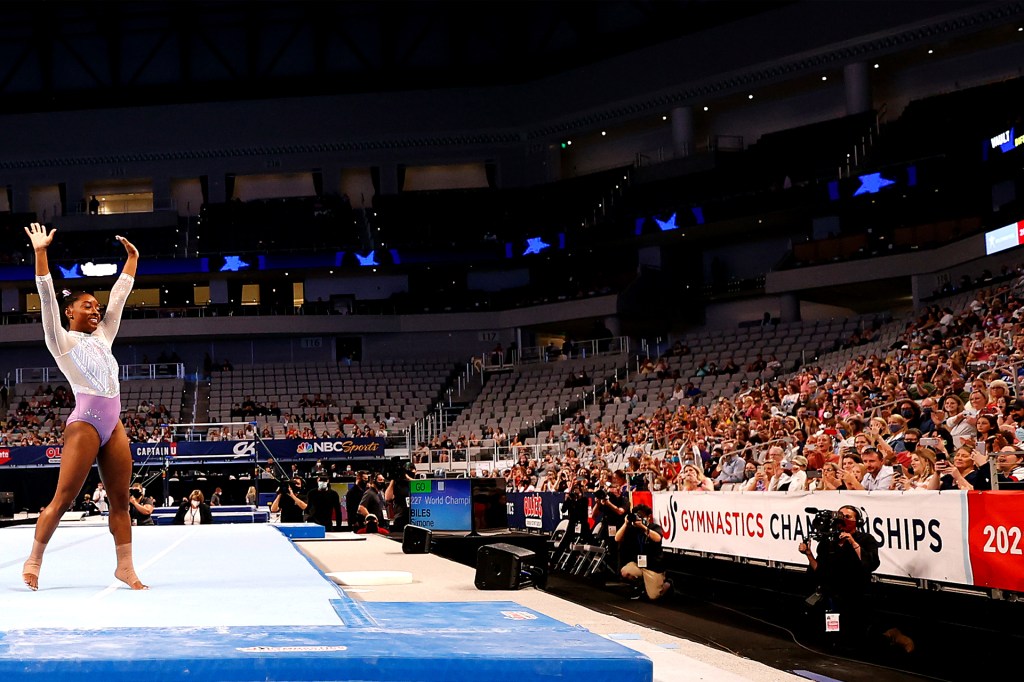 JAMIE SQUIRE—GETTY IMAGES
Biles makes no effort to hide her ambition. Indeed, she embraces it. And that is a key part of her greatness, particularly in a sport with historically few Black women at its highest level. "She is unabashedly Simone in her energy and personality," says Reuben May, a professor at University of Illinois who studies sports, society, and race. "She has shown that you can be you and still be effective in a world that is unlike you."
Legacy is not yet on Biles's mind. Tokyo comes first. But she does welcome being a role model. "I hope I let kids know that it's okay to say you're good at something," she says. "And that it's okay to be the GOAT."