Going Up!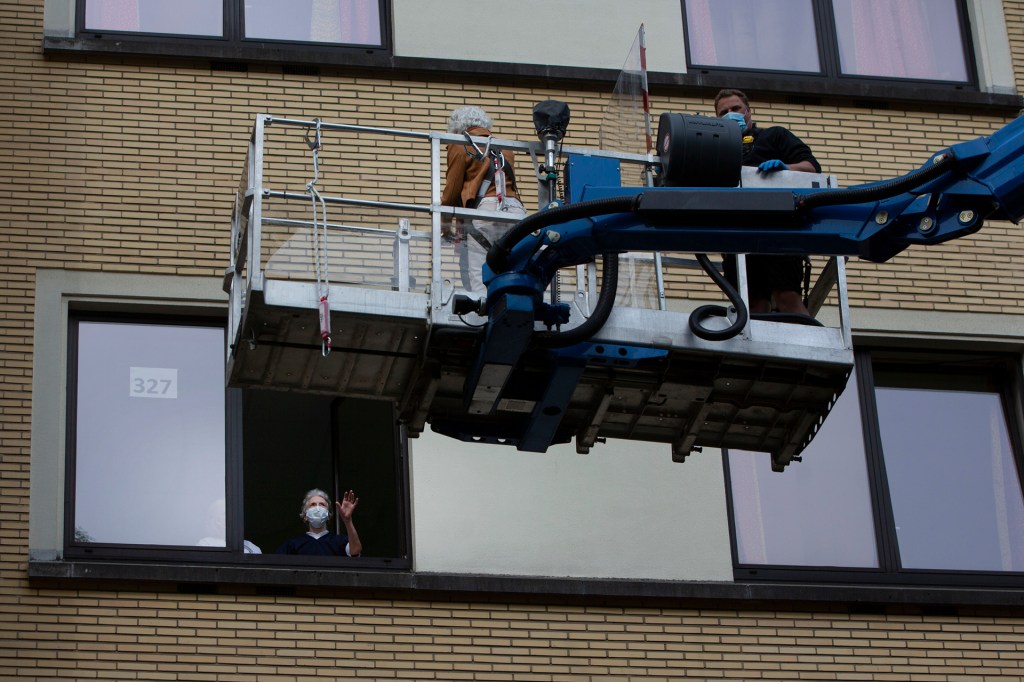 Many nursing homes all over the world are locked down to protect their residents from COVID-19. But a company in Belgium has found a way to connect these people with their loved ones outside.
Usually, Group-f is a cleaning and maintenance company. Its employees wash the outsides of tall buildings, using platforms that are lifted by cranes. A crane is a large machine that can lift and move things.
When the coronavirus pandemic hit Belgium, Group-f's business slowed down. The cranes sat unused. But one day, company manager Tristan Van den Bosch saw something unusual: a man standing on the ground, shouting up to his mother. She was looking down at him from her window on the third floor of a nursing home.
This gave Van den Bosch an idea: "We can help this man!" he said.
Van den Bosch realized he could put his company's cranes to good use. Ever since, he has been driving them to nursing homes around Belgium. There, a family can stand on a platform that a crane operator will lift up to the window of a loved one.
Eve Putseys came to see her 88-year-old aunt, who lives in La Cambre, a nursing home on the edge of the city of Brussels.
Before she boarded the platform, Putseys didn't know what to expect. "It's been seven long weeks [that] I haven't been able to see her," she said. "It's all quite emotional."
But when Putseys returned to the ground, she was smiling. "I got to see her—and that was great," she said. "She looked very happy to see me."
Officials at La Cambre helped organize the crane-operated visit. "It has been hard work but quite rewarding," director Thibaut Chevrier says.
Van den Bosch admits that operating the machines costs his company money. But he has no regrets. "We're happy that we have been able to help people," he says.