Music for the People
Gustavo Dudamel returns to the stage for a second encore encore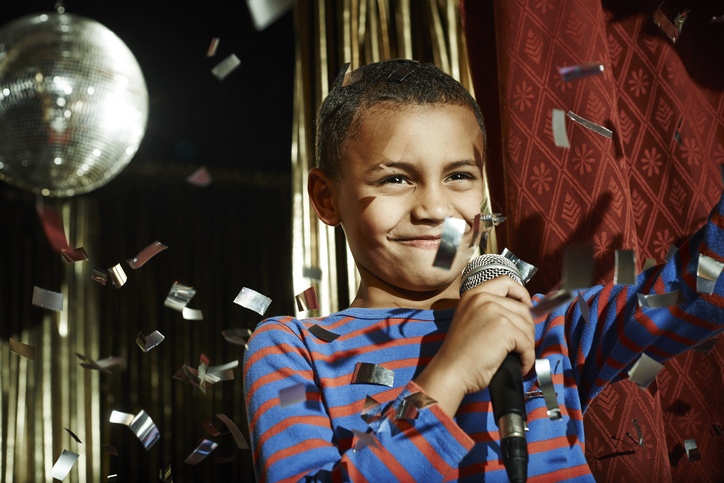 PHIL FISK—CULTURA RM EXCLUSIVE/GETTY IMAGES an additional performance demanded by an audience (noun) After the show, the singer came back for an encore. . It's opening night for the Los Angeles Philharmonic, in California. As the crowd spots the conductor conductor
HILL STREET STUDIOS/GETTY IMAGES the leader of an orchestra (noun) The musicians paid attention to the conductor's directions. , the volume inside the Walt Disney Concert Hall surges. Dudamel steps to the podium, tilts his head back, and lifts his arms. The orchestra explodes into the opening of the Star Wars theme. At the end, the audience leaps to its feet. It's the kind of reaction you'd expect at a Taylor Swift concert.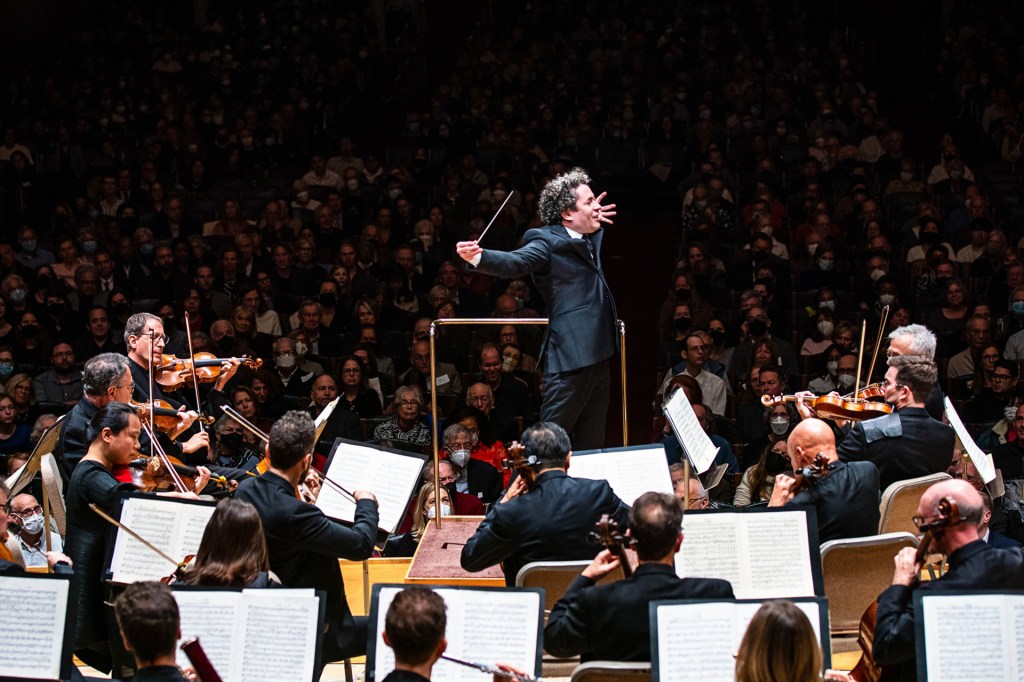 ROBERT TORRES
Music is not just entertainment, Dudamel says, later. It can transform us. "You're sitting there for a symphony that is 30 or 50 minutes, and time is gone," he says. "You are on a journey of harmony and beauty. It unites us, even if we come in feeling completely different."
Under Dudamel's leadership, the L.A. Philharmonic has spread orchestral music's unifying power across divides of income, class, color, gender, and age. The orchestra is known to play with pop stars like Billie Eilish, who attract a younger audience. And its Youth Orchestra Los Angeles (YOLA) has worked with more than 1,500 kids, providing them with instruments and lessons so they can take the stage. (See "Classical Rocks.") To Dudamel, orchestral music is an art form from which no one should be excluded.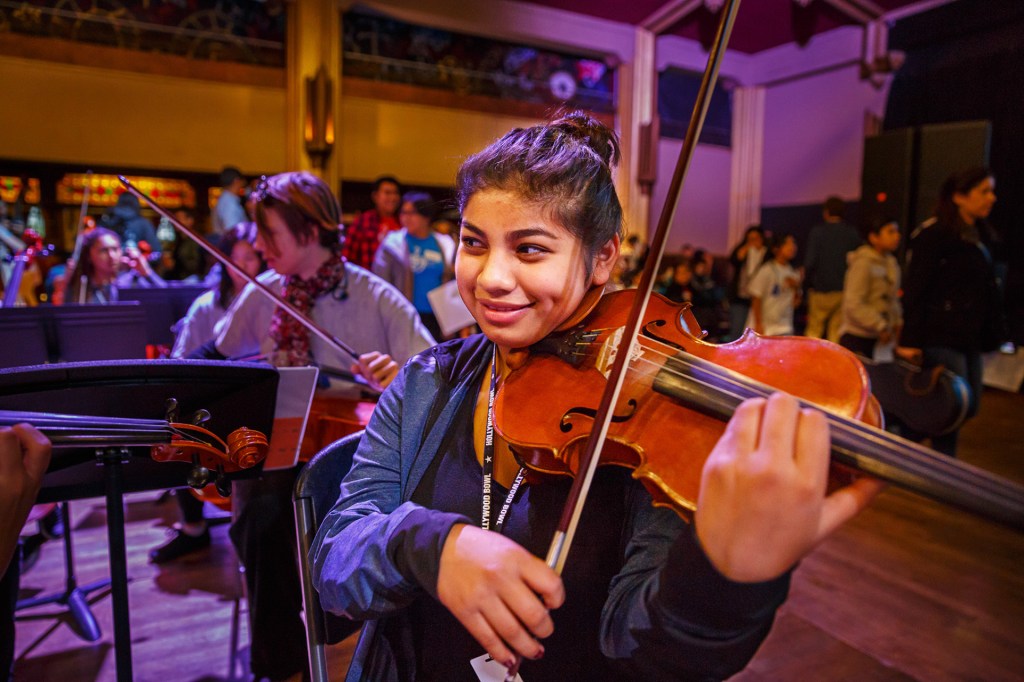 SAM COMEN
A Musical Education
Dudamel was raised in a working-class family in Venezuela. His mother was a voice teacher. His father played trombone in a salsa band. But maybe more important to Dudamel's musical development was the family he found in El Sistema. That's Venezuela's nationwide classical-music education and performance program for disadvantaged youth. Dudamel joined when he was 5 years old. It was El Sistema that, three years later, first put a violin in his hands.
The YOLA program was launched in 2007, after Dudamel showed El Sistema's work in Venezuela to members of the L.A. Philharmonic organization. He even introduced them to El Sistema's founder, José Antonio Abreu. To many of the musicians of YOLA, Dudamel has become what Abreu was to him: a teacher, a cheerleader, and a reminder of what can be achieved.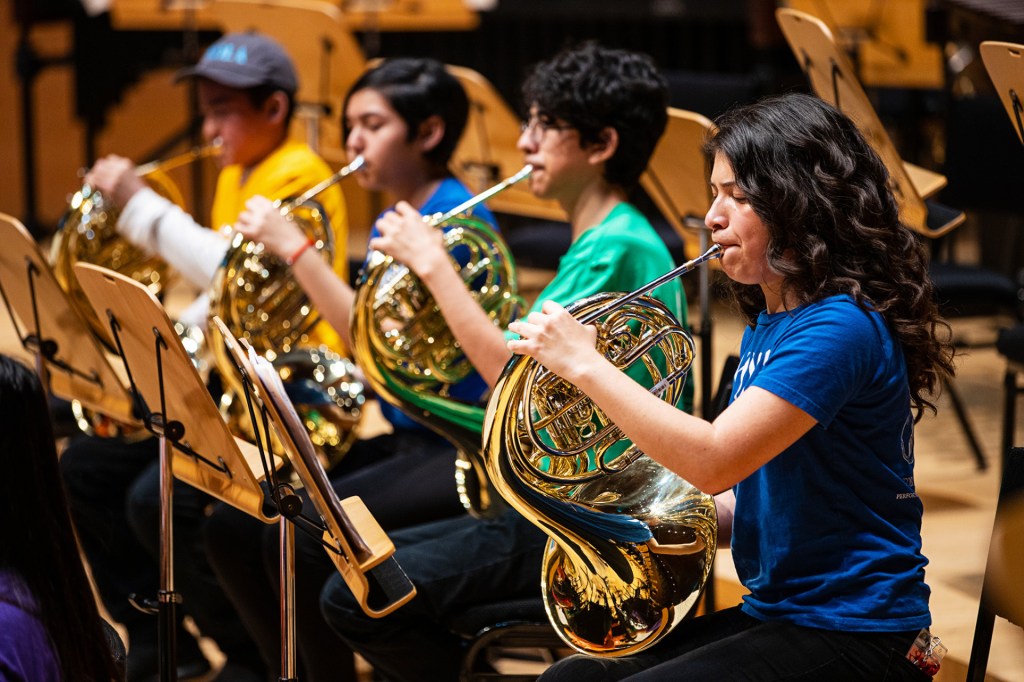 PAUL CRESSEY
Creating the Future
The roots Dudamel put down in Los Angeles have spread far beyond Disney Hall. In October 2021, the Beckmen YOLA Center opened its doors in Inglewood, California. The former bank building had been turned into a place for lessons, recording, and performance. Dudamel's first visit to the center included stops at two light-filled performance spaces. The conductor cried.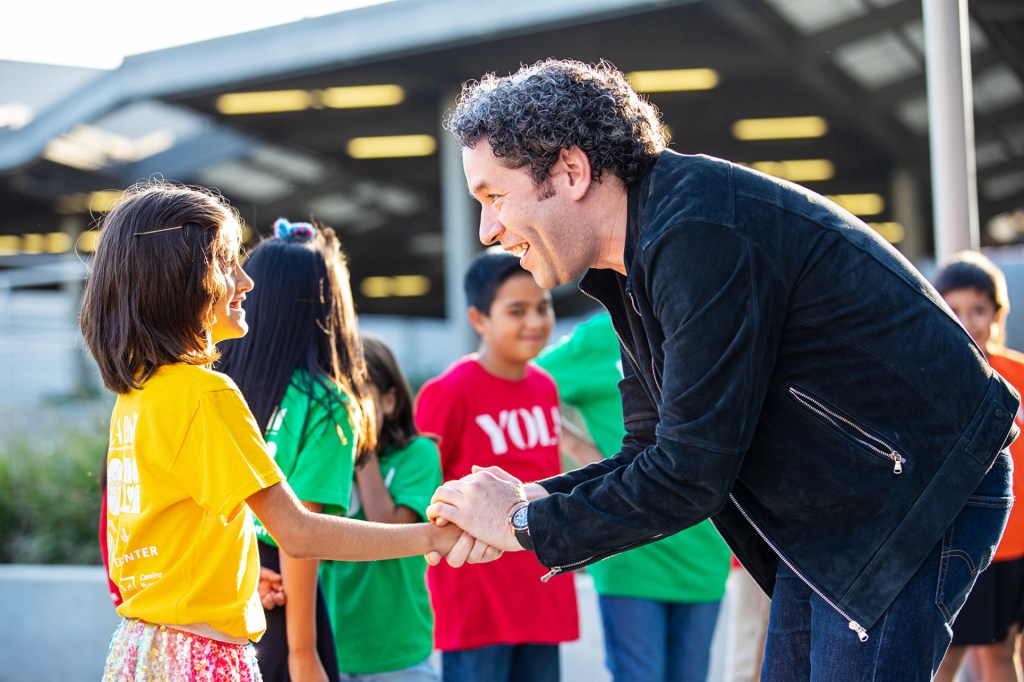 PAUL CRESSEY
Dudamel remembers something Abreu once told him: The young musicians of El Sistema shouldn't have to make do with a program that is simply "good enough." They should be provided with the best instruments, the best teachers, and the most-inspiring spaces in which to grow and thrive.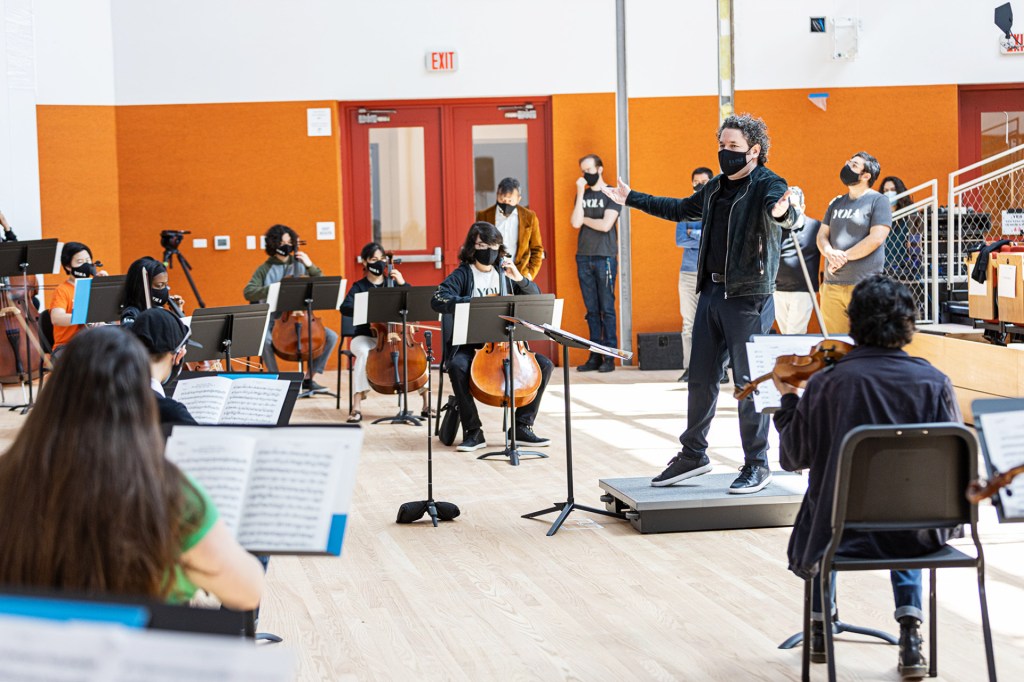 PAUL CRESSEY
The lesson for Dudamel? "Give these children the resources, and they will create their own future—their own dimension," he says.
Obi-Wan Kenobi couldn't have put it better.
Classical Rocks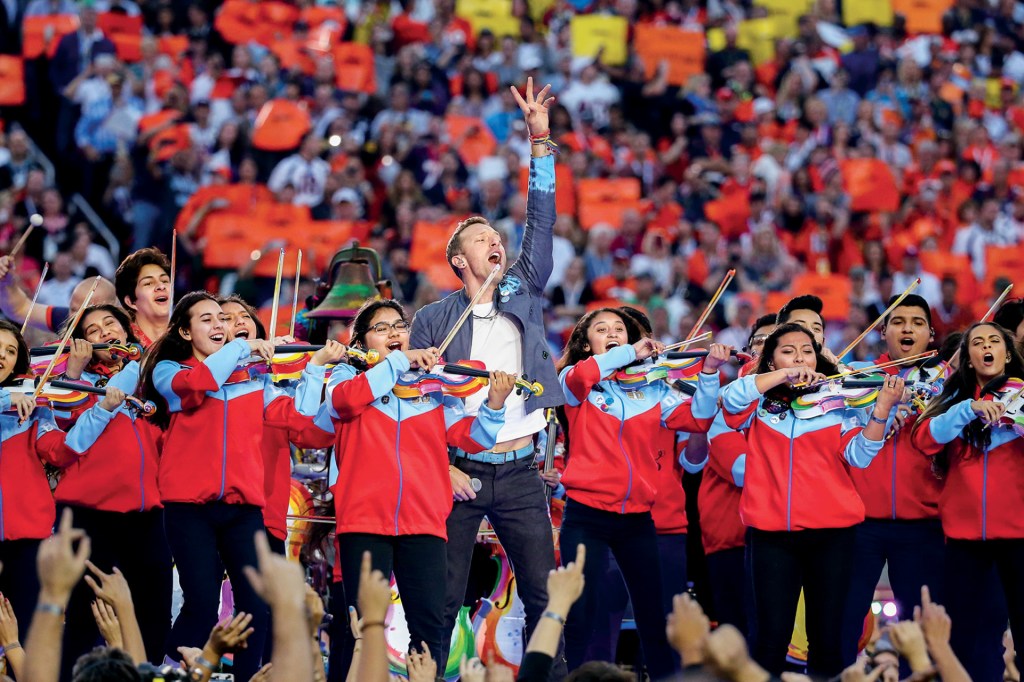 ANTHONY BEHAR
Performing in the Youth Orchestra Los Angeles requires lots of hard work. It also offers exciting opportunities. In 2016, YOLA played at Super Bowl 50. The group kicked off the halftime show alongside the British band Coldplay. Bruno Mars and Beyoncé performed next.
At a rehearsal, students looked forward to the experience. "I love football," one of them said. "And getting to play on that stage, like all the other artists, is amazing." —By Jaime Joyce