News from Our Readers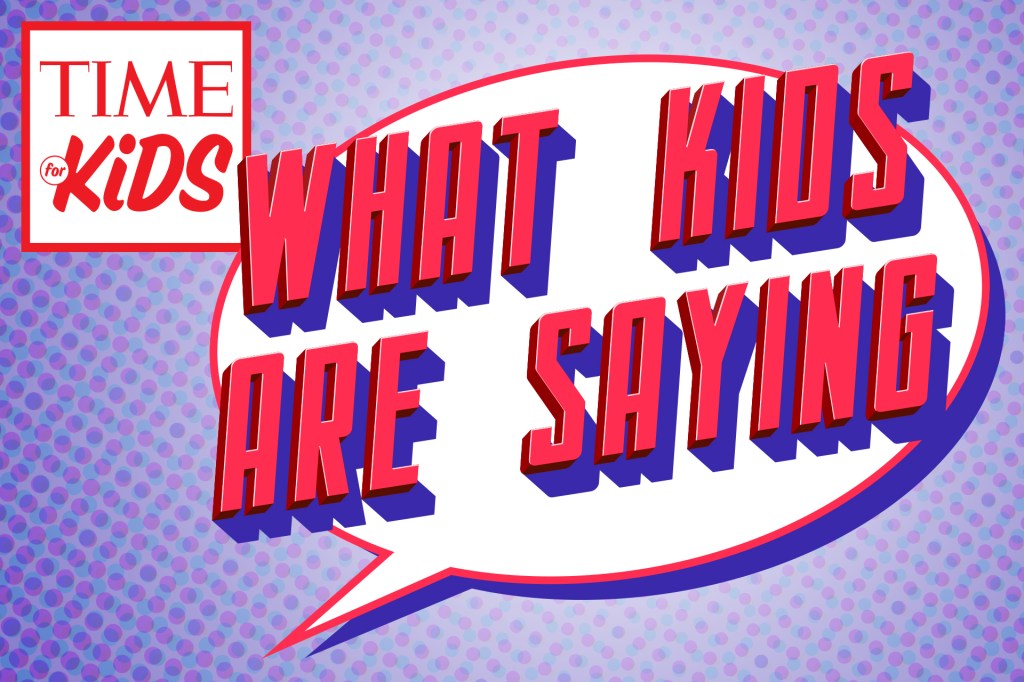 What are your thoughts, feelings, and opinions about the global coronavirus emergency? We asked our readers to let us know at tfkeditors@time.com, with the permission of a parent, teacher, or guardian. Here, we'll share some responses.
Updated June 18
From Seoul, South Korea:
COVID-19 made me stay at home. But I like staying at home. My parents come back home early and we get to spend more time together. I still wish COVID-19 to end. —Kevin Sangjin S., age 11
The virus stopped me from playing outside. I can't go outside and eat. When it is over, we can go to restaurants and eat. I wish to dine out with my parents again! —Jimmy Dongwoo K., age 11
The biggest challenge is that I have to study online. I wish to study and play with my friends at school in person. I wish we could go back to our normal lives. —Tom Kyuhyeun L., age 9
I miss school. I'm bored at home. I don't have things to play with. I used to like playing with a computer, but I have realized that playing with friends outside is more fun. —Daisy Yaewoon P., age 10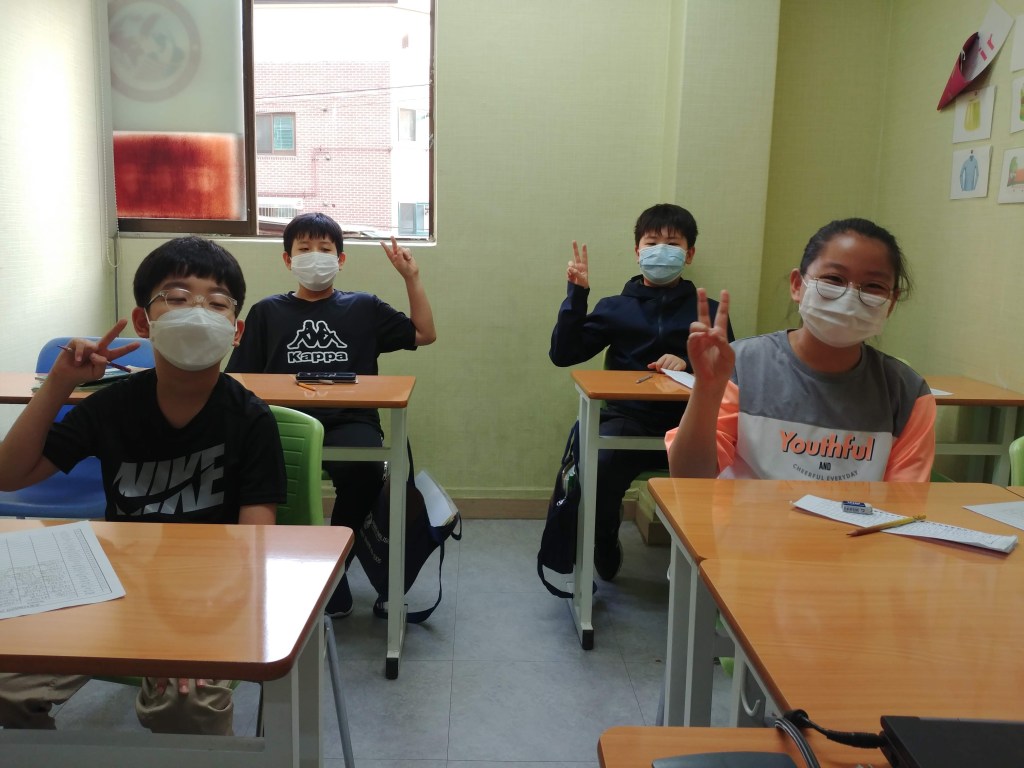 COURTESY SON YOUN
From Shanaya P., age 11, in Memphis, Tennessee:
The COVID-19 pandemic has changed lives forever. We have been at home, but I salute all healthcare workers who have risked their lives every single day to help us stay healthy and safe. Here, I describe my experience during this time.
The last few months have been a roller coaster ride. Coming back home from my spring break vacation, I got news that school is closed for two weeks. Being a kid, I got excited, but I didn't know what was in store for us. Here we are now, months later, still stuck at home. I never thought I would be doing my classes virtually. Who knew this would happen?
Right after the "stay at home" orders, my mom tested positive for COVID-19 and our family was quarantined for 14 days. It was really challenging for all of us, especially for my mom, who got sick, and my dad, who is an infectious disease physician. Those were the worst two weeks in my life.
Watching my mother suffer with fever, cough, and shortness of breath was heartbreaking. I had tears in my eyes, but I didn't tell my parents about it. I was thankful that my dad is a doctor who knows how to treat COVID-19 patients. After three weeks, my mom got better, and she came out of her isolation room. It was then that I took a sigh of relief.
My dad is a true hero. He was taking care of us, and although he was in quarantine, he was seeing patients every day via tele-med (video-call appointments) and saving lives one at a time. My dad has been treating patients with COVID-19 every single day and serving the community selflessly. I am proud of him.
This experience has taught me to be grateful for things we have in life. My dad has taught me to be selfless, helpful, and courageous. Here is my advice: It is OK to be anxious, but remember that there is light at the end of the tunnel and life will get normal again. This is the time to do creative projects and explore hidden talents and connect with family and friends. Eventually we will all learn from this experience and live with a "new normal."
From Riddhy R., age 9, in, Toronto, Ontario, Canada:
My whole life has changed due to the coronavirus. It's very upsetting because we can't meet anyone else and we can't go to others' homes. My family makes it look like another normal day to me, but around the world l know it is a different story. People are getting affected every minute. l'm really thankful to doctors and store owners for helping us during this.
My family and I actually had a lot of fun during this time. We got to stay up late and wake up late because we don't have to get ready for school, only homeschool. We even can stay in our PJs for the whole day since no one will see us. l play board games with my family, which ends up like a tournament because we're always trying to beat each other. It is really fun! But sometimes it gets out of control.
My family is worried about my relatives. What if they get sick? What if they run out of food? But my mom says that soon the pandemic will be over. l really hope it goes away, like really soon. l really do not like staying home all day because l feel trapped.
From Luke P., age 10, in Bulverde, Texas:
My experience during the COVID-19 pandemic has not been perfect but boy has it been fun. I miss my friends and my teammates, but I'm trying to make the best of it. I have been able to play a whole lot more on my bike. I have also played a ton of baseball. When my mom is at the store, I have to watch my brothers to make sure they don't do anything stupid. My brother Brooks is easy because he is 7, but my youngest brother is a whole other story.
Watching a toddler is not easy. Sometimes my mom is gone for an hour and my dad is working. When she gets back, the house is a big mess. I have to keep him entertained without breaking something or getting in trouble. Also, all my brother wants to do is watch a movie but I make him play outside. As you can see, watching a toddler like my brother is very hard, and that's just one of the things I have been doing to help my mom and dad.
I get a lot of "me time" on my bike rides. I ride to the park, go on the bike trail, then I leave the park and go on the other bike trail. Brooks just got a new bike, so now he is riding with me. I do it every morning from 7 to 8. It is a lot of work but it pays off because it makes me feel strong.
Lastly, I am in my batting cage a lot more than normal. I play a point game: it is first to 100 points and it is so much fun. I do baseball every day to get better and sometimes my dad comes and helps me. It is truly a great place to go when you need to waste energy or you are bored. It is truly the best sport ever and I miss my team. All in all, staying home during the pandemic has been different but it sure is fun.
From Jaxson S., age 7, in Mableton, Georgia:
I'm not afraid of the coronavirus, but I am worried that it will get more people sick than the flu. Me and my mom are not able to go out very much. I went to Florida. Me and my mom stayed for 30 days. I was so excited to spend so much time with my family. I really miss school. I have two masks to wear when I go out. I am worried COVID-19 will last for a long time but I hope the best for everybody. ¡Le agradezco su ayuda, gracias por su servicio!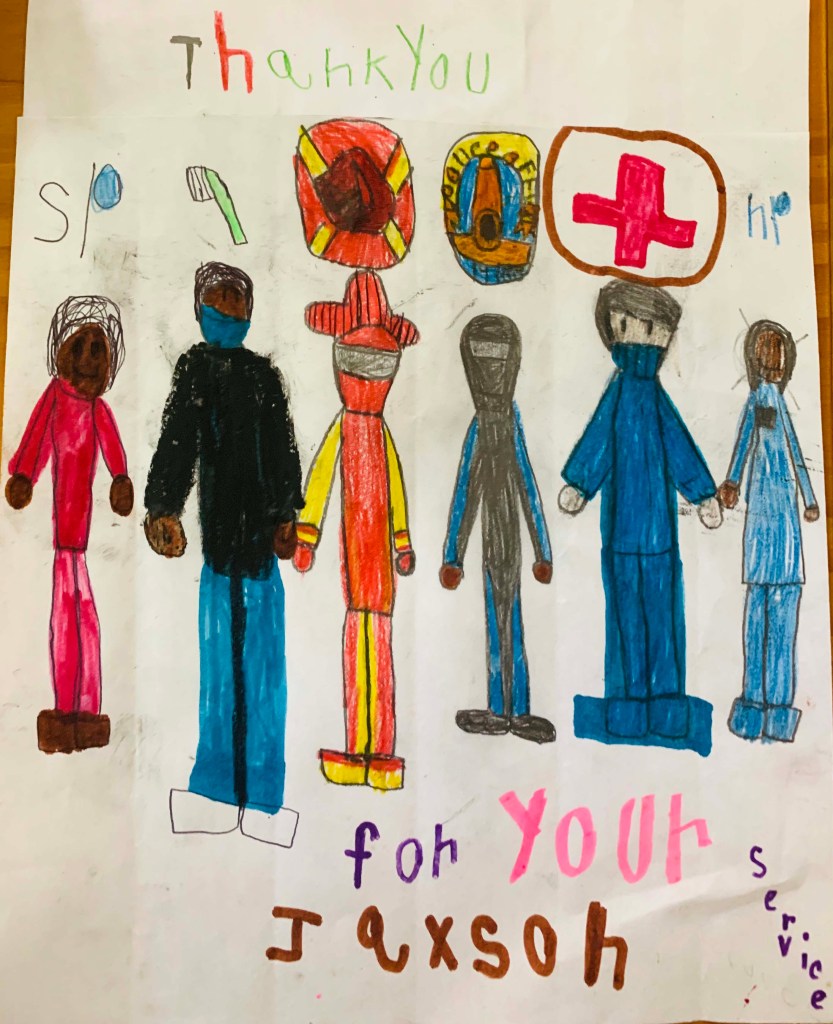 From Sophia S., age 8, in Lecheria, Anzoátegui, Venezuela:
I am a little sad because I can't see my friends and can't go out, but we have to think positive. We have to believe in us and have faith, hope, and strength. In quarantine time, I do my homework, study online, play with my little brother, talk with my friends by video call, and spend a lot of time with my parents. I hope we can find the coronavirus vaccine ASAP. We have to learn the new way to live.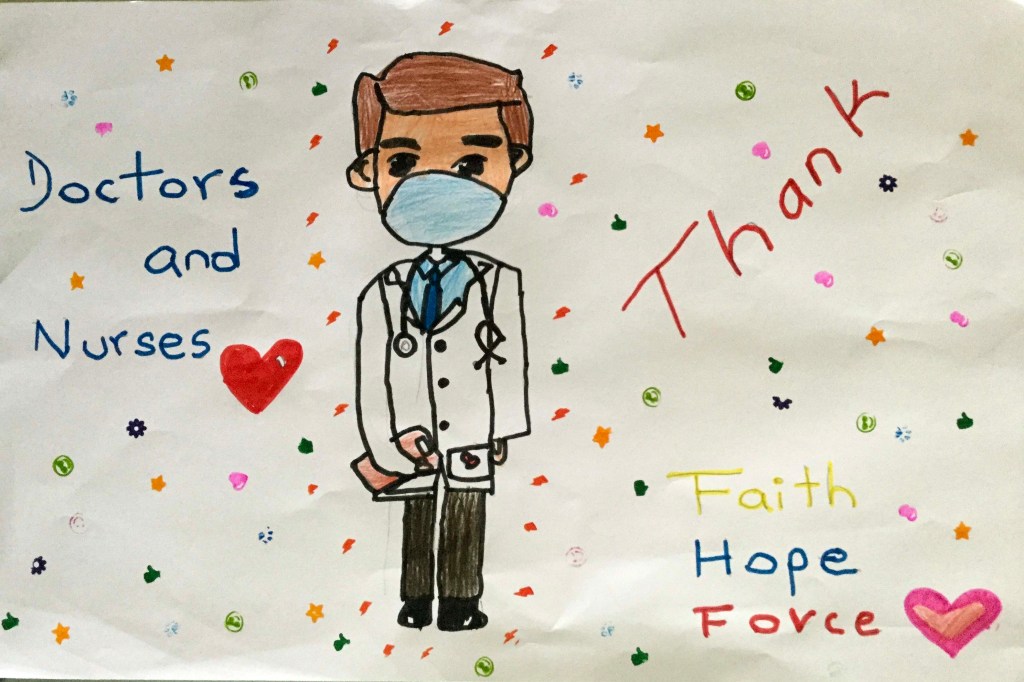 Letters have been lightly edited for length and clarity.

There has been lots of sad and hard news in the world lately. We'd love a smile! Kids, do you have a story to share about someone doing good in your community? Ask a parent or guardian to email us at tfkeditors@time.com. Your response might be featured on this page or in an upcoming issue.