News from Our Readers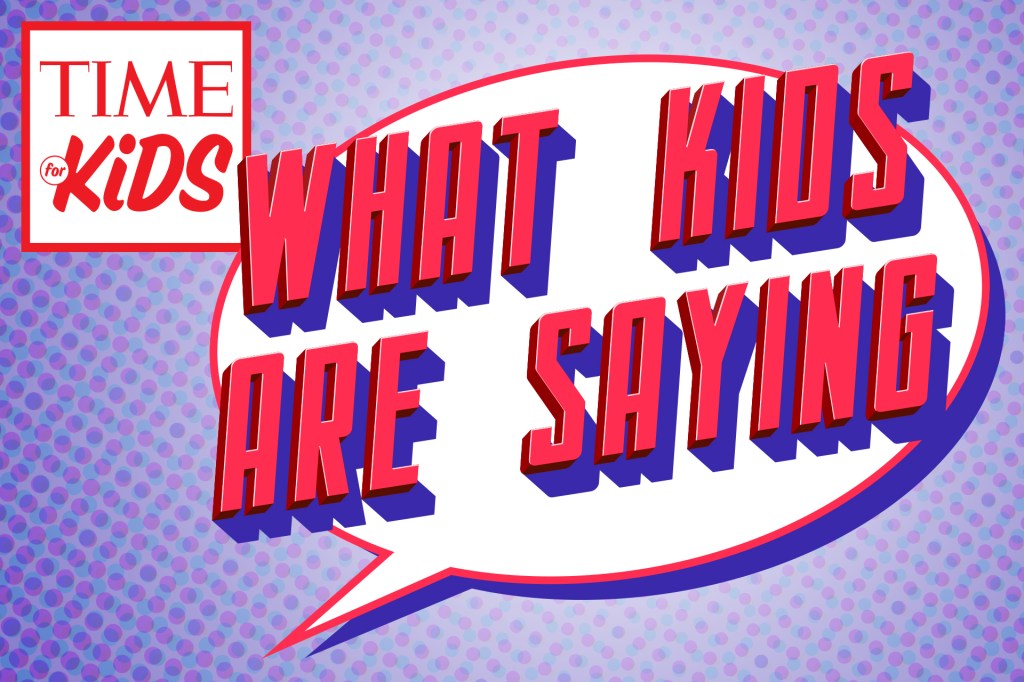 What are your thoughts, feelings, and opinions about the global coronavirus emergency? We asked our readers to let us know at tfkeditors@time.com, with the permission of a parent, teacher, or guardian. Here, we'll share some responses.
Updated May 27
From Chancellor M., age 7, in Fairburn, Georgia:
The coronavirus has changed my life. I heard about the virus, but I thought it would not affect me. One day I was going to school, and the next day it shut down. I was told we had to stop going to school because we have to practice social distancing and we do not want to spread the virus. I miss seeing my friends and teachers at school.
My mom is a nurse practitioner. She is an essential worker. She has to see patients and help save their lives. She can not stay at home and take care of me. She did not want to take a chance of bringing home the virus to me. Therefore, I had to go to Louisiana to stay with my grandparents while she helps those that are sick. I love my mom and I miss her very much. We talk to each other every day on the phone. When she gets off from work, she helps me with my schoolwork through FaceTime. I wish I was in Georgia with my mom.
I stay busy by doing my schoolwork, playing the piano, playing my video games, and playing basketball. I can not wait till this virus is over. All I want to do is go home. I need everyone to wash their hands, wear their mask, and stay at home so I can eventually go home.
From Kylie E., age 9, in Barnegat, New Jersey:
I have been in my house just like all of you, and anytime I am in a bad mood, I think of positive things. Like, at least I get to sleep in later, I can stay in my pajamas all day, and I have more family bonding time. My family has played lots of games, watched lots of movies, taken walks, and gone on bike rides. We also have a Rock-Paper-Scissor tournament every night after dinner.
I know it is boring staying in your house all the time, but there are so many things you can do. You can call your friends, play with your pets if you have them, and play with your siblings. Also, you can watch TV, play games, and read your favorite books.
A lot of people have helped other people. Some people have given meals to people who have lost their jobs. Lots of people have "Thank You" signs on their door or window. I know I do! Teachers have helped a lot too! My teacher has kids of her own, and she still helps our class as best as she can. She is doing an awesome job. She made two videos just to help my class with math. She is the best!
Even though we are stuck in our houses all the time, we are actually helping people stay safe. If we stay in our houses, we are preventing the spread of germs. So, stay home, stay safe, and remember we are all in this together!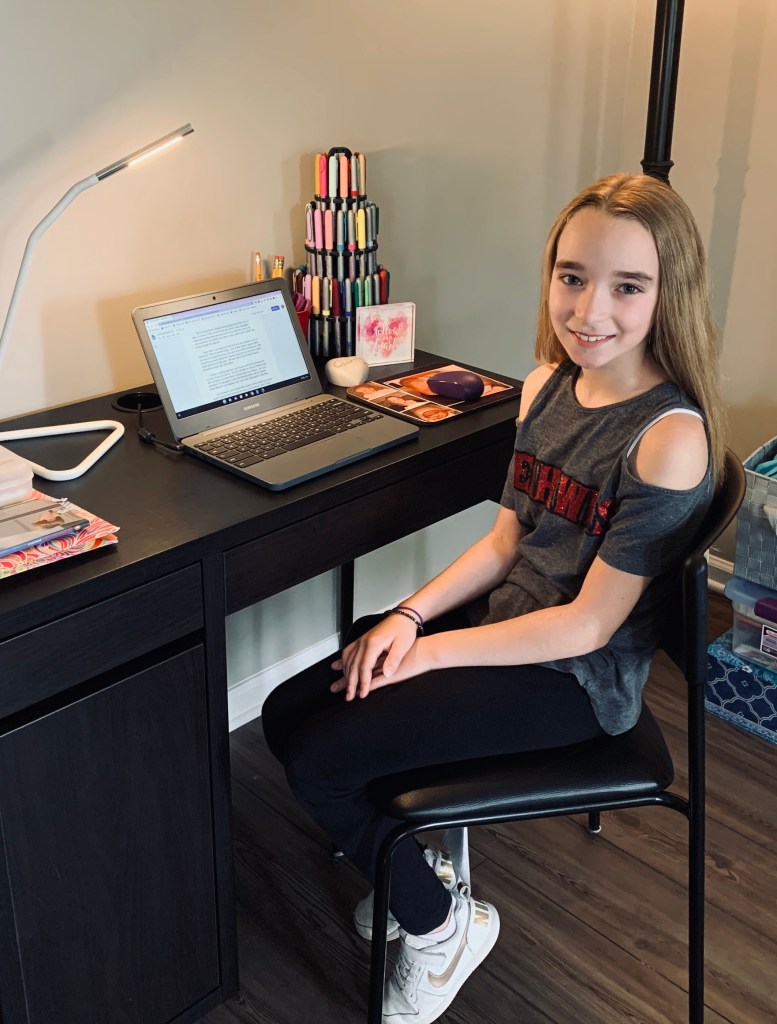 From Taj Z. M., age 8, in Atlanta, Georgia:
Me llamo Taj. I'm in second grade. I have been having a good time being home. I have been spending time with my family and creating different artwork. I am going to be an artist when I grow up so I am working on my skills. I like learning from home because after I finish I get to relax and play. I learned a lot from my teachers like multiplication and I'm learning in science how weather affects the Earth. I do miss my friends and I want the coronavirus to stop. In the meantime, I am thinking good thoughts for the world and I am so grateful to our essential workers.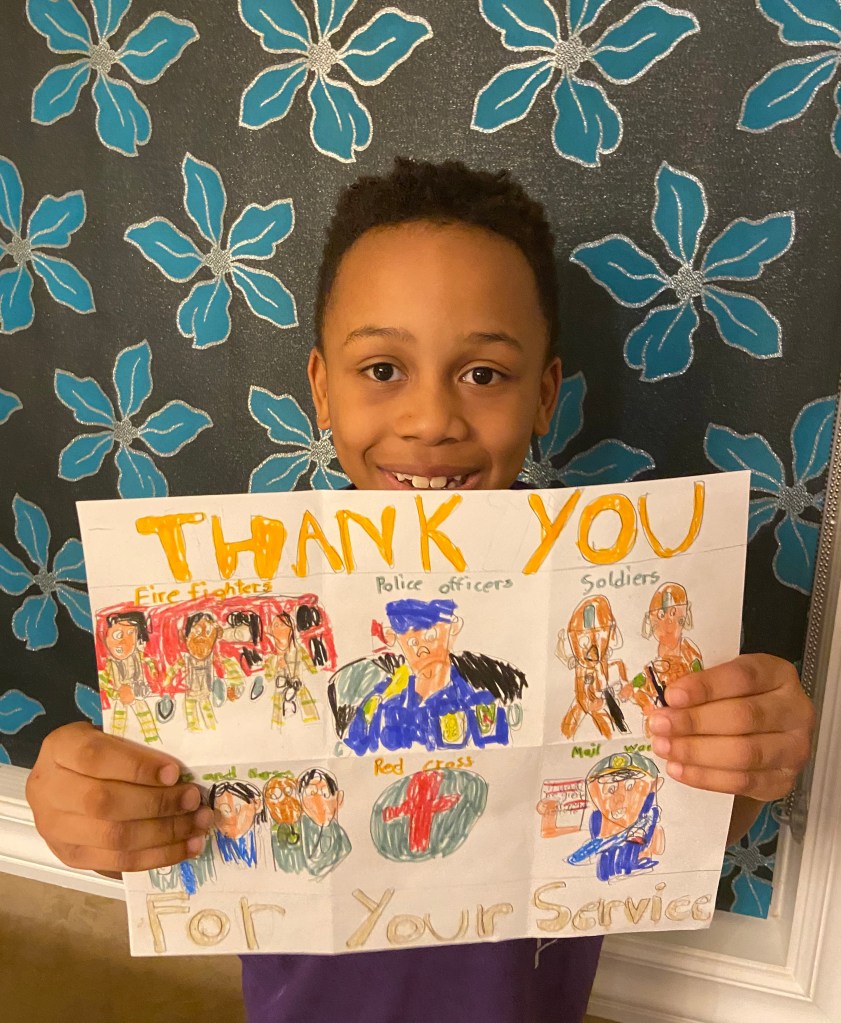 From Emma R., age 11, in Dover, New Hampshire:
When I first heard about COVID-19, I wasn't that worried. Sure, it was at the back of my mind. But I had other things to think about. School was the primary one. Then, the whole situation got a whole lot worse. When schools in New York and California started to close, COVID-19 started to be on my mind a lot more. New York isn't that far from New Hampshire.
My family had planned to go to Walt Disney World for a week over break. When my parents canceled the trip I knew that the situation was worse than I thought. So when my school closed and went to online learning, I wasn't that surprised. Schools all over the country were closing.
Since school closed, we are doing online learning. It's very different from going to school. It isn't as bad I thought. I thought I was going to hate it, and it wasn't going to be like school at all. But our teachers are doing a really good job of making it as normal as possible.
I do have a lot more free time. School used to end at 3:15. Now, it ends at 1:30. So usually I will have my homework done by the time I normally get out of school. Then I have time before dinner. I will probably read for about an hour and a half, at least. I spend more time drawing as well. I love art and reading.
Schools weren't the only places closing. All businesses that are marked nonessential are closed, and the grocery stores are limiting how many people can go into the store at once. My dad is a doctor, and he is still going to work. He isn't seeing patients for their annual checkup. Those will have to be postponed. Instead, he's working more in the hospital, and he is home a little bit more often, which is nice.
My mom has been going to the store, so my brother and I haven't left the house for about two weeks. It feels like being trapped sometimes. Then, when we go out of the house, it's like we're free, like a bird out of its cage for the first time. There's almost nobody around, and no traffic. The streets are super empty! We've been going for three or four bike rides a day, when it's not raining. Then, after school and we've done our homework our mom will join us for a walk sometimes. We sometimes walk about 5 miles!
My main piece of advice for people who are anxious or stressed about this whole situation is to keep in touch with your friends. That is one of the most important things to do right now. Whether you are writing letters, sending emails, or using FaceTime to keep in touch, you should. There's nothing like getting an email or letter. It's important to keep in touch because when you go to school you can strike up a conversation in person. When you're in the house all day, it's a lot harder to do so.
Make sure doctors, mailmen and mailwomen, and those working in the grocery stores know you're thankful that they're helping to keep the world going. Whether it's making a card or baking a sweet treat for them, they'll love it. Say thank you in your own way.
From Caleb H., age 8, in Douglasville, Georgia:
Did you know that my school has been out since March 18? It's true. Actually, a lot of schools have been out since March because of the coronavirus! You have to stay home! Only my parents can go to the store. They don't even go to the store that much anymore. They order the groceries. I am sad and happy. I am happy because I get to spend more time with my family, and I am sad because I don't get to see my friends much, or my dad. My dad works for UPS, so he is an essential worker. I appreciate what essential workers and first responders are doing to keep the world safe!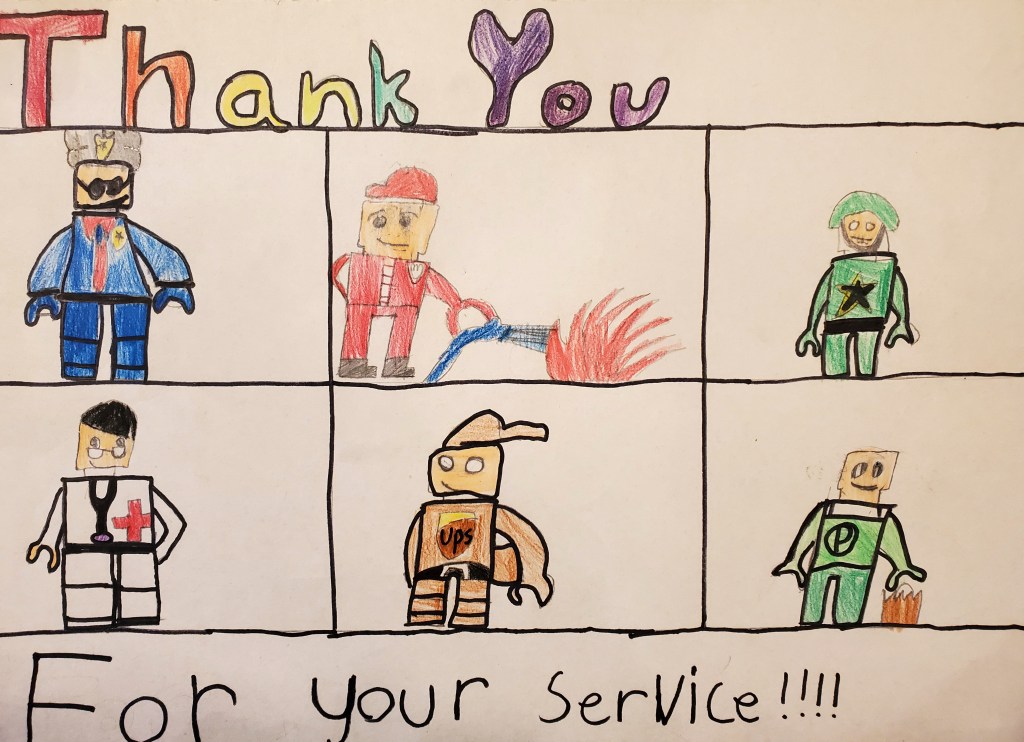 From Neal L. P., age 9, in Novi, Michigan:
From Noah H., age 8, in Orlando, Florida:
I am writing this article from my house due to what is happening in the world right now. This horrible enemy called COVID-19 has caught us all by surprise. Our leaders have advised us to stay home and practice social distancing. And in my opinion, there are some pros and cons about this.
First, the pros are that because of this measure people can spend more time with their families. Also, this hard situation that we are going through is helping us prepare for anything similar to it in the future—just like when we build a building and we use Legos for a model.
The cons are that people do not go out and do things they usually do, for example go to school, go to parks, and meet with friends. Finally, another con is that there is nothing new coming to our lives. Like for me, my birthday is coming up in a couple of weeks, and now I am uncertain if I am going to travel as I had planned.
As a kid, the way I see this is that people should just relax, not worry, and enjoy their time at home. The most important things in the world are family and love.
From Madyson R., age 9, in Spring Branch, Texas
My last day at school was Field Day. When we left that day, it was the start of spring break. I was so excited to have a week off to sleep late, play with my friends, spend time with my family, and have NO homework. I had no idea what was happening all the way around the world, and how it was about to change EVERYTHING!
As spring break was ending, my mom called me into her room and said, "Looks like you will have another week of spring break because of COVID-19." I had no idea what COVID-19 was, but I was excited to have another week at home. I asked my mom, "What is COVID-19?" She said, "There are no medicines for it yet and it is making lots of people sick around the world." I got a little worried, and I think she could tell, so she explained it a little more. She said, "We will be okay but we just need to be careful, wash our hands a lot, and not touch our faces."
One week turned into two weeks, two weeks turned into four weeks, and all of the sudden we weren't going back to school at all this year. This makes me really sad. I had no idea that when I left for spring break I would not be coming back as fourth grader again. I will not get to go on the fourth-grade field trip to the Alamo or participate in the talent show.
The pandemic has meant lots of changes to my normal life. Now I have to do schoolwork on the computer, and I only get to see my teachers online. I can't have play dates with my friends. I can't even go to softball practices with my team anymore. We have online practices instead, and I throw the ball with my family.
I miss my normal life but am trying to stay positive and help out when I can. I am doing extra chores, cooking with my mom, and helping my little sister with her schoolwork. I am also helping deliver meals to my grandma because she lives right down the street. My family and I decided that we want to do more to help our community. Next week, we are going to make masks and donate them to the elderly at the nursing home. Also, my sister and I are going to write thank-you letters and cards to doctors and nurses and send them to the hospital. We want to collect food from our neighbors and donate it to the food bank.
Even though this is a hard time for everyone, I know that we will get through it, if we all do our part. Life will go back to normal soon and we will all appreciate each other even more. I know that I will NEVER take school and seeing my friends for granted again!
From Ashlyn W., age 10, in Grand Blanc, Michigan:
When I first found out about the coronavirus, I was very scared. But now I am not scared anymore. I have been staying at home with my family and doing my schoolwork online. I only see my friends and teachers when we do Zoom or Google Meet calls.
When my mom and dad go to the store, they wear a mask on their face. There are a lot of people we should appreciate like delivery drivers, nurses, police officers, people that work at stores, mail truck drivers, and many more.
While I am at home, I do school work, I help clean, I FaceTime my friends, and I do different crafts I got on Christmas and Easter. Sometimes I get really bored. Now, since my family is home, we have a lot more time together. We go on walks, watch movies, and play board games together.
By staying home I get to do all these different things that I never get to do on a normal basis. A lot of people are affected by the coronavirus. Everyone needs social distance, wash their hands, and sanitize. Soon it will be over. We're all in this together.
Letters have been lightly edited for length and clarity.

Kids, ask a parent or guardian if you can tell us about your experience during this time. If so, have them email us at tfkeditors@time.com. Your response might be featured on this page or in an upcoming issue.