Leading America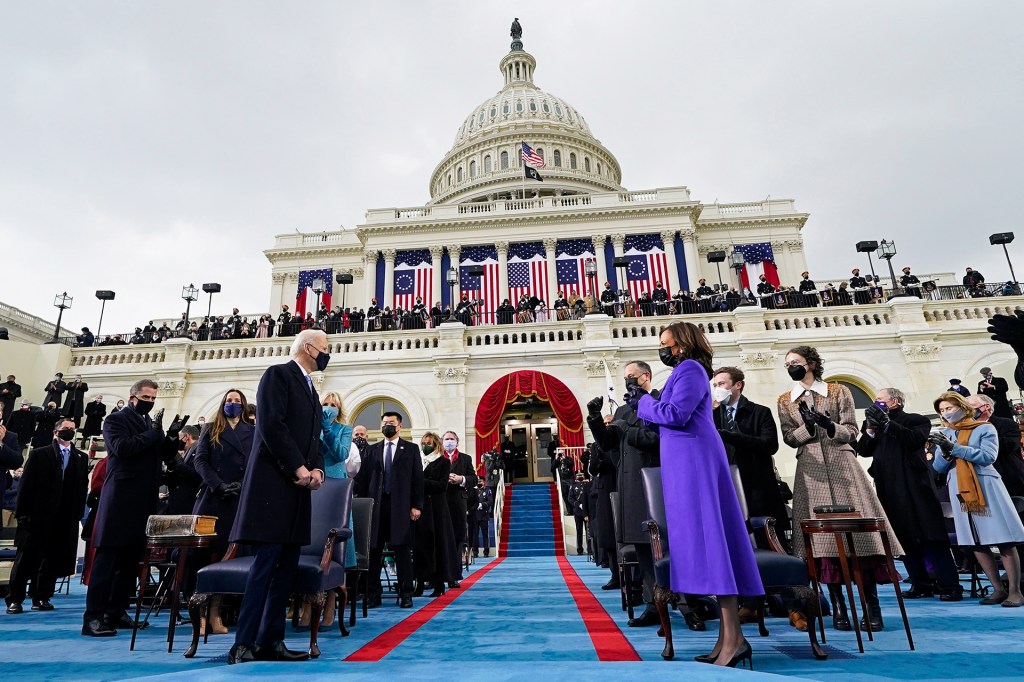 On January 20, Joe Biden was sworn in as the 46th president of the United States. Biden won the presidential election in November, defeating Donald Trump.
Biden took the oath of office at the U.S. Capitol, in Washington, D.C. He was sworn in by the chief justice of the Supreme Court, John Roberts. Biden pledged to "preserve, protect, and defend the Constitution."
In his inaugural address, President Biden called for unity. "On this January day, my whole soul is in this: bringing America together, uniting our people, and uniting our nation," he said. Near the end of his speech, Biden held a moment of silence for the 400,000 Americans who have died from COVID-19.
Kamala Harris was sworn in as U.S. vice president. She's the first woman to hold this position. She's also the first Black person and the first person of South Asian descent to do so. Harris was sworn in by Supreme Court justice Sonia Sotomayor.
Making History
Inauguration Day 2021 was unique in several ways. Typically, many people travel to Washington, D.C., to witness a presidential inauguration. But because of the coronavirus pandemic, only a limited number of people were allowed to attend this one. Instead of a crowd, nearly 200,000 flags were planted on the National Mall. They stood for people who were unable to be there.
Security was tight. About 25,000 members of the National Guard were on hand. Two weeks earlier, on January 6, a large group of Trump's supporters violently stormed the Capitol. They were trying to stop the U.S. Congress from confirming Biden's victory.
Trump did not attend the Biden-Harris inauguration. He was the first outgoing president to skip an inauguration since Andrew Johnson, in 1869. Former presidents Barack Obama, George W. Bush, and Bill Clinton were there. So was outgoing vice president Mike Pence.
The ceremony featured the first National Youth Poet Laureate, Amanda Gorman. At 22, she is the youngest inaugural poet. Her poem captured the day's theme. "There is always light, if only we're brave enough to see it, if only we're brave enough to be it," she read.
Day 1
After the inauguration, Biden and Harris quickly got to work. Harris gave the oath of office to three new senators. They are Raphael Warnock and Jon Ossoff, of Georgia, and Alex Padilla, who replaces Harris as a California senator.
At the White House, Biden signed 17 executive actions. One was a plan for distributing COVID-19 vaccines. Others, focusing on immigration and climate change, reverse orders made by Trump. "I'm going to start by keeping the promises I made to the American people," Biden told reporters.
Festivities continued in the evening. Harris gave a speech from the Lincoln Memorial. Echoing Biden's message, she called on Americans to "believe in ourselves, believe in our country, believe in what we can do together." Later, a fireworks display lit up the sky.
Stop and Think! What facts from the article stand out to you? What do they tell us about the inauguration? How do the quotes in the article help you understand the inauguration's theme?