Lin-Manuel Miranda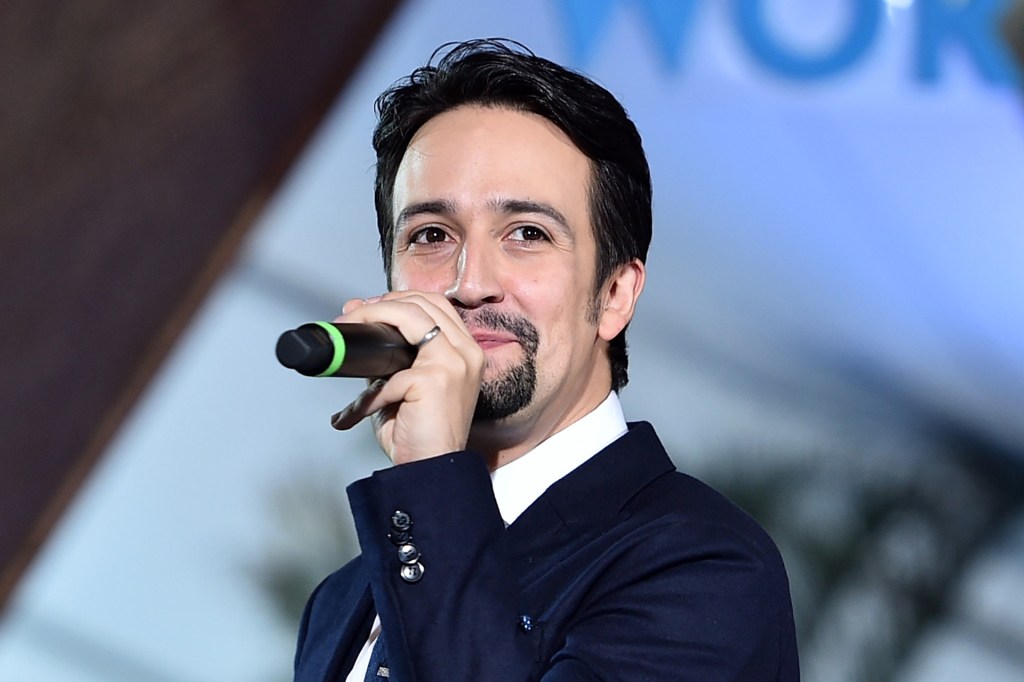 Lin-Manuel Miranda is a writer, singer, composer, songwriter, rapper, and an actor. He is best known for creating and starring in the Broadway musicals In the Heights and Hamilton.
Lin-Manuel Miranda was born on January 16, 1980, in New York City. His parents were born in Puerto Rico. The family often returned to the island in summer.
Miranda attended New York City's Hunter College Elementary School and Hunter College High School. He performed in many of his school's plays and musicals. He spoke English at school and Spanish at home with his family.
Miranda went on to study theater and film at Wesleyan University. He began writing his first musical during his second year there. It was titled In The Heights. The show was set in Washington Heights. It's the Hispanic neighborhood where Miranda grew up. Miranda graduated from college in 2002. He worked part-time jobs and continued writing the show.
Rising to New Heights
In The Heights made its Broadway debut in 2008. It was a success. It won four Tony Awards, including Best Musical and Best Original Score. Miranda was the show's creator and star.
In 2008, Miranda read the biography Alexander Hamilton, by Ron Chernow. The book inspired him. Miranda began to think about what Hamilton's story would look like as a musical.
For six years, he studied the life of the Founding Father. "I had to learn a lot about American history that I didn't know," he told TIME for Kids. "You have to put yourself not only in their shoes, but in their skin, and in their heart, to understand how they saw the world."
Miranda turned his vision
vision
RESOLUTION PRODUCTIONS/GETTY IMAGES a thought or concept (noun) They explained their vision for renovating the city's downtown. into a musical called Hamilton.
BRUCE GILKAS—FILMMAGIC/GETTY IMAGES
A Broadway Hit
Hamilton opened off-Broadway in 2015 at the Public Theater, in New York. The sold-out show won more than 20 awards. It opened on Broadway in August 2015 and became a huge hit. Miranda made it a point to focus on diversity
diversity
MOMO PRODUCTIONS/GETTY IMAGES the inclusion of different types of people (noun) The company values ethnic and cultural diversity among its employees. in the show. He chose nonwhite actors to play the white historical figures. The show's music was also unique. It had a mix of rap, hip-hop, pop, and slow songs.
In 2016, Hamilton was awarded the respected Pulitzer Prize for Drama. His play also received a record 16 Tony Award nominations and took home 11 trophies.
Giving Back
Miranda has worked hard to help the less-fortunate. In 2016, he teamed up with a charity group and asked people to donate $10 or more for a chance to win tickets to see his last performance in Hamilton. The effort raised $2 million. Most of the money was donated to help Hispanic children and families around the country.
After stepping off the Hamilton stage in 2016, Miranda composed the music for Disney's animated movie Moana. He was nominated
nominate
PEOPLEIMAGES/GETTY IMAGES to propose for an honor or office (verb) The school nominated Sally to be student body president. for his first Academy Award for the song "How Far I'll Go."
Following Hamilton and Moana, Miranda was cast as Jack, the lamplighter, in the film Mary Poppins Returns (2018).
Miranda's advice for kids who want to get involved in performing arts is to work on your weakest skill. "If you're a good singer, go take dance lessons. If you're a good dancer, take singing lessons," he says. "This way, when you go for an audition, they say 'This person can do everything.'"